Brouwerij Anders!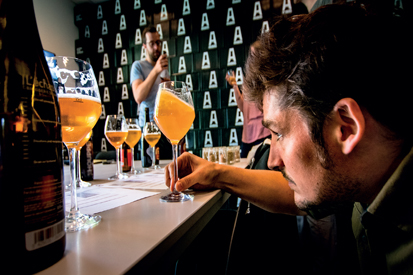 Around the world in a thousand beers
TEXT: MYRIAM DIJCK | PHOTOS © BROUWERIJ ANDERS!
It all started six years ago, at the dawn of the craft beer revolution. Inspired by these developments, a team of Belgian brewers put their heads together to offer semi-professional brewers the chance to bring their beers to market without having to invest in their own brewery. Today, Brouwerij Anders! brews new and unusual, innovative and award-winning beers that are enjoyed all over Belgium and beyond.
All the beers made by Anders! are produced for third parties, such as microbreweries who want to scale up but do not have the capacity, or organisations who want to produce a beer for a special occasion. They also regularly brew for renowned beer brands who cannot meet demand or who want to test a new flavour, but have not got a small-enough setup that allows for this.
Marketing and commercial manager Nicolas Volders says: "The craft beer trend began with many hobbyists trying their hand at brewing for the first time. By now, consumers are more familiar with craft beers and demand a higher quality and better taste. We help new and experienced brewers to perfect their recipes and create excellent beers."
Bridging a gap in the market
After outgrowing their initial setup, Anders! moved to a new state-of-the-art brewing hall in Halen in 2016. They are continuously in operation from Sunday evening through to Friday night to brew lagers, ales, IPAs, stouts and more. Starting with a production of 3,000 hectolitres in 2012, they soon increased this to 50,000 hectolitres per year and have just completed an upgrade of their brewhouse to meet forecasted growth in demand, and are now able to produce 75,000 hectolitres per year.
Having brewed hundreds of different recipes and styles, there are few breweries in the world who have as much experience with different flavours as the brew masters of Anders!. Thanks to this know-how, Anders! is able to give its clients in-depth advice on new recipes to create tasty, top quality beers.
"In the last few years, we have expanded significantly in the English and French markets. Also in Belgium people are starting to experiment more, even though we have a more traditional market," Volders says.
Zythological mastery
Anders! certainly prides itself on its expertise in the beer-brewing craft. Keeping the quality consistently high is of the utmost importance to the team. This starts by sourcing premium raw materials and ingredients, and continues with round-the-clock monitoring of the brewing process and a cutting-edge filling machine.
"An important aspect is minimising the exposure to oxygen during the brewing process after the first fermentation. When beer comes in contact with oxygen, it reduces its shelf-life and spoils the flavour more quickly. We continuously improve our brewing installation and processes to accomplish minimal interference from oxygen," Volders says.
Anders! will also continue to embark on new flavour explorations. One unusual brew included the use of yuzu, an aromatic citrus fruit from Japan with a lemony taste. Another current trend is the pairing of food and beer. Volders adds: "Last year, we brewed a Black Forest gateau stout, which contained all the key ingredients for the cake, including cherries, lactose and cocoa."
An exotic, award-winning brew
Recently, the team at Anders! decided to brew under their own label once a year as a way to showcase their expertise and celebrate their craft. Last year, they created a Milkshake IPA, which is a fruity and creamy type of beer brewed with lactose and lots of hops. They called it Tropical Milkshake IPA, and it immediately picked up the Gold award at the 2018 World Beer Awards.
"This really cemented our conviction in our skills," says Volders. "We got the idea after creating some New England IPAs and IPAs with lactose for our clients. Despite the pronounced fruity aromas of lychee, mango and citrus fruits, we didn't add any fruit juices. Thanks to our experience with the ingredients, we were able to select the right hops to get this result."
As they only produced one batch of 4,000 litres of the beer, it is not commercially available. This year, however, they will again use their kettles for another unique Anders! brew. Volders concludes: "As we will showcase ourselves at the Zythos Bierfestival in Leuven in April, we will try to finish it by mid-Spring. We haven't got a recipe yet, so we have plenty of work to do still!"
Subscribe to Our Newsletter
Receive our monthly newsletter by email