BRAFA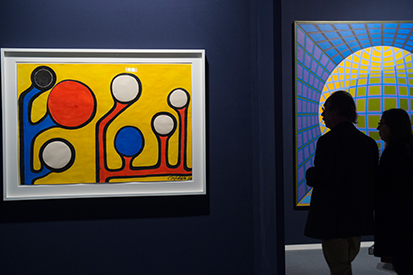 BRAFA – one of the world's most prestigious art fairs
TEXT: EDDI FIEGEL | PHOTOS © BRAFA
When it comes to the arts, Brussels has long played an important role on the world stage, be it as home to major museums, a centre of Art Nouveau or as a contemporary art hub. It is also home to BRAFA – one of the world's oldest and most prestigious art fairs and a major event in the international art calendar.
Created in 1956, the nine-day-long Brussels Art Fair, held from the end of January to early February, is famous for attracting many of the top galleries around the world and the breadth of styles on show.
In 2019, the 133 exhibitors showing at BRAFA will include galleries from London, Paris, Munich and Marrakech as well as Moscow and New York, showcasing a huge range of styles from Ancient Egyptian, Classical and Islamic Art, tribal art and Meissen porcelain to Impressionist works, modern Russian and Soviet art to 20th century design and contemporary art and sculpture. There will also be medieval and Renaissance art, Old Masters and antique tapestries as well as Art Deco and Art Nouveau jewellery and Belgian comic strips.
Quality is ensured by a rigorous vetting process. Before the fair opens to the public, every single one of the ten to 15,000 artworks and pieces is vetted by an international committee of over 100 eminent experts to verify their authenticity, quality and condition.
Covering some 15,000 square metres, BRAFA is held at Tour and Taxis, a vast and stylishly renovated complex of 19th century warehouses surrounding a former train station, only ten minutes from the Belgian capital's magnificent Grand Place.
Every year, the Fair attracts some 65,000 visitors from around the world, from major art collectors to new buyers and the 64th edition in 2019 looks set to be equally as successful.
BRAFA's annual Guest of Honour in 2019 will be eminent British duo Gilbert & George, who will present five recent large-scale works placed at various locations throughout the fair. Their quirky vision of the world should be a perfect fit in the land of surrealism.
Subscribe to Our Newsletter
Receive our monthly newsletter by email