Bolk Transport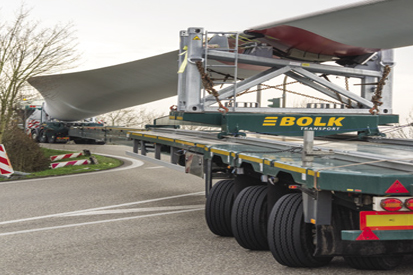 'We transport anything to anywhere'
TEXT: MICHIEL STOL | PHOTO © BOLK TRANSPORT
The transportation of heavy building equipment, silos or even a train by road, requires meticulous planning, excellent drivers and the right equipment to move it. Bolk Transport in Almelo has been providing this for almost 85 years. "No matter the size or shape, we can transport everything up to 150 tonnes to anywhere in Europe and beyond," says director Joop Savenije.
Savenije has been with the company since 1978, and he has seen the company grow to over 200 trucks and 350 employees. "The strategy has always been to never bet on one horse. That is why, today, we provide national and international, conventional and distribution transportation, container transportation and open and special transportation." Among their regular customers are Heineken, Grolsch and Apollo Vredestein. They also provide container transport as in-house carrier for Combi Terminal Twente in Hengelo, shipping the containers, that arrive by barge at the Combi Terminal Twente terminals, to their loading and unloading addresses in the hinterland.
The open or special transport jobs often involve silos, big machinery and parts for windmills, which Bolk transports for GE Wind and Enercon. "Ten years ago, one blade was about 35 metres long, now they are 65 metres. Transporting them requires a lot of preparation." Planning these special transports is meticulous work. "Our planners prepare the routes in every detail, from the necessary permits, to making sure the driver can actually drive along the route without any obstacles or, if needed, temporarily remove those obstacles. Before the convoy leaves your gate, we have already scouted the routes so that the transport arrives as easily as possible." Bolk has its own team of piloting staff to guide oversized trucks, and they can also be hired by clients for their own projects.
To make sure that the international transport runs smoothly, Bolk has branches in – among others – Ireland, the United Kingdom, France, Germany and Romania. "EU competition regulations prohibit companies to transport solely from their home base to other countries, so to operate regularly, you have to have local branches. Also, having these branches with local, experienced drivers, provides an extra service to the clients," explains Savenije. "And it helps that they can speak to the driver in their own language. Clients really appreciate that."
"The job of an international truck-driver is often underestimated. These guys know exactly what they do, they know all about local circumstances and routes," says Savenije passionately. "Thanks to them, we can do our job even better, transporting your goods, no matter how big or small, to you or your clients."
Subscribe to Our Newsletter
Receive our monthly newsletter by email