Beeftro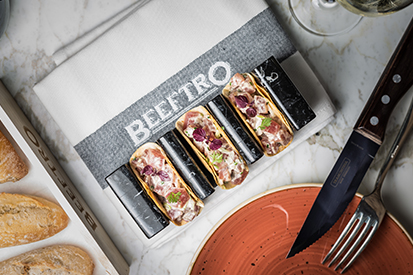 A steakhouse with French flair
TEXT: CHÉRINE KOUBAT | PHOTOS © BEEFTRO
Beeftro, a striking restaurant offering prime cuts of beef and gourmet burgers in luxuriously modern surroundings, stands tall in Belval. The formerly stark steel production site, some 20 kilometres southwest of the city of Luxembourg, has become a decidedly forward-looking symbol of industrial regeneration. It is the perfect setting for this stylish eatery, where past and present meet for a contemporary reimagining of the concept of steakhouses.
Belval, along the French border, now houses the main campus of the University of Luxembourg. Its iconic blast furnaces, which are testament to the booming steel production of the 20th century, have been repurposed in creative ways. The exciting urban renewal project – one of the largest in Europe – has effectively transformed the country's defunct heritage into its future.
Overlooking the towering steel refinery, Beeftro exemplifies the ambitious programme at work here. It offers a blend of luxury and industrial flair, with clean lines and floor-to-ceiling windows. Luxe touches, like marble tables, leather seats and parquet flooring, mix with raw elements and soft lighting. The arresting design is the vision of Humbert & Poyet, an architectural firm with a refined modernist and art deco aesthetic headquartered in Monaco.
As the eatery's name – a clever blend of 'beef' and 'bistro' – implies, meat reigns supreme on the menu. It revolves around four main concepts: sharing plates to start, premium beef cuts, burgers and Kobe creations, which bring playful street-food influences into the mix. Though it mainly caters to discerning carnivores, the restaurant also features fish and chicken dishes, as well as a veggie burger, among its Charolais and Black Angus offerings.
The buzzing and convivial atmosphere at Beeftro makes it the perfect spot for family gatherings and business meetings alike. In this aspect, it epitomises the spirit of the French bistros after which it is named: a welcoming place for a hearty meal and lively conversation.
Beeftro, a chain of the Giraudi Group, is open for lunch and dinner six days a week, and closed on Mondays. The group's Beefbar concept, which hails from Monaco, has been successfully exported to Paris, Budapest, Dubai, Hong-Kong, Cannes, Mykonos and Mexico.
Subscribe to Our Newsletter
Receive our monthly newsletter by email