Baldwin: The webshop workshop
Text: Arne Adriaenssen | Photos: Baldwin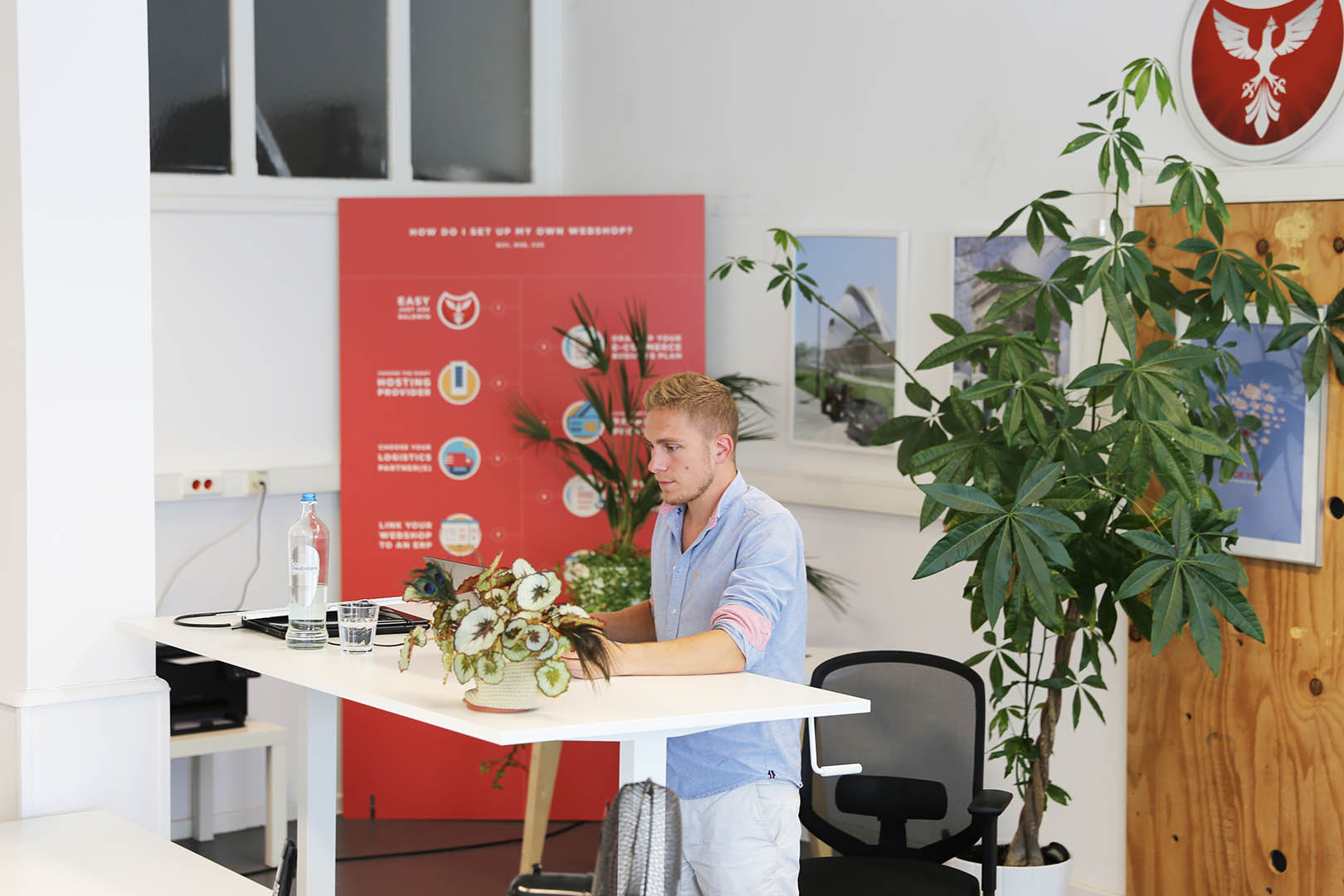 In terms of popularity, no shopping street comes close to the commercial centre of the internet. Therefore, might cyberspace be the perfect location to open your store? But how does one go about doing that exactly? E-commerce agency Baldwin is an expert in designing, developing and boosting web shops of all sorts. "We start from a blank piece of paper and finish with boosting your social media. We work from A to Z."
"The world of e-commerce is incredibly diverse," says Maarten Deboo, founder of Baldwin. "In fact, almost every website sells something. Shoes, cakes, telecom products, subscriptions; you name it. Yet, the selling techniques and technical features that these platforms require vary from product to product. That is where we can make a difference. As a pure e-commerce agency, we have the know-how to tailor any kind of webshop."
Two offices filled with expertise
To guarantee the highest quality, the two offices of Baldwin (one in Ghent and one in Cluj-Napoca, Romania) are filled with all the talents your online store could possibly require. Besides a sizeable team of developers, plenty of digital marketers and graphic designers are at your disposal. "I have always been an allrounder," explains Deboo. "Photography, marketing, developing; for years I did it all by myself. When I founded Baldwin, I started replacing myself with experts in all these fields. Now, our clients can count on the highest-quality service in all these facets without having to run from one agency to the next." That, however, doesn't mean you can't rely on Baldwin's services separately. When in need of a top-notch developer or an extraordinary graphic designer alone, you are more than welcome at the firm, as well.
Entirely unique
For Baldwin, webshops must be made to measure. With every new client entering the door, they reinvent what a web shop can be. Yet, that doesn't mean that they have to start from scratch. "With years of experience, we have, of course, learned one or two things about web shops. We understand that photography is vital to selling well. But that doesn't mean we use the same kind of photography for a fashion store and a retailer of industrial machinery. The product always determines our methods."
On the other hand, Baldwin's team is not afraid to reuse existing items either. As masters in Magento (an open-source platform that can be used as the basis for building your web shop), they are just as happy to tailor you a store from existing Magento building blocks. "As millions of people worldwide use Magento, the odds that the elements you want on your site have been built before are big. By reusing these elements instead of coding them ourselves, we can reduce the price tag of your website significantly. The quality of the code won't be inferior, either. As these elements have been used on numerous websites before, they are usually entirely optimised." The use of Magento is, of course, limited to the back-end developing of your webshop. The actual graphic design of a Baldwin product is always 100 per cent unique and matched to your preferences.
Omnichannel shopping
As the world of e-commerce is fast-evolving, Baldwin conducts plenty of research to stay on top of things. Today, they are exploring the added value of screens in the offline retail sector. "Omnichannel is the future. In the next years, the 'e' in 'e-commerce' will slightly fade and elements of online shopping will enter the physical stores. Some brands already work with systems like these: if you go to McDonald's, you can order your burger on a screen, and that makes sense. The added value of human contact while ordering such a menu is very minimal, anyway. By digitalising it, we can make the process more efficient without losing quality. And I think that the retail industry counts more jobs that can be replaced by screens. In Asia, they already do fantastic things. Some airports there have screens with facial recognition. The moment you stand in front of them, they show you your flight information." Of course, technologies like these won't come to Europe anytime soon. Yet, Baldwin wants to be a frontrunner in the field. "Soon, we will launch a software system which stores can implement in their branches. This way, the future might arrive sooner than we think."
Subscribe to Our Newsletter
Receive our monthly newsletter by email