Auberive Abbey: Apples and art in a Cistercian abbey
Text: Chérine Koubat | Photos ©Abbaye D'auberive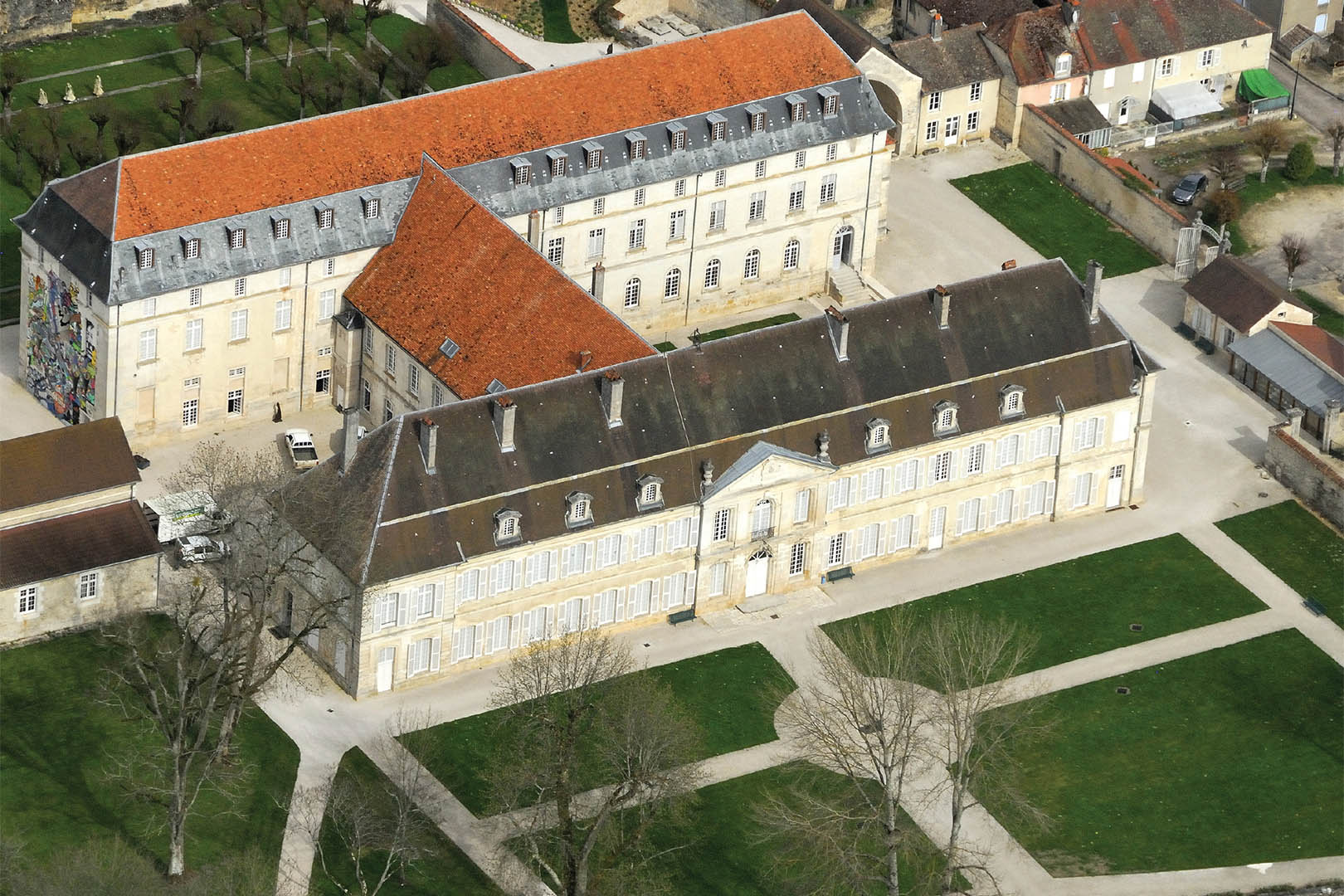 Set in the heart of what will soon be France's 11th national park, Auberive Abbey is a most unusual place. The historic 12th-century building, with beautiful orchards growing ancient apple varieties, also doubles up as a contemporary art centre. Thanks to the vision and dedication of the Volot family, it has become an unmissable spot for nature, art and history enthusiasts alike.

Love at first sight
Alexia Volot comes from a family of collectors, with over 2,500 works from international artists and a clear focus on figurative expressionism and 'outsider art' – art generally made by autodidacts that sits outside the boundaries of official culture. "It's fascinating when people suddenly see the potential of a material not traditionally meant for art, such as seashells, peels or fabric," enthuses Volot. "So what we have now is akin to a cabinet of curiosities."  Her parents had been searching all over France for the right spot to showcase their growing collection. "They looked at castles, old factories and modern buildings, but when they visited the abbey in 2004, it was love at first sight," she explains. They convinced her to leave Paris behind and join them on their art adventure, of which she is now an integral part.
The abbey's nine lives 
A listed monument, Auberive Abbey is a Cistercian abbey founded in 1135 by Bernard of Clairvaux, the future St Bernard. It was entirely rebuilt during the 18th century, before heritage conservation came to be, and was privately owned between 1791 and 1856. The French state then acquired the abbey, which became a women's prison for three decades. Between 1885 and 1924, it functioned as a workhouse for minor delinquents and a farming camp for boys, whose time was split between farm work and rudimentary education. It was rebought by monks in 1930 and, by the time Volot's family bought it, it was used as a summer camp for the works council of Belgian giant Solvay. Saying it has left its mark on the area would be an understatement. Even the 5,000 hectares of neighbouring forests, which will be encompassed in the upcoming 11th French national park, once belonged to the abbey.
A wealth of rare apples
Though the building warrants a visit in itself, its three orchards, set over six and a half hectares, are undoubtedly another highlight. There are around 70 trees (mostly apples, with some pears and plums), including varieties so rare that some can't be found anywhere else in France. So much so that Volot's family teamed up with a local apple conservation organisation in an attempt to safeguard existing varieties and replant more fruit trees. "Each variety had its own use back in the day," she explains. "They bore fruit for alcohol-making, roasting or as fodder for animals. But we're not that discerning today, we just press the lot!" The yearly production of about 1,000 kilogrammes is sent to the local press, where it is juiced and bottled up before returning to the abbey. "It has an indescribable depth of flavour. We actually have some die-hard fans who come especially every year and buy it by the caseload," she adds.
Current exhibition
The family curate a yearly exhibition, selecting specific artists or themes from their wide collection. This summer, the exhibition titled Recueillir les Histoires (Collecting Stories) focuses on three radically different artists linked by one core similarity: the art of storytelling. Expressionist Cristine Guinamand's large-scale colourful paintings suck the audience into a heavenly universe, only to confront them, upon closer look, to a bleaker reality. Algerian-born Kamel Khélif is a talented illustrator who delves into exile and cultural inadequacy in largely grey and brown-toned works, which are deeply rooted in his family history. The third artist is the late Sam Le Rol, a former cabinet-maker who developed a quirky passion for shells and obsessively created hundreds of intricate architectural reproductions and fairytale scenes. "It goes to show that human creativity doesn't belong to a certain elite. When it comes over someone, it can really take over," muses Volot.
Visitor information The contemporary art centre is open from Sunday 2 June to Sunday 29 September 2019 Tuesday: 2pm – 6.30pm Wednesday to Sunday: 10am – 12.30am and 2pm – 6.30pm The rest of the abbey is open all year round Audio guides are available in four languages (French, English, Danish and Dutch) and apps are provided in French, Italian and Spanish. Website: abbaye-auberive.com
Subscribe to Our Newsletter
Receive our monthly newsletter by email