Atrium Business Park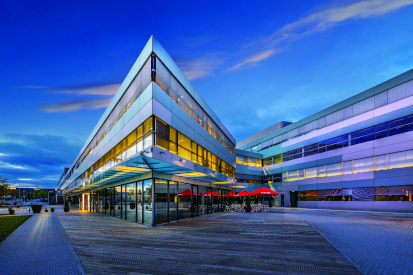 Workspaces that make a difference
TEXT: SILKE HENKELE | PHOTOS © DEKA IMMOBILIEN GMBH
The workspace in Atrium Business Park in Bertrange, approximately three kilometres west of the centre of Luxembourg City, has exactly what modern businesses need. Sporting a singular blend of services and structures that make socialising, working, networking and keeping a healthy work-life balance easier, these workspaces are an obvious choice when it comes to facing the everyday challenges of modern work life.
"When we took over the Atrium Business Park in 2016, one of our foremost goals was to improve the feel-good, inspiring and welcoming atmosphere of the facility. So, by introducing a number of changes – such as, for example, new signage and digital display boards in each entrance hall, as well as a new landscaping project – we are creating a relaxed, worker-friendly environment that considerably facilitates everyday life. At the request of our tenants, we are also looking into providing more health/sports activities on-site," says Jack Schulte from Deka Immobilien GmbH, the owner of Atrium Business Park.
Offices for individual needs
Located within comfortable reach of the motorways leading into Belgium, France and Germany, the Atrium Business Park is easily accessible. By offering the tenants a secure, perfectly adaptable work environment, Atrium Business Park creates a unique ambiance for businesses that focus on inspiring work as well as on the perfect work-life-balance of their employees. "Atrium Business Park matches the requirements of modern people and enterprises," elaborates Schulte. "For one, our buildings are secured by modern, high-end security systems and ultra modern signage to provide up-to-date guidance."
To cater for the needs of almost any company seeking quality business space, the office space offers great versatility. What is more, Regus Business Centres have recently opened a new centre in Atrium Business Park, where they offer flexible offices and designated rooms for rent, for one-off events such as conferences or important business meetings, for example.
"Adding to this, the number and types of services simplify the everyday life of the tenants, and further add to the generally positive feeling of our premises," Schulte says.
More than just a workplace
While the adaptable work space at Atrium Business Park is already a big plus, its services are equally important. Adding to its inspiring, modern surroundings, the infrastructure of Atrium Business Park leaves nothing more to be wished for. As Schulte explains: "We are very much aware of the fact that one of the most challenging tasks of our time is to keep a healthy work-life balance by bringing a variety of demands under one roof. Atrium Business Park is an answer to this challenge. Our services tremendously simplify the lives of the tenants. It starts with a remarkably high number of parking spaces, which is quite unusual for the City of Luxembourg, where parking space is a big issue. The concierge service sees to the everyday needs of the tenants. With three restaurants on site, and food trucks across the street, our tenants never need to go far to have a quick, informal bite with their co-workers or a classy lunch with their business partners."
On top of that, Atrium Business Park also sports a Montessori child daycare centre which offers spaces for up to 60 toddlers between the ages of two months to four years. With opening times on weekdays from seven in the morning to eight in the evening, the centre is perfectly adaptable to the sometimes challenging business hours of a parent.
A perfect location
In Atrium Business Park, the owners have conceived an object that fits the requirements of modern businesses and their people. Renowned enterprises like Citi, AG2R La Mondiale, Bâloise, Ricoh, JLL, Regus and Kneip are already resident at Atrium Business Park, and like-minded companies will soon follow.
Atrium Business Park is proud to call itself Luxembourg's best choice for a healthy and productive work-life balance that makes employees feel valued and their work appreciated.

Web: atrium.lu
Subscribe to Our Newsletter
Receive our monthly newsletter by email