ANGELIQUE VAN OMBERGEN: On a mission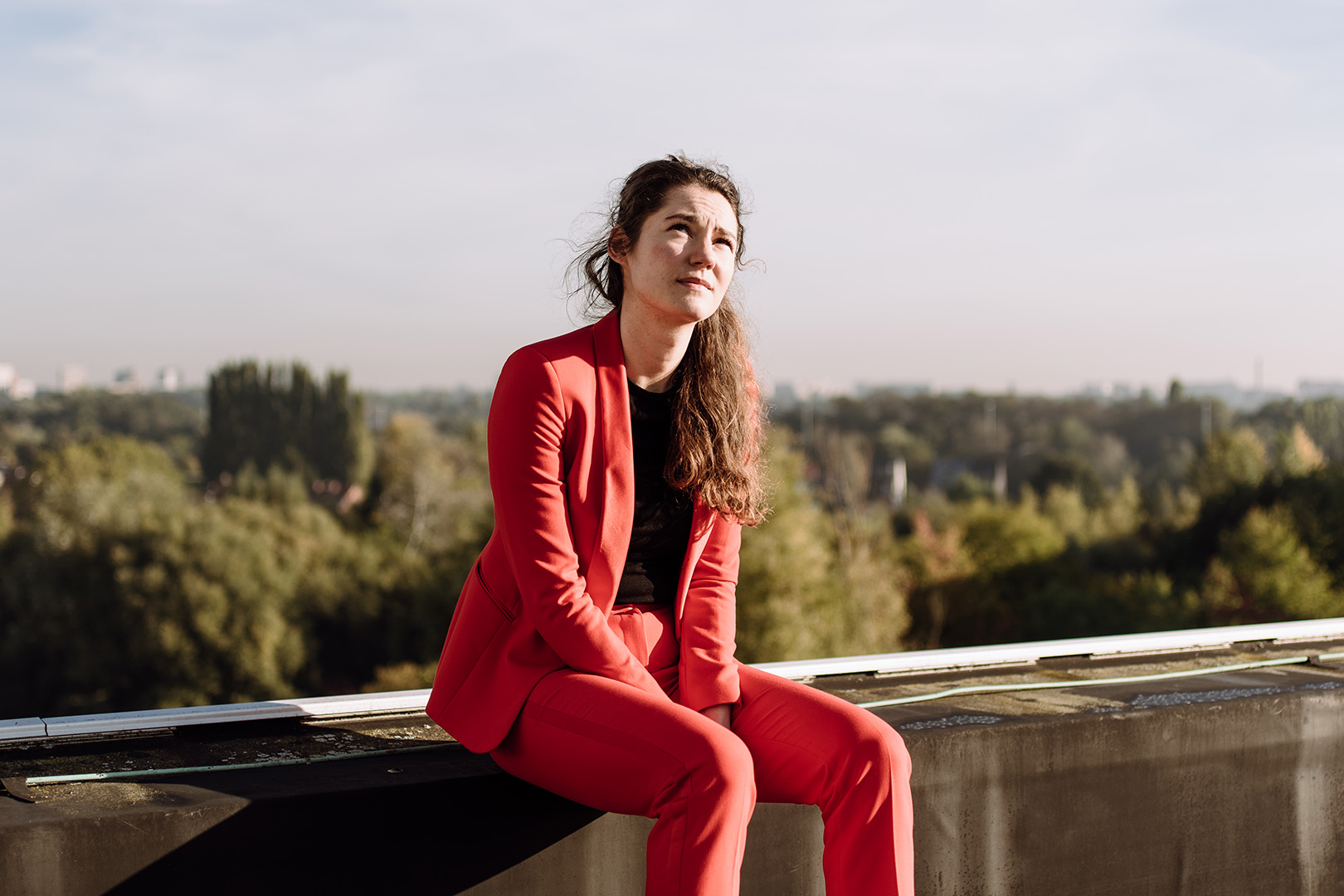 Earlier this year, Belgian scientist Angelique Van Ombergen gained international attention thanks to her appearance on Forbes magazine's prestigious 30 under 30 list for Europe. The Beveren native, who also scooped the Flemish PhD Cup in 2018 for her research into space travel's effect on the brain, now works as a science coordinator for the European Space Agency's human research programme. She also finds time to write her own children's books, not to mention being involved in various initiatives to engage young people with science. We caught up with Van Ombergen to find out more about her mission to bring science to the masses.
"I think it was just something that was intrinsically there for me," muses the academic, reflecting on when her passion for science emerged. "When I was younger, I just wanted to know why things happened — and how they happened. I used to have a microscope when I was little — I really enjoyed that. I was very keen on reading encyclopaedias, National Geographic, all those kinds of things.
"To be honest, I was also not a very sporty person and I wasn't very creative as a child, but learning was something I was really good at. I think that's why I enjoyed it so much."
Pioneering research
After excelling in latin, maths and, of course, science at school, Van Ombergen went on to study audiological science at Ghent University, before embarking on her PhD at the University of Antwerp in 2013. Her field of expertise? The way human bodies react to space flight. "We basically investigated what happens to the brains of astronauts," explains Van Ombergen. "We performed MRI scans before and after space flights. This really enabled us to compare the scans very well and pinpoint exactly how and where changes occur in the brain."
"In the brain you have grey matter — basically the building blocks of the brain. What we see is that after space flight, this grey matter decreases in volume, and this is still clear a few months after the return from space."
These findings may sound alarming, but as Van Ombergen points out, the changes picked up on are very slight.
"It's important to realise that our methods are very sensitive, so we pick up very small changes. This does not necessarily mean that astronauts are affected by it.
"I always compare it to your arm — if you measured it and it became a little bit smaller you could measure the difference, but that wouldn't mean you would have issues using it. This was just the first phase of the research, and obviously in the future this will be built on and the changes will be quantified to see what this means for the astronauts on a daily basis."
Public space
Making science accessible is something Van Ombergen is very passionate about. "Scientists are often under a lot of pressure to stay within the field of academia, but it's a very good exercise to try and think about what your results mean on a larger scale — for example, what does it mean for the larger general public? What are the implications for them?"
"I know a lot of my colleagues don't like it when I say it, but I also think it's a little bit of a must. A lot of scientists get paid by public money and in that sense I think it's a part of our job to translate the results back to the public. In general, they are very eager to learn about it and engage in it."
For the past five years, Van Ombergen has been very actively involved in setting up science communication initiatives, not to mention regularly holding workshops and giving lectures. "I've even started organising space camps for children aged between ten and 12 with a friend of mine," she enthuses. "That's something that I enjoy a lot, and that I also find very important."
Angelique Van Ombergen has released two children's books: In Mijn Hoofd (In My Head) and Reis Naar De Sterren (Journey to the Stars).
Children's books
Another way that Van Ombergen is making science more attainable for the younger generation is via her children's books — the first of which, In Mijn Hoofd (In My Head) was published last year for children aged nine upwards. "It basically explores how the human brain works. There's a lot of information in a way that is accessible and relatable, with a lot of images, jokes and things like that," she reveals. Her second children's book, Reis Naar De Sterren (Journey to the Stars) was released in May. "It's about aerospace," explains Van Ombergen. "I wrote it together with an aerospace engineer. He wrote about satellites and things like that, while I wrote more about my specialty — which is what happens to the human body in space, how astronauts train…the more human aspects of space flights."
Van Ombergen's books will no doubt help to instil a passion for learning amongst its young readers, and the scientist is eager to point out how important it is for her to be a role model to them.
"I do find it incredibly important as a scientist, and especially as a female scientist, to be visible," she asserts. "I think there's still a lot of implicit bias going on: for example, about what a scientist looks like — which is usually white, middle aged, and male — that is definitely not the case."
Closing the dream gap
Van Ombergen is also involved in the Dream Gap Project, organised by Barbie manufacturer Mattel, which aims to show girls more role models on an international scale. The company recruited role models from across the globe in different fields, and Van Ombergen was recruited for the space field in Belgium.
"The main goal of this initiative is to close the dream gap. Research has shown that young girls stop believing they can be anything or that they can pursue a career in anything at the age of five or six. They get the idea 'ok maybe I cannot be an astronaut, maybe I cannot be a firefighter because that's something for men or because I will not be good enough'," laments Van Ombergen.
"It's very important not only for girls, whom I value a lot, but also for younger boys to see that women can be experts in science and technology too. I think it's a combination of both inspiring girls and showing boys that it's normal that women are good at what they do — whatever that is."
TEXT: ANNA VILLELEGER | PHOTOS: KEVIN FAINGNAERT
Subscribe to Our Newsletter
Receive our monthly newsletter by email