Amsterdam Zuid & West: The wild west and the stylish south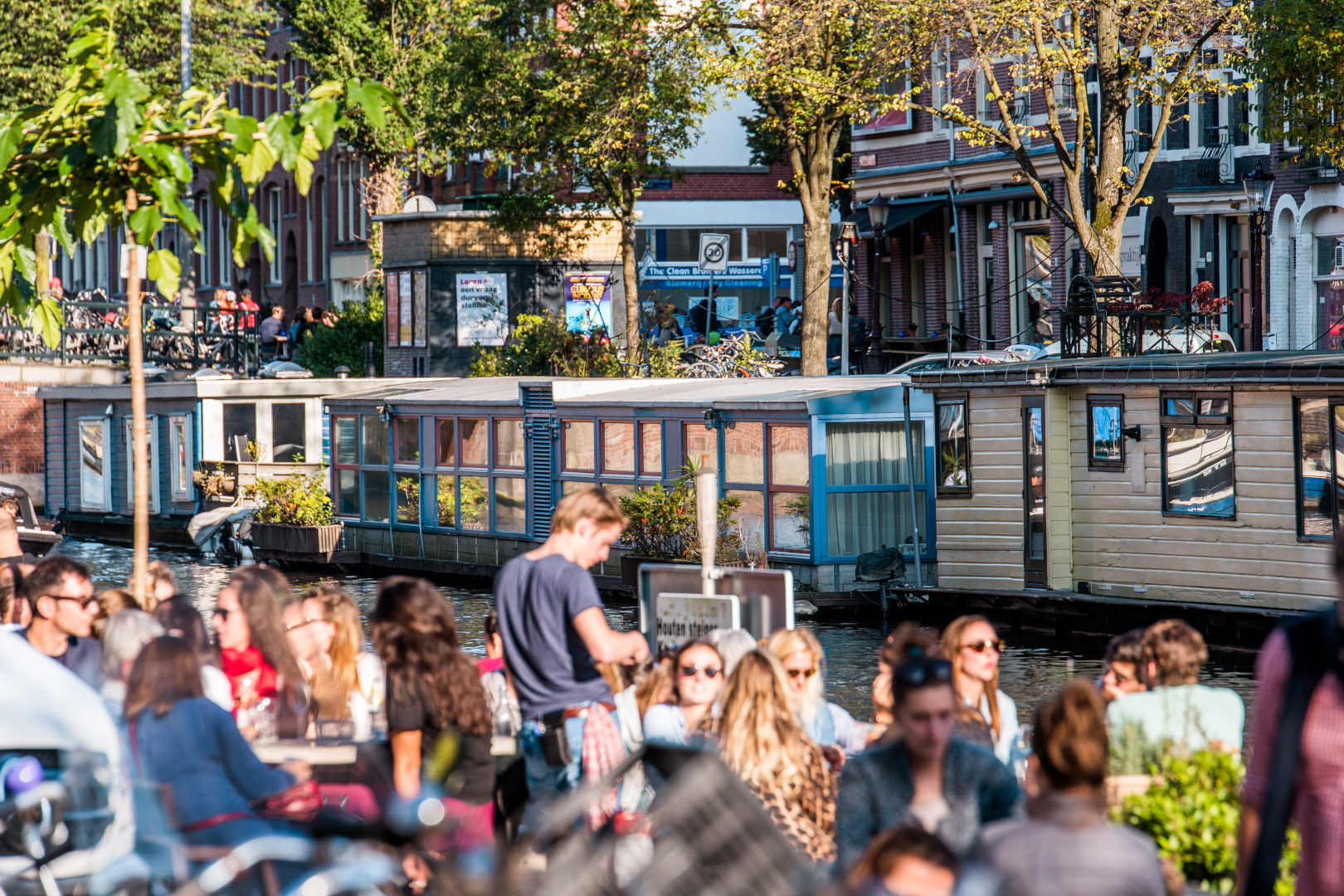 The capital's most delightfully diverse districts. Whilst Amsterdam-West is a vibrant melting pot brimming with cultural delights, Amsterdam-Zuid is stylish yet serene. Read on for our guide to the Dutch capital's most desirable and diverse districts.
Go West: Crammed with culture
Comprising Oud-West, Nieuw-West, Westerpark, Bos en Lommer and De Baarsjes, the western districts of the Dutch capital are bursting with diversity and cultural gems. Bordered by verdant Vondelpark and the picturesque Singelgracht canal, the Oud-West neighbourhood is home to an array of hip hotspots, with the trendy De Hallen Amsterdam cultural centre being one of the most popular. Housed in a former tram depot, De Hallen is now home to a boutique hotel, an array of independent retailers, a food hall and an arthouse cinema complex.
Further west you will find the creative districts of Bos en Lommer and De Baarsjes, which are becoming hipper by the day. With plenty of green space, a vibrant arts scene and a young multicultural crowd, these areas are well worth exploring.

LEFT: VONDERPARKM, AMSTERDAM, PHOTO: NBTC, RIGHT: KONINGINNEWEG, PHOTO: KOEN SMILDE PHOTGRAPHY- RECHTENVRIJ
Another area on the up is Nieuw-West, which comprises the former districts Geuzenveld-Slotermeer, Osdorp and Slotervaart. This large and verdant neighbourhood is home to parks such as Sloterpark. Why not escape the heat in the city centre and relax by Lake Sloterplas?
Also on your Amsterdam-West to-do list needs to be the Westergasfabriek, a former gasworks that has been completely renovated in recent years and now hosts a cinema and theatre as well as various creative businesses, cafés and restaurants. The Westergasfabriek can be found in the magnificent Westerpark, a haven of greenery within the eponymous Westerpark neighbourhood. Just east of Westerpark are the Westelijke Eilanden (Western Islands), a pretty group of man-made islands that were built in the 17th century and have a village-like atmosphere.
The stylish and serene south
Located next to Vondelpark, the Netherlands' most famous park, and just below the cultural haven of Museumplein, Amsterdam Zuid has long been the Dutch capital's most desirable address. With Oud-Zuid's grand manor houses, tree-lined boulevards and designer boutiques, it is easy to see why. The city's south is also home to charming neighbourhoods such as Schinkelbuurt with its pretty waterside cafés and restaurants, not to mention the super stylish De Pijp district.
Attracting culture vultures and fashionistas alike, chic Oud-Zuid has earned a reputation as the capital's poshest neighbourhood. Situated between De Pijp and Amsterdam West, Oud-Zuid is home to sophisticated shopping streets such as P.C. Hooftstraat, Jacob Obrechtstraat, Cornelis Schuytstraat and Beethovenstraat.
Worth checking out is Willemspark, one of Amsterdam's most expensive neighbourhoods and arguably one of the loveliest. As you meander down the peaceful, birch-lined streets, admire the quintessentially Dutch century-old town houses with their peaked gables and elegant balconies.
For fans of urban cityscapes, Amsterdam's flourishing business centre, Zuidas, is worth a look. To the south of the city centre and close to Schiphol Airport, it is home to some of the world's best-known companies from the financial, legal and business services sector. Meanwhile, more and more retail outlets and leisure activities are popping up.

LEFT: MUSEUM HET SCHIP, AMSTERDAM, PHOTO: NBTC, RIGHT: ALBERT CUYP MARKET, PHOTO: KONINGINNEWEG, PHOTO: KOEN SMILDE PHOTGRAPHY- RECHTENVRIJ
Popular with students as well as young creatives and families, the De Pijp neighbourhood is famed for its diversity with more than 150 different nationalities residing here. The area was built up towards the end of the 19th century and, as its name suggests, the picturesque narrow streets can be described as rather pipe-like.
The neighbourhood is centred around Albert Cuypmarkt, the country's iconic outdoor market which dates back to the early 20th century and is home to around 300 stalls. From flowers to clothes and from international delicacies to traditional Dutch raw herring, you will find just about everything here. After a spot of shopping, head to the intersecting streets for some people watching and lunch at one of the many lively restaurants and cafés.
DO NOT MISS:
Museum Het Schip
A museum based in one of the most expressionist apartment blocks in Amsterdam, located at the Spaarndammerplantsoen. Het Schip explores the Amsterdam School style of architecture in its social, political and artistic context. The apartment blocks are designed by Michel de Klerk.
Neighbour Food Market
Every third Sunday of the month, this market in the Wester-gasfabriek gathers the most delicious food from all over the world. Some stalls also sell vintage clothing, but make sure you get there early for the best finds!

SILODAM, PHOTO: NBTC
Silodam
A definite highlight for architecture aficionados, the Silodam is a modern residential building located on the banks between the Houthavens and the IJ river. The interesting design by MVRDV architects counts 17 different colours and styles of cladding.
Ketelhuis Cinema
Celebrity alert! This comfortable cinema shows the best art house films, including Dutch youth cinema and documentaries. Its café is a popular hangout for Dutch actresses and actors. Also an excellent choice if you just want to have a drink.
TOP TIP:
I Amsterdam City Card: enjoy free unlimited transport, free entry to Amsterdam's best museums and attractions, and great discounts. Also usable for trips to neighbouring towns around Amsterdam.
Start planning your trip to Amsterdam now, at www.iamsterdam.com.
TEXT: MALIN NORMAN | TOP-IMAGES © KOEN SMILDE PHOTGRAPHY- RECHTENVRIJ
Subscribe to Our Newsletter
Receive our monthly newsletter by email