Allard Pierson Museum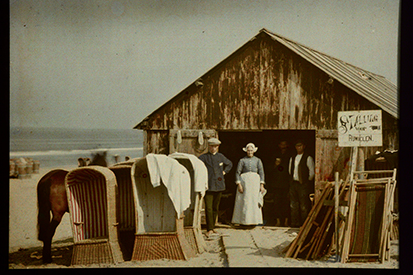 When visiting Amsterdam this summer, take the opportunity to check out vibrant colour photography from before 1918, now showing at the Allard Pierson Museum.
The Allard Pierson Museum is the archaeology museum of the University of Amsterdam. Here, in the heart of the city centre, ancient civilisations of ancient Egypt, the Near East, the Greek World, Etruria and the Roman Empire
come to life.
This summer, visitors have the opportunity to check out the vibrant exhibition The World in Colour: Colour Photography before 1918. According to museum director Wim Hupperetz, "photography is very appealing to people, and this is a mix of a cultural and historical collection in collaboration with a network of museums, highlighting early colour photography."
When colour photography became available, French banker and philanthropist Albert Kahn hired photographers to capture the world in colour pictures. His project Les Archives de la Planète, started in 1908, was born from an idea of mutual respect and world peace that is in stark contrast to the horrors of World War I that began a few years later. "Kahn was ahead of his time and quite idealistic," says Hupperetz, and continues: "his archive is still very much current and raises questions that we also need to discuss in our times, such as cultural diversity. Not many people know that colour photography existed this early on and for many visitors, the exhibition will be an eye-opener."
As of June, the Allard Pierson Museum exhibits a selection of Kahn's treasures. Also on view are colour photos by Sergey ProkudinGorsky from Russia and Dutch photographers such as Bernard Eilers and Jacob Olie, Jr. This s the first exhibition in the Netherlands displaying these historical, colourful and often poignant pictures from a hundred years ago.
Subscribe to Our Newsletter
Receive our monthly newsletter by email