Adornes Domain: A medieval estate with a mission
Text: Chérine Koubat | Photos: Adornes Vzw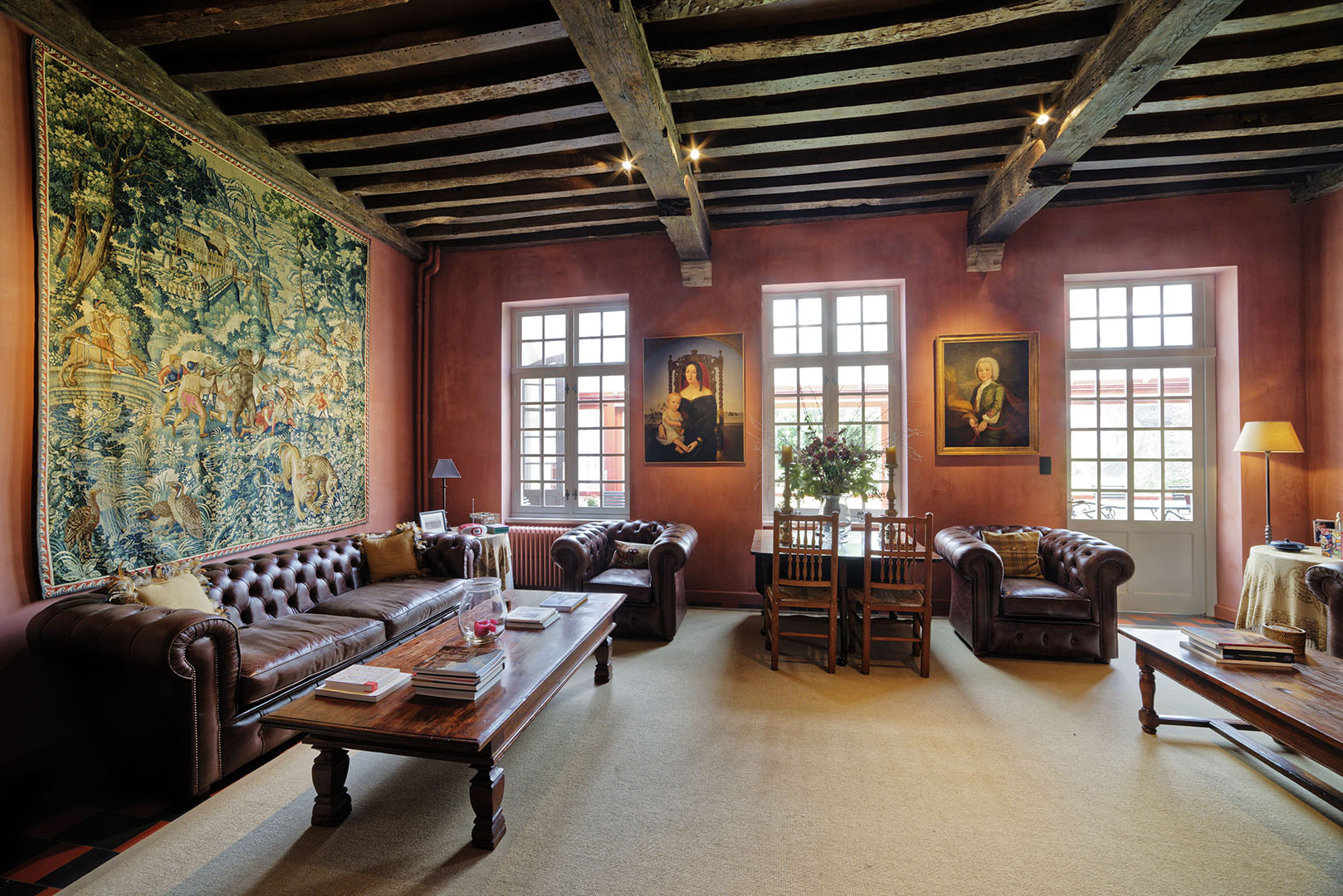 The Adornes Domain stands in a peaceful part of Bruges, close to and yet secluded from the hustle of tourist hotspots. It exudes a mystical serenity and the intimate feel of a private home. Housing contemporary art exhibitions and a museum, it allows visitors to delve into the history of the city, all the while weaving a subtle narrative around the themes of heritage and identity.

A rich history
The medieval estate and its unique chapel are a fixture of the Sint-Anna quarter, a web of historic, cobbled lanes that have retained their authentic charm. The Adornes Domain has been in Maximilien de Limburg Stirum and his wife Véronique's family since it was built, in the early 15th century. The Italian Adornes, a family of Genoan merchants, settled in Bruges in the 13th century and cemented their position locally through marriages and alliances. They quickly took over key positions in the administrative and economic life of the city and built this beautiful testament to their social prominence. As Véronique de Limburg Stirum explains: "Back then, when you made it, you didn't get a Ferrari, you built a chapel."
The estate consists of a mansion, the beautifully macabre Jerusalem Chapel, quaint almshouses and a garden. Though it never officially changed hands, the Adornes Domain has had its share of eventful changes. Turned into a convent from the 1830s to the 1980s, it also housed a lace museum until 2014.
An inspirational figure
The estate, as it stands today, is the vision of Anselm Adornes, undoubtedly the family's most famous member. A successful merchant, a patron of the arts and an ambassador for the Duke of Burgundy, he had his fingers in many pies and his eyes firmly set on the future. He built the almshouses – the ancestors of social housing – alongside the chapel for sick, destitute and widowed women. Incredibly, the last resident left her home – now the setting for the multimedia museum exploring the life of Adornes – in the 1950s.
Though not much is known about his personality, Adornes' life seems to suggest he had an inquisitive mind and energy to spare. He set off on a pilgrimage to Jerusalem, a 14-month-long journey on foot. "This was a dangerous undertaking. It was a huge act of faith, of course, but also an incredible exploration of the world at the time," enthuses de Limburg Stirum.
Deeply inspired by the Church of the Holy Sepulchre, he built the impressive Jerusalem Chapel upon his return. It boasts a stone retable adorned with skull motifs and surmounted by three large, jarringly empty crosses – an arresting site. The consecrated chapel is also a family mausoleum, with the recumbent figures of Adornes and his wife in Tournai stone epitomising the spiritual and intimate quality of the place.
"He was a true Renaissance man and is still a source of inspiration," says de Limburg Stirum . "He not only created a family heritage but also left his mark on the identity of Bruges itself."
Preserving and bringing alive
De Limburg Stirum fell in love with her husband's estate as soon as she saw it: "I wanted to share it with the public, but also to rekindle my family's emotional connection with it." Opening up and reclaiming this historic landmark went hand in hand as, in de Limburg Stirum's eyes, preservation without attachment is not sustainable. "It is too costly, both financially and effort wise," she explains. "So unless you can enjoy the property somehow, your project is doomed."
It is currently a secondary residence, mainly used for family gatherings, with completely private living quarters. Privacy is part of the appeal, adding a lived-in feel that the family is keen to keep alive. They've even created a cosy room, dubbed the Scottish Lounge, with comfortable chairs, board games and refreshments for visitors to use freely.
De Limburg Stirum firmly believes that heritage should propel us forward and not be a mere symbol of the past, hence the estate's focus on contemporary art and local talent. Currently on show, until 31 August 2019, are striking, semi-abstract tapestries entitled Entropy (meaning the radical decline into disorder) by Studio KrJst. "The show has a beautiful link to Notre-Dame, which was almost burned to the ground. Everything tends to disintegrate and nothing is reversible. But through a colossal effort and dedication, we can keep these buildings and their stories alive."
A semi-permanent exhibition, called Backstage, is a regular fixture. It documents the trials and tribulations of heritage conservation through a series of photographs, from the technical challenges of changing a light bulb in a medieval building, to Tatler-esque snippets of house parties at the estate. Future plans include opening up a larger part of the garden, creating a sustainable vegetable patch and updating the museum.
Adornes Domain (Adornesdomein), 1-3 Peperstraat, Bruges. Web: www.adornes.org
Subscribe to Our Newsletter
Receive our monthly newsletter by email