Veja Bathrooms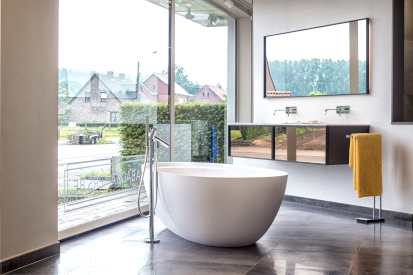 A perfect bathroom for every taste
TEXT: XANDRA BOERSMA | PHOTOS © VEJA BATHROOMS
Classic, Victorian, retro or very modern − there is something for everyone: which sounds like a cliché, but is very true. At Veja Bathrooms, they make sure you get the bathroom of your dreams.
It has been a year and a half since An-Benedikte Ceulemans and her husband Pieter de Jaeck took over Veja, which was founded in 1994. But looking at the difference they have made, it might as well have been years. "We've changed the showroom and collection completely," Ceulemans says. "It used to be quite simple: wooden bathroom furniture, grey and white tiles… we decided we wanted to show off everything there is to offer."
How much more, exactly, Ceulemans discovered when she composed the new showroom. "We went to interior fairs in Milan and Paris, for example. I'm a big interior enthusiast myself, so luckily I have always been up to date with trends."
High-quality bathrooms
Trends are not the main priority for Veja though. While trends come and go, a bathroom design has to last for over ten years. "That's why quality means a lot to us. I ask every supplier before we go into business with them: if I buy your faucet now and ten years from now it breaks, will I be able to order the required parts? If the answer is 'no', we'll simply not buy from them. We have to ensure that the product we sell to our customers is the best and they will not be disappointed."
Craftsmanship and quality are the cornerstones of the company's ethos. Employees have been working there for a long time: they set the bar high for themselves and know the products thoroughly. "Those years of experience are very helpful for us. We really operate as a team. If we redecorate the showroom, every employee will be asked for advice. They're the ones that have the most knowhow after all."
Styles and trends
When entering the Veja showroom in the Belgian town of Lippelo, you immediately notice the diverse styles on offer. Whether you are a fan of '30s retro style with Italian marble or terrazzo tiles, or if you rather go for a contemporary look with matte black faucets: the choices are endless.
"Budget-wise as well, we offer the top segment, as well as affordable brands. But only those that offer quality, of course, and that have proven their worth over the years," Ceulemans adds. "We make sure that people do not feel like they could find more choice elsewhere. Yet no matter how different they are, what all our styles have in common is that they are timeless and elegant. If not, they won't be added to our showroom."
A recent, very popular addition to the collection, is the Luv bath by Duravit. It is a bath that looks detached but is placed against the wall. "People come to us specifically for this one. It's ideal for people who don't have enough space for a completely detached bath. You can combine it with a toilet and bathroom furniture in the same Nordic style."
Physical disabilities
Another important aspect of the Veja collection are the accessibility features they can build in to a bathroom. "People that have physical disabilities want a beautiful bathroom just like everybody else. The problem is, they usually end up with white plastic handles and such, as if they're in a clinical environment." This is definitely not the feeling a stylish bathroom should give. Veja offers electronic faucets, a moveable washing table and showers with a sliding door, to name a few of their features. All in the style of your choice.
"There are so many possibilities in this area. People underestimate that. What's popular these days, for example, is the warm-touch chrome. That way, the typical coldness will not put off older people. And we're also working on adding your bathroom to any home automation system you may have. That way, you can operate things like lights with your smartphone. It might even make it possible for elderly people to keep living in their home longer."
A complete package is what Veja Bathrooms are proud to offer: from the lighting to the bathroom tiles, furniture, towels and carpets. In every style there is.
Subscribe to Our Newsletter
Receive our monthly newsletter by email