Toplicht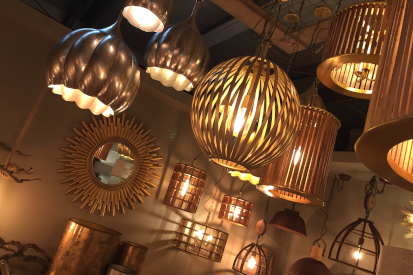 The Netherlands' boldest lampshades
TEXT: EVA MENGER | PHOTOS © DAVE VERBRUGGEN
To create an atmospheric space, it is not just lighting, but the particular shade of lighting required, that plays a central role. Choosing the right lampshade is therefore essential to achieving your desired look – and Dutch company Toplicht can help with just that. As an established lamp and lampshade studio, they are specialised in providing their expertise to hotels, restaurants and other large organisations.
"It was 1986 when my parents started creating lampshades up in their tiny attic," Toplicht owner Dave Verbruggen tells us when asked about the history of his lamp and lampshade business. "They then opened a studio and I used to spend all my summer breaks helping them out, eventually deciding to take it off their hands."
As the market had significantly altered compared to when his parents first started, he soon realised that he had to change things up a little. Keeping a close eye on fashion and design trends is one way of doing so, of course, but Verbruggen also feels that it was equally important to take a risk every now and then too.
"We once designed and manufactured lampshades with fake snake leather on the outside and all gold or silver PVC on the inside; they did not let any light through, but they became so popular that for a few years we didn't have time to make anything else," Verbruggen recalls. It is bold moves like this that help Toplicht stand out from the crowd – instead of following suit they are always more than happy to take the lead.
That is not to say that Verbruggen does not like to tap into existing trends. The luxury materials used in boutique hotels are suddenly popping up everywhere, and Toplicht's range shows great appreciation for that, by offering lampshades in velvet, gold leaf or botanical prints.
And if you cannot find what you are looking for, Toplicht is open to requests. "Clients can come to us with ideas and we will always do our best to get it for them, as quickly as possible," Verbruggen says.
Revealing that close client relationships are at the core of their business, he continues: "At the end of the day, all our lampshades are a product of a collaboration between my clients, leading trends and myself." And that is why, as a Dutch wholesaler, they still manage to compete with suppliers from India or China.
Subscribe to Our Newsletter
Receive our monthly newsletter by email