The ultimate winter destination – Lovely Flemish Limburg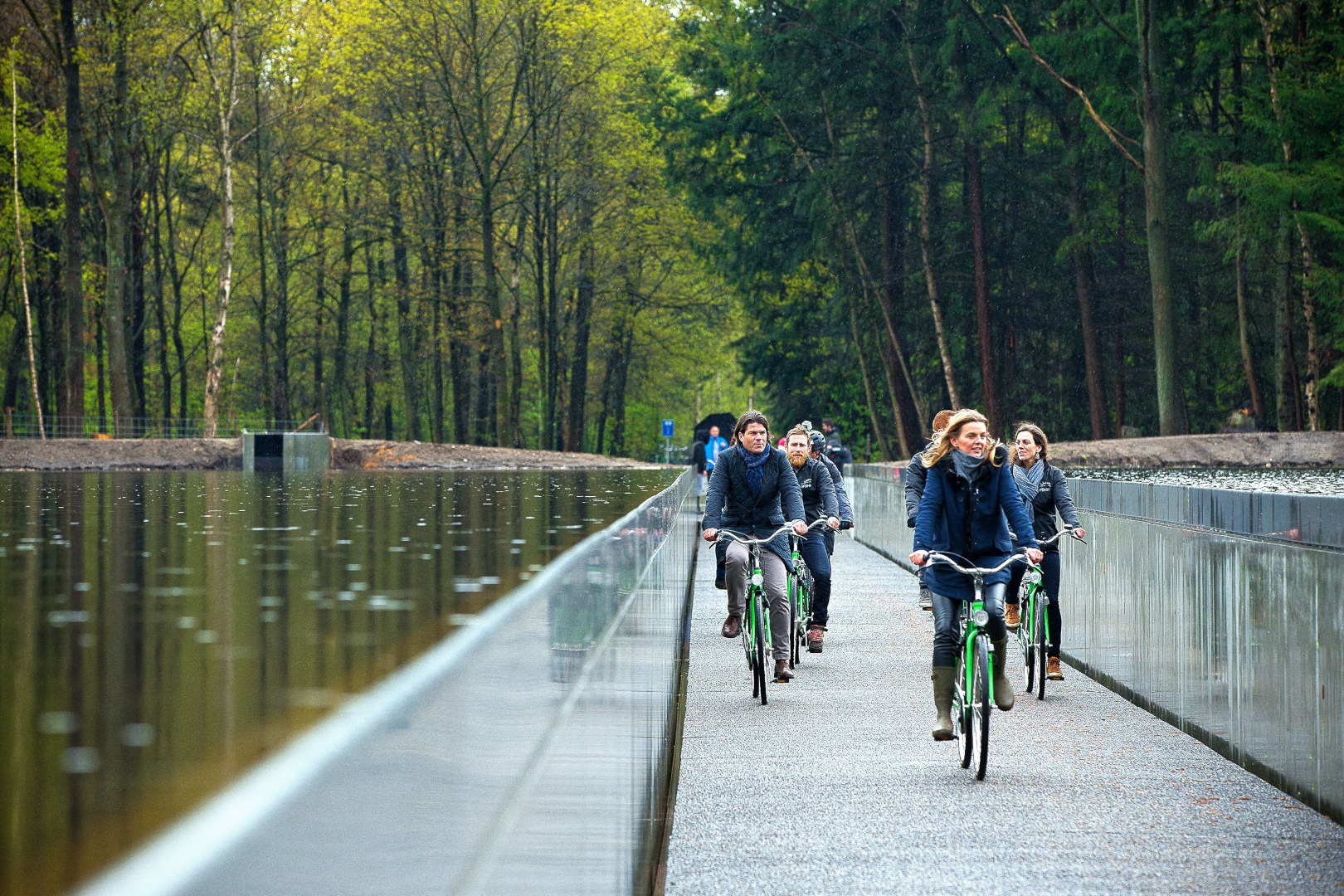 Home of beautiful nature, land of the river Maas, province of hospitality and culinary goodness: Flemish Limburg is many things. Priding itself on an extensive cycle network and an abundance of tourism activities, this Northern Flemish province is a beloved holiday destination for a good reason. From the stunning National Park Hoge Kempen to a glass of 'Hasseltse Jenever': there is a lot waiting to be discovered in Flemish Limburg.
TEXT: CHARLOTTE VAN HEK| PHOTO © VISIT FLANDERS & TOERISME LIMBURG
A cyclist's dream
You say Flemish Limburg, you think cycling paradise. With its forest-filled, water-rich and quiet landscapes, the province boasts an extensive network of cycling routes and is an immensely popular destination for everyone looking to get active. The international Maasfietsroute (Maas cycling route) also runs through Flemish Limburg and forms the perfect link between a string of scenic villages. Many routes even have special cycling cafés alongside them, to fully serve any thirsty cyclists passing by.
Not a fan of cycling? Fear not, as Flemish Limburg will amaze nature lovers. Internationally renowned for its beauty is National Park Hoge Kempen. Being the only national park in Flanders, it stretches out over 5,700 hectares across the locations of Genk, As, Zutendaal, Maasmechelen, Lanaken and Dilsen-Stokkem. Its water parks, heathlands and vast panoramas are a dream décor for every hiker or rider.
Royal villages and cities
Flemish Limburg boasts an incredible amount of cultural heritages that show the rich history and bustling present of the region. From archeological sites such as Rieten in Wijshagen to historic castles like Château de la Motte in Sint-Truiden; the many small and picturesque villages in the province are centres of history and heritage. The relatively small Voerstreek is also well worth a tour, with many cute towns such as Moelingen, 's-Gravenvoeren, Sint-Martens-Voeren and Sint-Pieters-Voeren.
Looking for a bit more hustle and bustle? Flemish Limburg is the home of vibrant cities Hasselt and Tongeren. Hasselt and its environs is the perfect location for a city trip, with trendy boutiques, fascinating museums, sunny terraces, and delicious restaurants around every corner. Tongeren prides itself on being the oldest town in Belgium, and rightfully so: visit any place in the city, and the history is right in front of you. City walls from the first century, a Roman archaeological site, the excellent Gallo-Roman Museum: Tongeren is the perfect combination of history and present.

SHIPPING AT HASSELT. PHOTO © KOBE VANDERZANDE & HASSELT TOERISME
PUT THIS ON YOUR TO-DO LIST:
Cycling through water at Bokrijk: Always wanted to cycle through water? You can at Bokrijk; a region in the municipality of Genk boasting a playground and a fabulous open-air museum. Here you can enjoy the greenery and the silence of nature.
C-Mine at Genk: The town of Genk has a very rich mining history; many important places in the town are located at previous mining sites. C-Mine is one of them: a creative hub regularly hosting interesting exhibitions and other cultural events.
Wijnkasteel Genoels-Elderen: In the municipality of Riemst, along an old Roman arbor, lies the only wine castle in Belgium. Not coincidental, as the Romans already had vineyards in this area. With 22 hectares of vineyards, the Genoels-Elderen vineyard is the largest wine-growing region in the country and welcomes 15,000 visitors annually.
Achelse Kluis: The Trappist Abbey of Achel or Achelse Kluis is famous for its spiritual life and brewery, which is one of few Trappist beer breweries in the world. Life in the abbey is characterised by prayer, reading and manual work, the three basic elements of Trappist life.
Beguinage Sint-Agnes: Founded in 1258, this haven of peace in the outskirts of Sint-Truiden was in 1998 added to the UNESCO World Heritage list, together with 12 other Flemish beguinages. It hosts an impressive church with beautiful murals.
There is almost too much to do in Flemish Limburg. Toerisme Limburg helps you on your way.
www.toerismelimburg.be
Subscribe to Our Newsletter
Receive our monthly newsletter by email