The Fire in the stone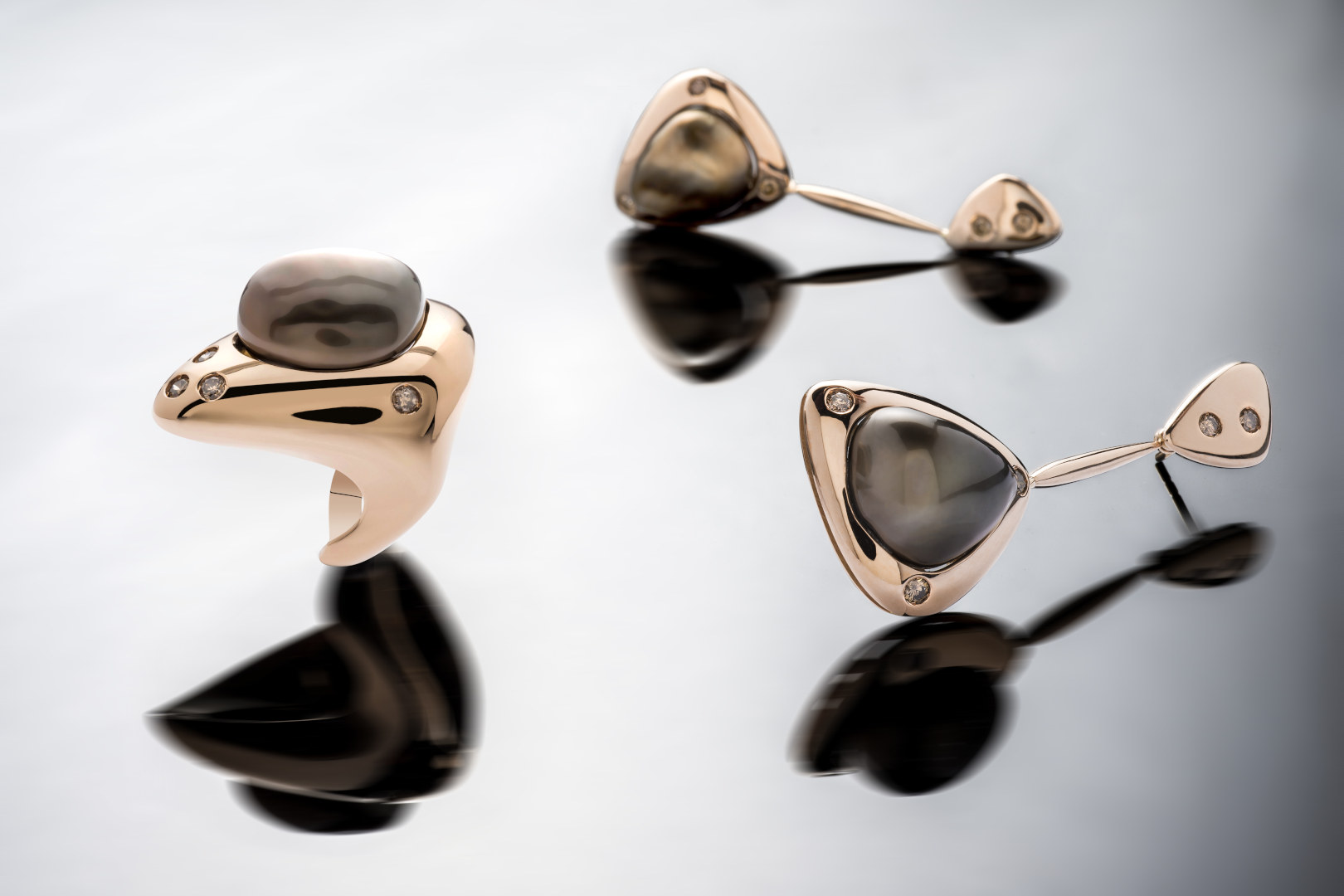 Based in historical Bruges, international award-winning goldsmith and jeweller Peter Quijo combines clean original designs with cutting-edge craftsmanship, taking the age-old art of jewellery to the next level.
TEXT: FRANK VAN LIESHOUT | PHOTO © PETER QUIJO
Passing Peter Quijo's quaint little shop in the historical city centre of Bruges you might not expect to find a jewellers of international repute behind the unassuming facade. But the people from Bruges know differently. Peter's father Fernand started the business some 72 years ago, and Peter was involved from a very young age. Now, at 60 and with 42 years of experience as a goldsmith and jeweller under his belt, he runs the business together with the third generation, his daughter Jade.
Born and raised in Bruges, Peter has always felt a deep, spiritual connection with his native city. "Everyday I'm inspired by the beautiful buildings, the unique atmosphere, the proud people and the city's rich history," he says. "Bruges was Europe's first centre of diamonds in the 15th century, trading with Italian cities such as Venice and Genoa, before the trade moved to nearby Antwerp."
No wonder then that many of Peter's jewellery and diamond designs are inspired by Bruges. One of these creations is a polished cut called the Qui Vive, a new interpretation of the classic square diamond with 64 facets to enhance the diamond's natural colour. Looking deep into the centre of the stone, one can discern the Maltese Cross. "This refers back to the story of the Knights Templar," Peter explains. "In medieval times, they took the relic of the Holy Blood from Jerusalem to Bruges, where it is still kept in the 12th century Basilica of the Holy Blood."
Jewellery Oscars
Peter's most famous design is a diamond cut which reflects the cobblestones of Bruges' streets and which hankers back to the city's past as Flanders' main trading port in medieval times: the Qui Shape Compass. "This is a square diamond with convex sides and square edges," he points out. "It has 89 facets which catch and reflect the light and give it a fire you only very seldom see in a diamond. The Qui Shape method preserves around 60 per cent of the raw diamond material, compared to only 49 per cent for the traditional brilliant cut."
The Qui Shape Compass was an instant success. It has been patented worldwide and officially recognised by the Diamond High Council in Antwerp. And, most famously, Peter used 128 Qui Shape Compass diamonds to create a bracelet that won him the most prestigious award in the industry, the International Diamond Award organised by De Beers. "This is like the Oscars of jewellery. Normally, only big firms such as Chopard, Tiffany & Co. or Harry Winston win at this event," he smiles. "But in 2000, Peter Quijo won it."
Since, Peter has not only used this stone in many of his jewellery designs, but he has also used its compass shape to inspire an exclusive range of gold Swiss made watches for men and women called Qui Moments, available in certified limited editions.
Bobbin Gold
Peter and his team also work with pearls and other precious stones, including aquamarine, emerald, morganite and golden beryl. For his Lace collection, he collaborates with a professional lacemaker at the famous Bruges School of Lacemaking to set these stones and pearls in intricate laced patterns of fine but strong 24-carat gold thread. "We apply the same bobbin techniques as in traditional lace-making," he explains. "The difference is, we use it to create jewellery – rings, bracelets, chains and pendants which give off a light and delicate feel."
Timeless design
As well as designing jewellery, Peter and his team also repair, refurbish and modernise jewellery. "We can bring back the fire and brilliance in these old stones by re-polishing them. And we can set them in a newly created piece of gold or platinum jewellery if customers want a different look. To me, in essence, it does not matter whether we do this with a 500 euro stone or a 50,000 euro stone, it's about having the privilege of turning an old heirloom into a new piece of jewellery. It gives our customers something which they love to wear and which retains its emotional value at the same time."

LEFT IMAGE: BRACELET QUI SHAPE COMPASS, WINNER OF THE DE BEERS INTERNATIONAL AWARD 2000. RIGHT IMAGE: PETER AND JADE QUIJO
Open house
This December, customers are invited to visit the Quijo workshop and see what goes into the crafting of jewellery. "I think customers will really appreciate this open house policy," Peter says. "Even to me, after more than 40 years in the business, it's a fascinating experience that I'm still in love with. Because in the end it is about creating something which is timeless, which will be treasured for a lifetime and beyond."
Peter Quijo Jewellers also sell Corum watches. Pomellato and Dodo jewellery are available in their Adornes partner store on Bruges' Market Square.
Subscribe to Our Newsletter
Receive our monthly newsletter by email