TBI Projects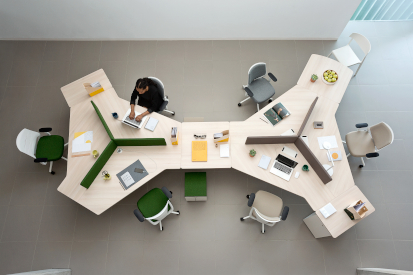 No more dull office interiors
TEXT: MICHIEL STOL | PHOTOS © TBI PROJECTS
As a main reseller of trendy and stylish office and warehouse furniture brands such as Haworth, Bralco and Actiu, TBI Projects in Oosterzele near Ghent, designs office interiors in a multitude of styles. Thanks to 3D imaging used for every design, you can create the perfect and modern office interior.
"Office furniture use to be a bit dull; it all looked the same," explains Ruben De Schepper. "With the trendy systems of Actiu, the Twist for instance, an office gets a more open and collaborative feel. The desks are easy to connect, so it doesn't matter if you are looking for one or ten desk systems."
The office furniture by Bralco has a more classic style. "A true Italian design; stylish and classic." Thanks to the ergonomic designer chairs of Haworth, employees will achieve comfort throughout the workday. "Its approachable design is less machine, more human. They would not stand out in your home."
TBI started designing office and warehouse interiors in 1996. Since then, they have designed numerous offices, including for Coca Cola, HoGent and Ghent University.
"In 2005, we opened our showroom, so we can help our clients to design their office interior even better, because they can see the different furniture," De Schepper continues. "It is important to see how a piece of furniture looks in a certain space. That is why we always make a 3D image of our designs. That personal approach is what clients want and deserve."
Subscribe to Our Newsletter
Receive our monthly newsletter by email