Soap & Gifts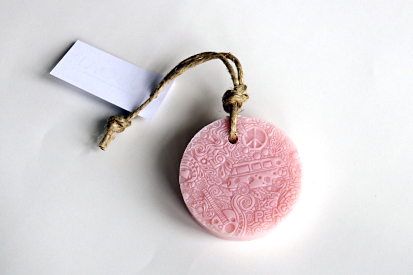 For the love of soap
TEXT: BERTHE VAN DEN HURK | PHOTOS © SOAP & GIFTS
Since the very invention of soap, it has become apparent that its power lies in the versatility of fragrance and the countless possibilities in terms of design. Makers of soap can be endlessly creative, and good quality soap gives users a sense of luxury and pampering.
Harrie van der Steldt, owner of white-label soap producer Soap World, and Wout Willems of retail brand Soap & Gifts, teamed up in 2015 to co-create a new range of products based on their shared love of soap. In no time, the products became successful and were adopted by retailers throughout the Benelux. The key, according to Willems, is a business model where creativity and sustainability are paramount. "Soap is a wonderful product. Any scent, colour or shape is feasible, whether shaped like a palm tree, a heart or a sea shell. This allows us to play into contemporary trends and themes very easily and quickly."
Soap & Gifts is focused on retailers who wish to offer handmade products with complete concept displays that are easy to set-up, innovative and trendy. The products are available in novel shapes, colours and fragrances, are of natural origin, not tested on animals and made by hand. In addition, the founders keep the environment in mind and instead of traditional plastic packaging, they use glass bottles and bio-based plastics wherever possible.
In 2016, van der Steldt went on to introduce men's brand Van Der Lovett, with special beard oils, soaps and aftershave balms, and a beer shampoo. The founder explains: "We saw there was a need for high-quality men's products in the market. Men are paying more attention to their appearance and are looking for high-quality but affordable products." The Van Der Lovett range is available for the end user via the online shop and at selected hairdressers, pharmacies and barber shops.
Van der Steldt concludes: "Soap is multi-functional. It's a great way to feel good, but it can also be a lovely addition to any interior or a wonderful present for friends, family or colleagues."
Subscribe to Our Newsletter
Receive our monthly newsletter by email