Santa Luz Bougies: Artisanally crafted and sustainably produced candles
TEXT: PAOLA WESTBEEK | PHOTOS: SANTA LUZ BOUGIES
On blustery autumn and winter evenings, nothing can add more warmth and cosiness to your home than the delicate glow of a beautiful, well-made candle. With their subtle elegance and enticing range of scents, Santa Luz Bougies will transform an otherwise ordinary evening into a moment really worth relishing.
Just the simple act of lighting these handcrafted candles will remind you to take a deep breath, pause and make time for the things that matter most, such as your overall sense of well-being. A labour of love born out of the desire to put their keen entrepreneurial spirit to good use and create something truly special, Santa Luz Bougies is the brainchild of husband and wife duo Ángeles Ruiz and Gustavo Ortiz, and Gustavo's sister Sofia Ortiz. Hailing from Argentina, they followed their dream of wanting to live in Europe and settled in Belgium in 2019. The fact that they were not experienced in this craft (Ángeles and Gustavo had a background in law, while Sofia was working in tourism) did not deter them from bringing their plans to fruition. After schooling themselves in the art of candlemaking, they launched Santa Luz Bougies in September of 2021. Today, their range not only features six scented candles, which come in a variety of elegant shapes (from small ones measuring five centimetres in diameter, to the largest, which is 40 centimetres long), but they also offer matches, scented balls and handsome gift boxes perfect for this coming holiday season.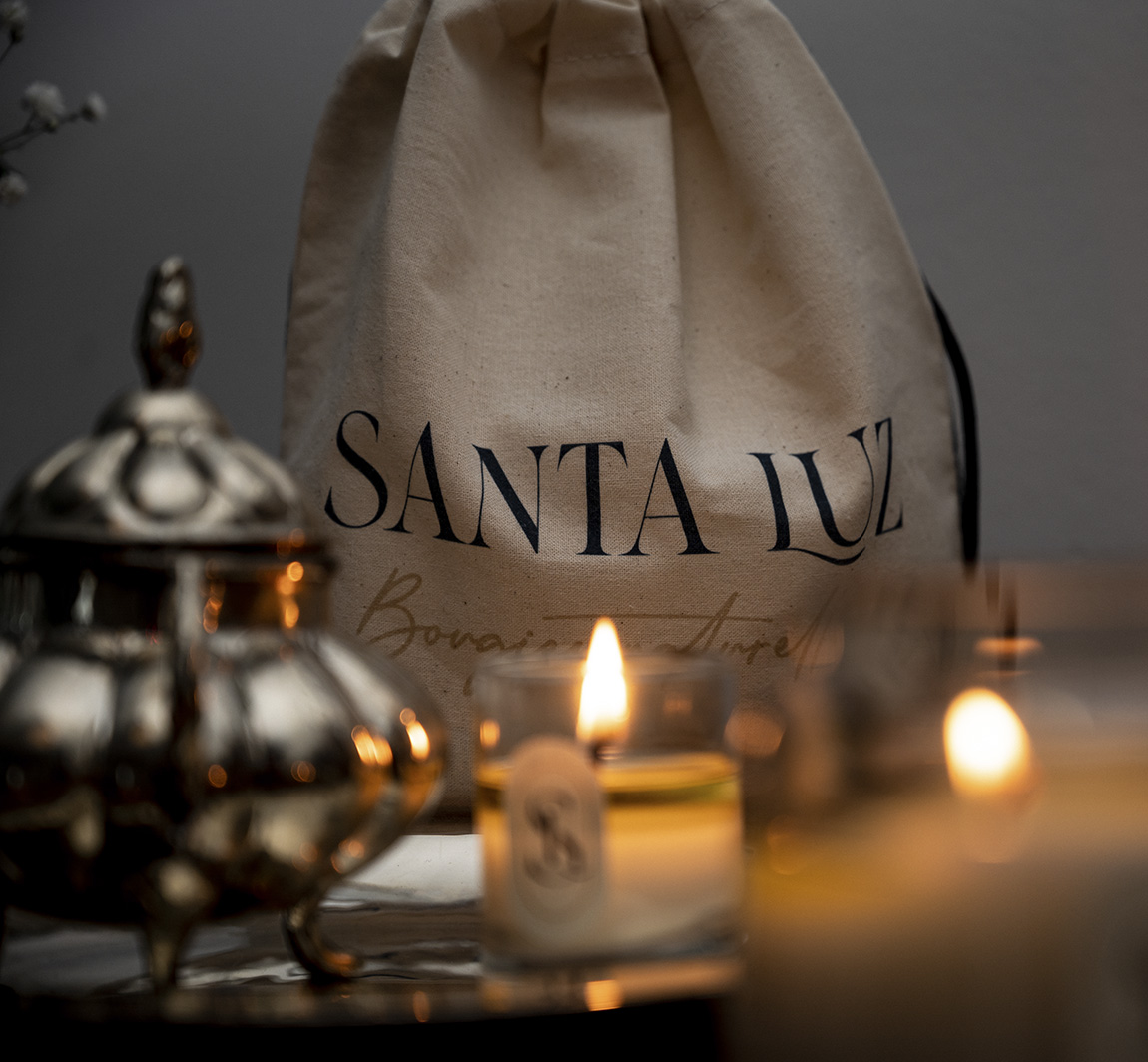 The magical world of candles
"As soon as we arrived in Belgium, we noticed that there were candles in all the houses we visited, and that candles are a cult object here, very much present in homes," says Ángeles. "Curiosity led us to delve into the subject, and we were drawn into the magical world of candles and scents."
The six scents that resulted from their extensive research (Cool Aloha, Jardin D'Ipanema, Vent de Calabre, Patagonia, Dulce de Leche and Mystique) were not just random choices but rather fragrances linked to their pasts and personal experiences. The highly popular Dulce de Leche candle with its ambrosial aroma of caramel and vanilla, for example, was a nod to their Argentinean culinary roots. Ángeles: "Dulce de leche is a basic ingredient in pastry making and used daily for desserts, pies and cakes. This scent takes us back to our roots, to our grandmother's house, to that unique and irreplaceable moment that we would like to stop and freeze in our memory forever." When asked to recommend a scent for the upcoming colder months, Ángeles also mentions the Mystique candle: "Its perfume has a strong connection with the winter season, as it is based on incense and gives a lot of warmth."
It isn't only that unique personal touch that differentiates Santa Luz Bougies from the rest, or that the scents come from Grasse, the city of French haute perfumery. When creating the artisanal candles, one of the things that was high on the Oritz's list of priorities was sustainability. Working with biodegradable soy wax, of European origin and certified GMO-free, the candles are handmade (meaning that no two are exactly alike) with a commitment to leaving the smallest possible footprint on the planet. Each candle is encased in recyclable glass that perfectly lends itself to being reused and has a wick that is free of any chemical treatment and made of organic cotton and paper. The candles are packaged in a certified organic cotton cloth bag (which is also reusable).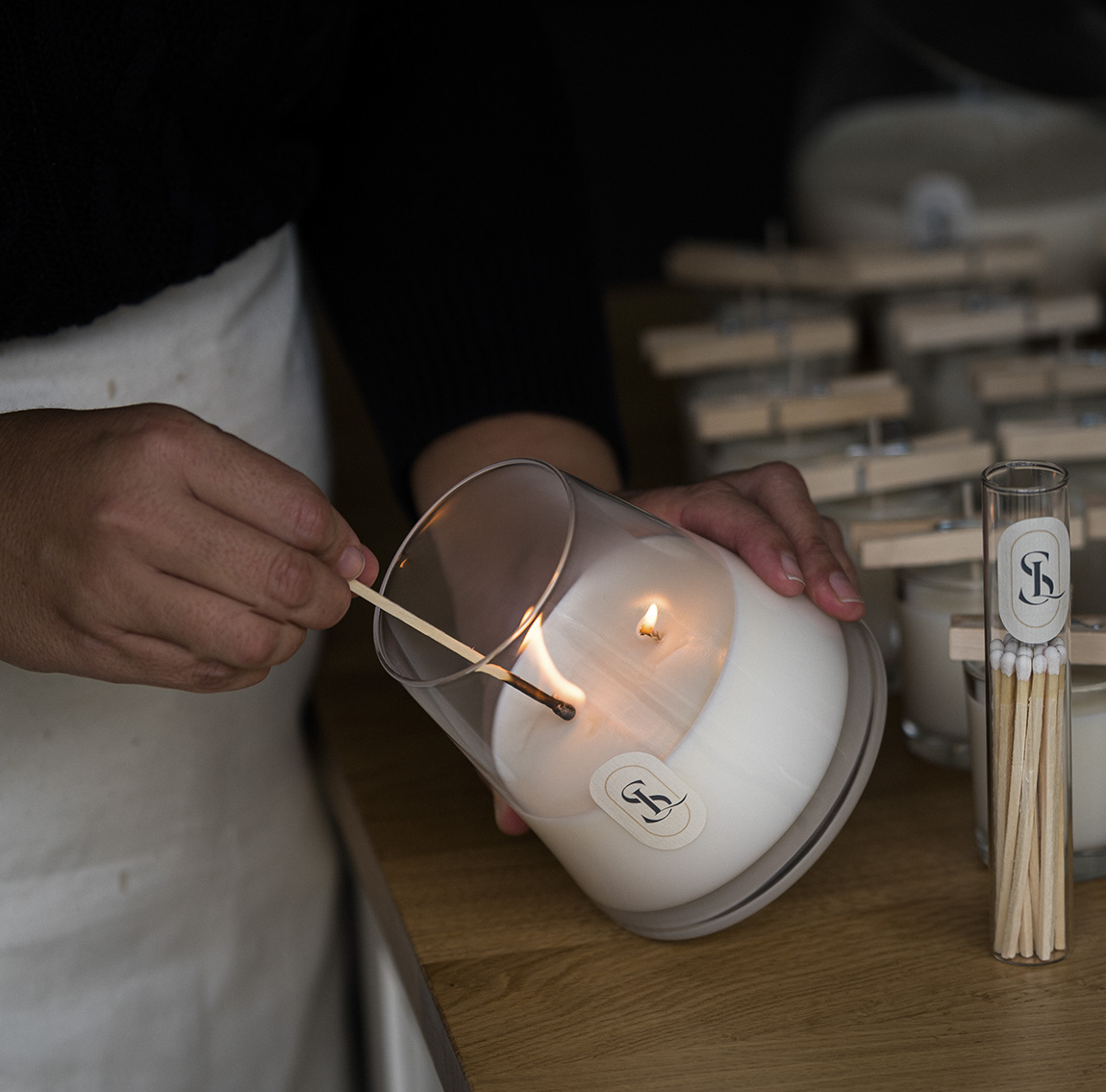 The ultimate gift
With their seamless blend of aesthetic beauty and eco-conscious appeal, a candle from the Santa Luz Bougies range is as much an indispensable item in any home interior as it is an elegant (corporate) gift. The candles can be personalised according to the customer's wishes and shipped throughout Europe in recyclable packaging. Also worth mentioning are the thoughtful gift boxes, which include a candle along with an accessory and a bottle of wine from Argentina. There are even boxes with handmade Belgian chocolates.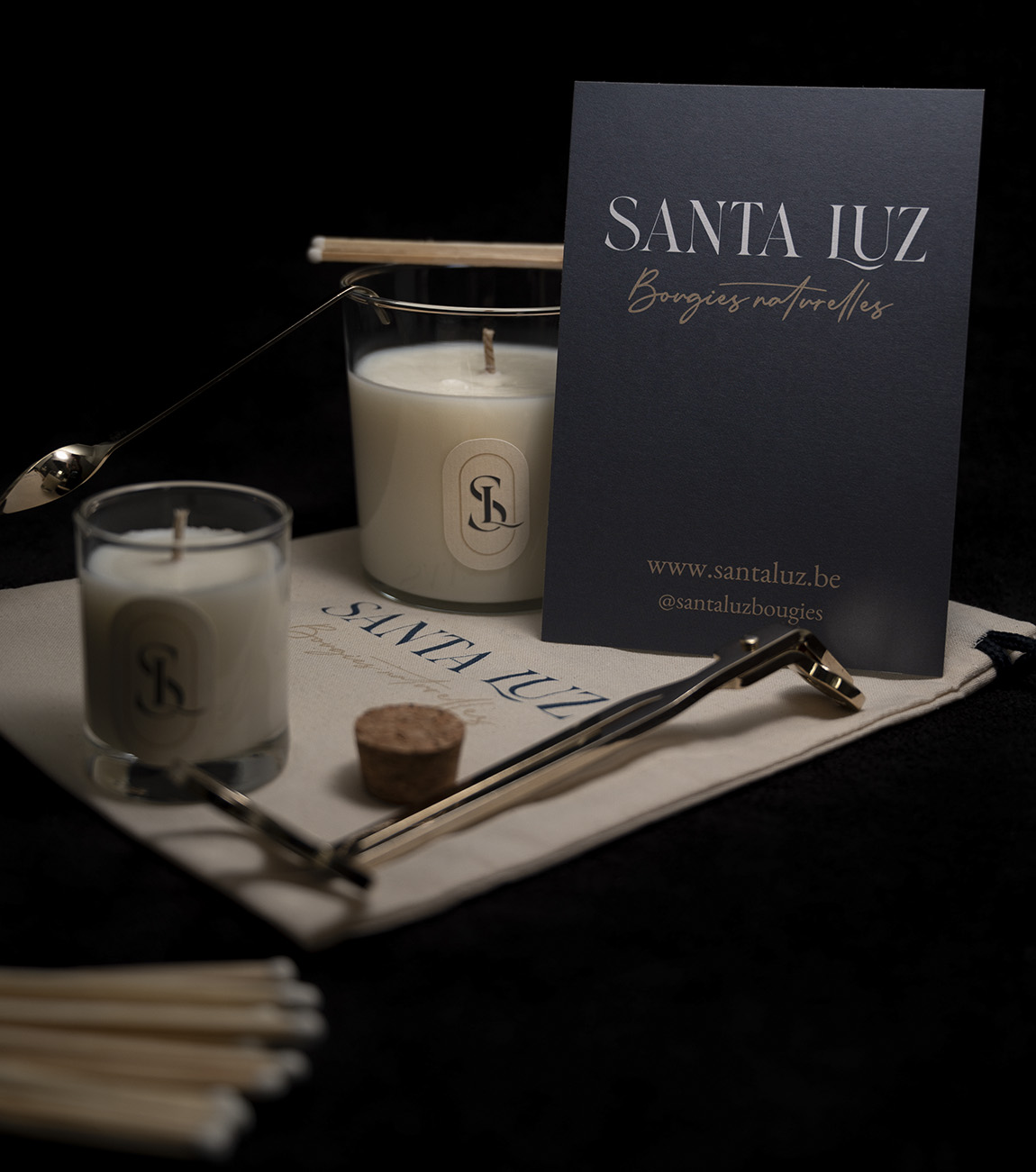 "To give one of our candles as a gift is to offer a touch of luxury and distinction to an environment," Ángeles explains. "It is a perfect gift because it allows you to give light and energy that can transform an environment and a person's mood. While it is not burning, a candle is a decorative object independent of its function, which is to provide light. On the other hand, when lit, its light acts as a space-transforming element, providing a feeling of warmth, calm and peace."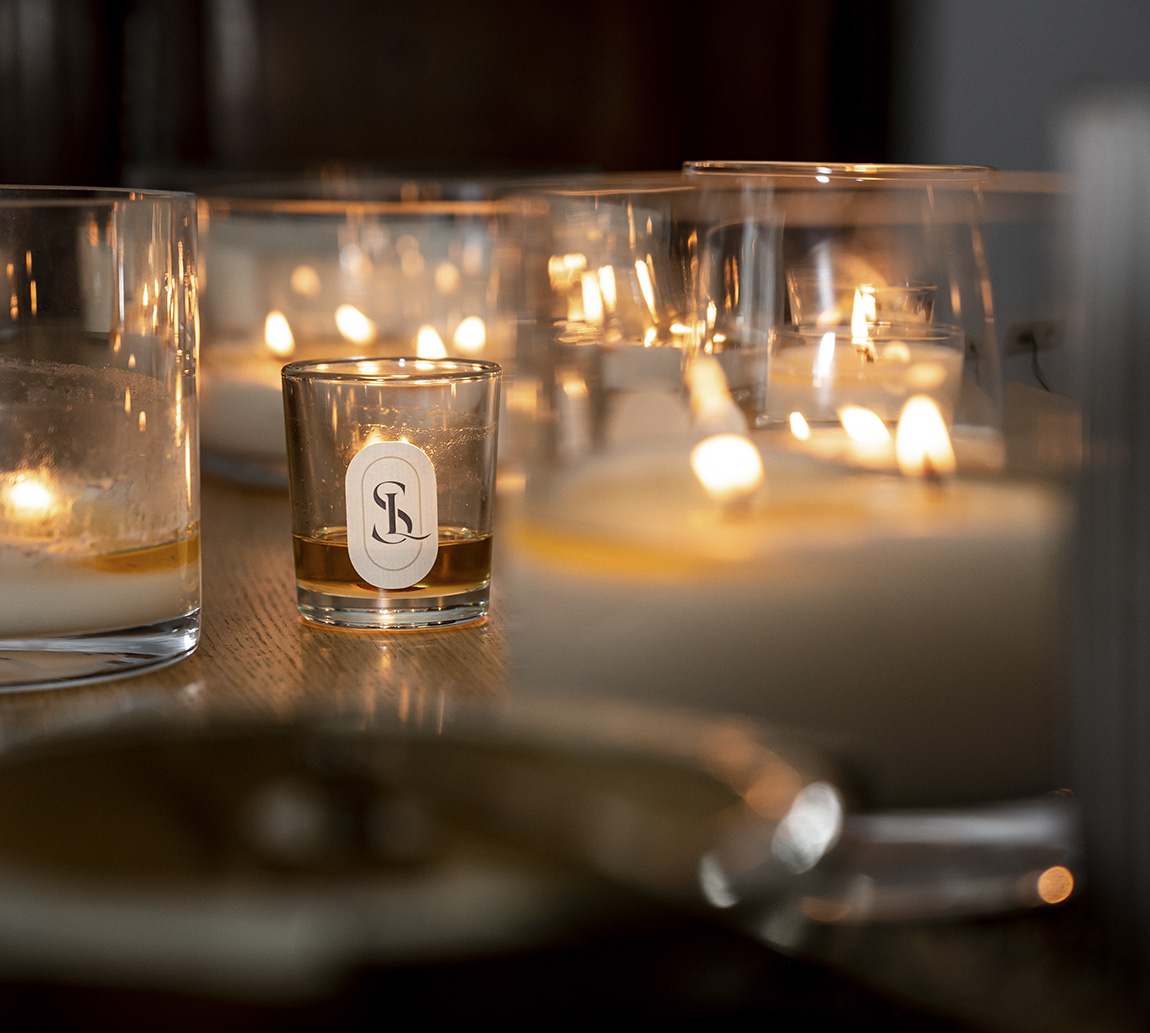 Web: www.santaluz.be
Subscribe to Our Newsletter
Receive our monthly newsletter by email