Out & About – November 2019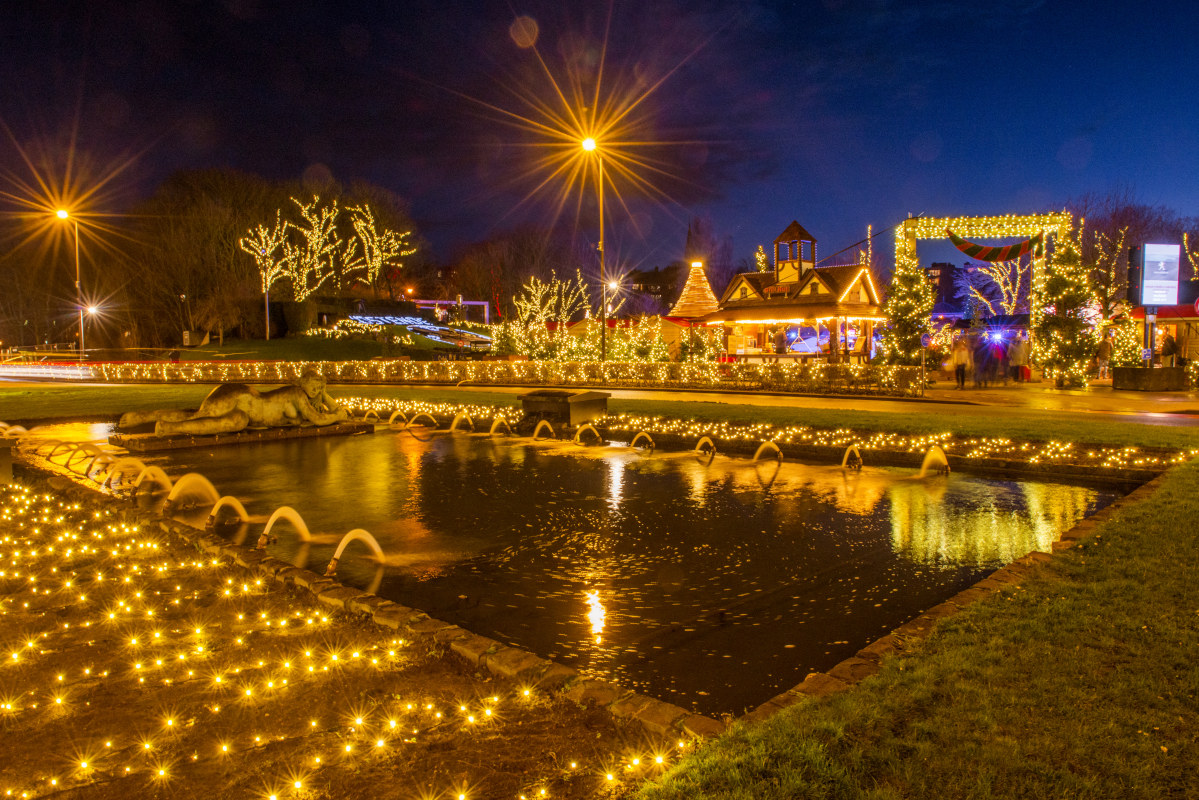 Winter is clearly on its way, which means that the nights are growing longer and longer. But the dark doesn't stop the Benelux from enjoying the good things in life. Film festivals, light festivals, theatre festivals… This month is packed full of festivals for everyone's taste. It also preludes the warm and fuzzy holiday period, with the first Christmas markets and the arrival of the holy Saint Nicholas.
TEXT: ARNE ADRIAENSSENS | MAIN PHOTO: WINTER IN HET PARK © OOSTENDE
Barak Belgique
8 – 11 November, Brussels, Ghent and Liège, Belgium
Although the theatre industry is flourishing in Flanders, Wallonia and Brussels, most plays are only performed at one side of the language border. Enter Barak Belgique! This Belgian theatre festival selects the best plays from all corners of the nation and programmes them on major stages in Brussels, Ghent and Liège.

Winter in het park. Photo © Oostende
Glow
9 – 16 November, Eindhoven, the Netherlands
While autumn darkens the Benelux, Eindhoven still baths in light. The annual Glow-festival illuminates the city with over 30 installations from Dutch artists and international talent. That makes it one of the five biggest light festivals in the world. A walking trail brings you from one mesmerising hotspot to the next to brighten up those autumn blues.

Glow. Photo © Bart Van Overbeeke
Brussels Art Film Festival
14 – 17 November, Brussels, Belgium
BAFF is Brussels annual rendezvous with the obscure world of art-house cinema. Spread over four days and three theatres, you can watch the best national and international films of the past year, each with an arty. This year, the festival opens with Christo – Walking on water, a documentary about the quirky artist and his biggest project to date.

Christo – Walking on Water. Photo © Wolfgang Volz
International Motor Show
15 – 17 November, Luxembourg, Luxembourg
You may love them or hate them, but eccentric cars make everyone's head spin. At the International Motor Show, many of these exceptional beauties are united under one roof. Watch and touch the most amazing cars and motorcycles and enjoy the multitude of demonstrations.

Photo © International Motor Show
The arrival of Saint Nicholas
16 November, Zwolle, the Netherlands and Antwerp, Belgium
"He comes, he comes"! Dutch and Flemish children wave their banners at the docks while Saint Nicholas and his helper Black Pete approach the harbour. On his annual visit to the low countries, the Spanish holy man brings presents to all boys and girls who have been good this year. Go along to welcome him in Zwolle or Antwerp and – if you are lucky – he might even give you something sweet in return.

Saint Nicholas. Photo © Wikipedia
International Documentary Festival Amsterdam
20 November – 1 December, Amsterdam, the Netherlands
If you love documentaries, November is the month to travel to Amsterdam. As an annual tradition, docuphiles take over the city for the biggest documentary film festival in the world. Make your selection of interesting screenings out of the substantial programme and perhaps you will bump into one of the 2,500 international filmmakers who stop by every year, as well.

International Documentary Festival Amsterdam. Photo © Nichon Glerum
Night of the Proms
22 – 23 November, Antwerp, Belgium
With its unique combination of pop music and a symphonic orchestra, Night of the Proms enchants thousands of people every year. Ronan Keating, Bart Peeters and John Miles are just a few of the artists joining the Antwerp Philharmonic Orchestra in the gigantic Sportpaleis-arena this year. Are you not in Antwerp? The Night of the Proms-circus passes Rotterdam and Luxembourg, as well, on 24 and 28 November.

Night of the Proms, John Miles. Photo © Freya Goossens
Tenth anniversary Magritte Museum
24 November, Brussels, Belgium
"Ceci n'est pas une pipe". This seemingly trivial sentence gained a central spot in the Belgian canon when surrealist painter René Magritte wrote it on one of his most legendary paintings. This month, the museum about his work at the top of Brussels' Mont des Arts blows out ten candles, and that will be celebrated with free entries, interesting guided tours and workshops aplenty.

Winter in het park. Photo © Oostende
Winter in het park
30 November – 6 January, Ostend, Belgium
Few things says winter like the icy sea breeze. In Oostende, the most majestic of all Belgian coastal towns, you can enjoy that brisky wind with some mulled wine or hot chocolate at Winter in het park. For the occasion, the city park gets covered in twinkling lights and stuffed with wooden food stalls and an enchanting skating rink.

Glow, Confluence – Ocubo Criativo (2018)
Keith Haring
6 December – 19 April, Brussels, Belgium
His figurines are legendary and his messages changed the world. Keith Haring is undoubtedly one of the most influential artists of the late-19th century. Together with Tate Liverpool, BOZAR now organises a retrospective of his adorable-yet-meaningful oeuvre.
Subscribe to Our Newsletter
Receive our monthly newsletter by email