Nouv'eau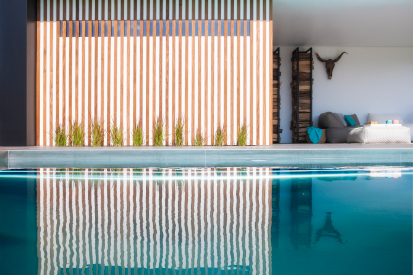 Carefree swimming in bespoke stainless steel
TEXT: KARIN VENEMA | PHOTOS © HILDE VERBEKE
Nouv'eau does not need a showroom. The stainless steel pool maker has numerous satisfied customers who are happy to show off their stunning, custom-made swimming pools to prospective clients. A look into Nouv'eau's portfolio shows their dedication to precision and craftsmanship and the beautiful look of stainless steel swimming pools.
Aside from being made from durable material, a stainless steel swimming pool has many benefits over classic constructions. "The colour of the water is very natural as the material reflects the light and the environment. The water colour is a mix of blue, grey and green, depending on the weather and the surroundings of the pool. The appearance is timeless and it fits in both modern and classic settings, depending on the finishing," says Philippe D'hont, manager at Nouv'eau.
The smooth, stainless steel surface stops dirt and grime from sticking to the sides. Thanks to the cleaning robot included, there is hardly any maintenance required. Moreover, the material does not become porous under the influence of sunlight and other weather conditions. In fact, tests have shown that stainless steel swimming pools can last over 75 years. On the other hand, traditional pools usually need to be renovated or replaced after a decade or two.
Stainless steel swimming pools are extremely energy-efficient too. Sun rays are reflected by the stainless steel bottom and sides, heating the water in a natural way. To capture this warmth, Nouv'eau's pools are completely insulated with four-centimetre-thick sheets of extruded polystyrene foam and a four-centimetre-thick layer of sprayed polyurethane. To further reduce heat loss, the water surface is covered with a solar roller shutter when the pool is not being used.
High quality from start to finish
When a potential client contacts Nouv'eau, they will always visit them at home to discuss their wishes and view the logistic situation. D'hont continues: "Our pools consist of a supporting structure of a stainless steel frame in which two-millimetre-thick stainless steel sheets are manually welded together. The welding is done in a specialised welding workshop with the so-called TIG-technique. When the location is difficult to reach or the pool has excessive dimensions, it's welded on site."
The client can look through Nouv'eau's portfolio of completed projects and decide which pools they would like to view in person. The company acts as an intermediate but does not come to the viewings unless explicitly asked. "This way, our potential clients get a proper look and hear the real story about their experience with our products and service," says D'hont. "We aim for 100 per cent satisfied customers and completely trust in our quality and service."
Nouv'eau's stainless steel swimming pools are custom-made to the highest standards. The client can choose different options for getting in and out of the pool: from corner steps, to a slope that can also be used as a bench or for paddling. The brushed stainless steel plates can be personalised with a design, sketch or logo. There are endless possibilities to create a personalised stainless steel swimming pool that suits the client's wishes.
Meticulous installation with an eye for detail
For outdoor pools, the installation starts with the excavation of the pit, after which a 15-centimetre-thick, level foundation is cast of reinforced concrete. After the pipes are connected, 50 centimetres of stabilised sand is supplied around the pool for extra reinforcement. Once the pool is ready, the finishing can start. Clients can select wood or stone for the curbs and a terrace area. If desired, Nouv'eau can offer a complete garden concept as it collaborates with specialised garden designers.
To enjoy the pool and garden comfortably, Nouv'eau can also construct a pool house along with additional elements such as a bar, shower, toilet, dressing room, sauna, space for a whirlpool and more. Nouv'eau offers a variety of styles: from traditional oak for a rustic atmosphere, to the sleek, minimalist designs for the more contemporary environment.
Considerate aftercare
After the pool is installed and ready to use, Nouv'eau will make sure the client can fully focus on their swimming experience. Their service is fast, accurate and complete. The clients can also opt for a service contract to prepare the swimming pool for summer or winter. After a summer of swimming, the pool needs frost protection and covering. The service unburdens the client, allowing them to enjoy a carefree swimming experience.
D'hont admits that regrettably, he does not have his own stainless swimming pool at home. "Not yet," he smiles. "But luckily, my parents have one and some of the clients have become friends, so I still get to see our beautiful swimming pools being enjoyed in real life."

Web: nouv-eau.be
Subscribe to Our Newsletter
Receive our monthly newsletter by email