NITEQ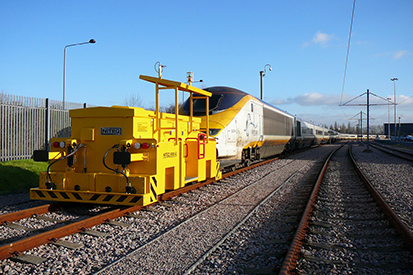 NITEQ: Meet the experts in railway transport systems
TEXT: MICHIEL STOL | PHOTOS © NITEQ
Be it via tram, metro or train, the demand for rail travel is continuously on the rise, and the maintenance of rolling stock is becoming increasingly important. To easily and safely move stock around the yard, NITEQ Transport + Handling Systems offers the cleanest, most effective solutions. "It only takes one person with a remote control to man our shunters," says director Thomas ter Berg.
NITEQ has been designing and manufacturing handling systems for train yards in the North-Holland province, just north of Amsterdam, since 1991. "It started with steel rope winch systems. In 1993, we produced our first shunter running on battery power rather than fuel," explains Ter Berg. Up until then, most shunters were diesel powered and were also used inside the yard buildings. "Breathing in diesel fumes is never good. Thanks to our battery powered shunters, we have created an environmentally friendly solution for rail companies, as well as a clean working environment for the people in the yard." Today, over 400 shunters are bringing trains into yards all over the world.
Custom-made to handle the entire fleet
Versatile and flexible shunters are extremely sought-after. NITEQ's RRM-range perfectly meets the high demand. The RRM is a rail-road vehicle, meaning it can leave the tracks for faster and greater positioning in the yard. It still keeps its power, and is able to shunt up to 1,000 tonnes. Ter Berg continues: "Each rail car or train is different and uses different coupler systems. Our shunters can couple to anyone out there. So one of our shunters can handle your entire fleet."
This is just one of the many options available for NITEQ customers. "Each shunter is developed and built according to the specific needs of our clients − always with the highest safety standards in mind." And the best part is that they are extremely easy to use. "The shunters can be controlled from within the cab or via a remote-controlled system, and you can learn how to operate them within a couple of hours. It is basically a matter of turning the key and setting off," Ter Berg smiles.
Fast, reliable and endurable maintenance of trains requires fast, reliable and durable material in the yard. "No matter how your fleet is made up, our shunters will carry the big boys around the yard − and the smaller ones too."
Subscribe to Our Newsletter
Receive our monthly newsletter by email