Maison Viticole Schmit-Fohl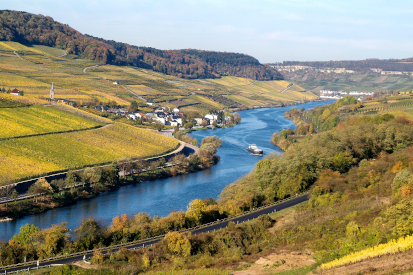 Schmit-Fohl: traditional winegrowing with a modern twist
TEXT: LORENZA BACINO | PHOTO: MAISON VITICOLE SCHMIT-FOHL
The family-run winery Maison Viticole Schmit-Fohl lies in the heart of the picturesque village of Ahn on the banks of the Moselle river. Armand Schmit and his son Nicolas are the 10th and 11th generations of winegrowers in the family – a tradition that dates back to 1792.
Armand and his wife Patrizia took on the mantle in 1985 and have built upon the vision of preceding generations by adding their own personal touch; never compromising on the quality of the product, the soil or the vine.
"Our business model is based on three edicts: authenticity, sustainability and quality," explains Armand. "We respect the vines, the earth and the cycle of the seasons by growing vines that will thrive on our soil. We always seek to maintain harmony between science and craft and we want future generations to be able to do the same. Allowing each plot of land to evolve over the seasons and express itself is how we obtain the best quality and the most authentically structured wine."
The Schmit-Fohl wines are a delicate balance between dry and fruity. Visitors to the estate can enjoy them in the 1862 vaulted-ceiling cellar and in the tasting room with its warm and welcoming atmosphere. "We value the human dimension of what we do, our family business and the privileged contact we have with our clients. That's how relationships are built that are inextricably bound to the pleasure our clients take in tasting our different products and the pleasure we take in producing them. Our wines are a true reflection of who we are."
Group or individual wine tastings are available upon request.
Subscribe to Our Newsletter
Receive our monthly newsletter by email