Domein De Kluizen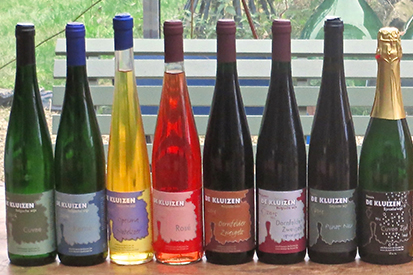 The beauty of Belgian wine
TEXT: MICHIEL STOL | PHOTOS © DOMEIN DE KLUIZEN
It may not be the first country that springs to mind when you are looking for a great wine, but Belgium in fact has plenty to delight oenophiles . "The sparkling wines made here are particularly great," says Herman Troch. He should know, since he has been running his own vineyard, Domein de Kluizen near Aalst, for more than 20 years. And the best part is that he produces his wines almost entirely on his own.
Domein de Kluizen produces several smooth white wines and a variety of red wines. "My father used to have his own little vineyard as a hobby, which I always liked. So to do this professionally felt natural to me," he explains. Troch works a lot with grapes that can be found in the Alsace region, because they work the best in the Belgian climate. "That gives us fresher wines, containing less alcohol," he points out. The pride of Domein de Kluizen is their 'Optima Noblesweet', made from the Optima grape, a hybrid of Riesling and Silvaner grapes. "This is a very sweet dessert wine with aromas of pineapple and honey, but it does not taste 'sticky'. It's great for drinking with dessert and cakes."
Today the vineyard totals almost seven acres in size, with more than 8,800 vines. Troch still does almost all the work himself. "Come picking time, I have some help. But the growing of the grapes and wine production is all done by me." Troch also loves to show guests around the vineyard and the factory. "With a tasting afterwards – of course," he smiles.
Subscribe to Our Newsletter
Receive our monthly newsletter by email