K&L Gates: Global solutions, personal approach
Text: Colette Davidson | Photos: K&L Gates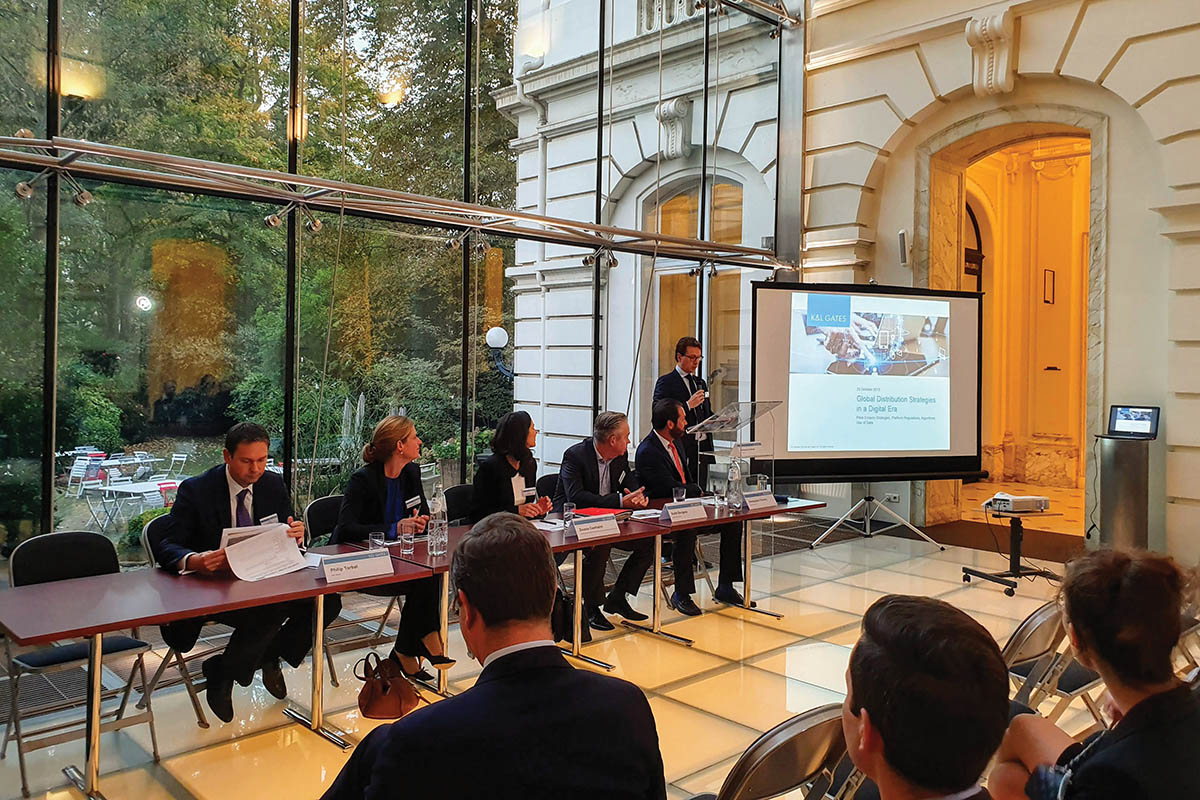 With business challenges becoming increasingly global, the need for an international law firm that understands its clients and is able to offer a diverse range of legal and commercial solutions is essential. K&L Gates, a fully integrated international law firm, works across five continents to provide personalised legal counsel to clients from every major industry and across a wide range of practices. Its Brussels office, ideally placed in the hub of European activity, operates in a dynamic, entrepreneurial and multicultural environment.
The history of K&L Gates illustrates what it stands for today – east meets west; a meeting of the minds. In 2007, Pittsburgh-based firm Kirkpatrick & Lockhart and Seattle-bred firm Preston Gates & Ellis – whose partners included William Gates, father of Bill Gates – joined forces to create K&L Gates.
Now, the global law firm is one of the world's top legal players, boasting more than 1,800 lawyers in 40 offices across the United States, Europe, Asia, the Middle East, South America and Australia, with capabilities in legal issues facing the manufacturing, financial services, health care, technology and several other industries. In November, it was named the Law Firm of the Year in corporate law in the 2020 edition of the US News-Best Lawyers Best Law Firms report.
K&L Gates takes a fully integrated approach to law, with its legal counsel – and client base – knowing no borders. No matter the legal request, its global team is capable of responding to a diverse range of client demands, regardless of location.
"The most important thing is that clients are served efficiently," says Philip Torbøl, partner at K&L Gates' Brussels office. "We work across borders and across offices, which means that you always have access to the best resources, to the specific lawyer who can help you in the best way."
This cross-border approach is especially necessary in an ever-changing world, where global challenges related to trade, regulatory issues and the environment are a constant concern. The firm's lawyers take an individual, personalised approach to each case, aiming to provide innovative, value-driven solutions. In that vein, the firm continues to invest in the latest technology, including artificial intelligence tools, to allow its lawyers to work as efficiently as possible.
Diversity in practice
K&L Gates counsels clients in nine broad practice areas – corporate and transactional; antitrust, regulatory and policy, real estate; energy, infrastructure and resources; labour, employment and workplace safety; finance; litigation and dispute resolution; financial services and intellectual property. Many subject matters and industry-based practice groups exist within each of these practice areas.
In addition to serving individuals as clients, the firm responds primarily to demands from multinational companies, capital markets participants, middle-market and emerging businesses. It also serves public sector entities, educational institutions and philanthropic organisations.
K&L Gates is not only adept at handling a vast range of clients and their demands – it has made diversity part of the firm's DNA. Creating and sustaining an inclusive working culture is one of the firm's core values.
K&L Gates' Brussels office has been a leading force in the firm's diversity initiatives. It is one of the founding members of the Legal Diversity & Inclusion Alliance (LDIA), which is committed to building a diverse and inclusive workplace where all employees benefit from equal treatment and opportunities.
Brussels office: a dynamic team, a hub of activity
At the Brussels office, diversity extends even further. Its important location within Europe – home to EU institutions as well as numerous world organisations – means its lawyers must be skilled in a range of legal practices, from anti-trust and regulation to corporate and trade law.
The Brussels office works to ensure that its qualified lawyers hail from a variety of backgrounds, with experience in European institutions, global private companies, national competition authorities and leading trade associations. Its lawyers come from more than ten different EU countries and speak more than 12 languages, creating a vibrant, multicultural environment.
"This varied background allows us to better understand what our clients need," says Mélanie Bruneau, partner at K&L Gates' Brussels office.
– More than 40 offices across five continents, – More than 1,800 lawyers globally, – Ranked among Top Global Law Firms in Law360 Global 20 survey, – Recognised globally among the world's 20 leading global law firm brands in Acritas' 2018 Global Elite Law Firm Brand Index, – Recognised among the top corporate law firms in America and as one of the most recommended firms in the area of litigation and dispute resolution by Forbes magazine, – Brussels office main practice areas: EU Antitrust, Regulatory and Policy, Corporate/M&A and Litigation. Web: www.klgates.com www.klgates.com/brussels-belgium
Subscribe to Our Newsletter
Receive our monthly newsletter by email