Jean le Chocolatier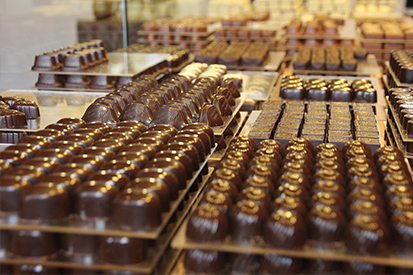 Belgium: home of great chocolate The fine art of combining flavour and pleasure
TEXT: LORENZA BACINO | PHOTO © JEAN LE CHOCOLATIER
A resident of Belgium since 1997, Jean le Chocolatier originally hails from southern France, where his passion for experimenting with chocolate began. "I was lucky to have a mother who adored cooking and who made the most wonderful desserts when I was little," enthuses Jean. When he arrived in Belgium, two decades ago, Jean could not wait to uncover his adoptive country's addiction to gastronomic delights.
"I wanted to bring some southern sunshine to my work," he laughs, "and it was my clients who helped me refine what I do, and who gave my shop its identity." Jean le Chocolatier honed his skills in a number of Michelin-starred restaurants in the Cote d'Azur, Languedoc Roussillon and Savoie regions. But in the end, it was Belgium's fascination with chocolate that made Jean decide to realise his dream, and he opened his boutique chocolaterie, Jean le Chocolatier, in 2003.
A haven for chocolate lovers
"I've created a special gourmand environment in my shop, with chocolate drops descending from the ceiling and an entire chocolate wall, through which clients can observe what is happening behind the scenes in the workshop." Jean's chocolate delights are produced from scratch each week on Mondays, Tuesdays and Thursdays, when the shop remains closed.
Products are available to buy on Wednesdays, Fridays and Saturdays. On those days, visitors' nostrils quiver in delight at the shop's aromas as they are invited to sample his classic flavours as well as exotic mixtures of teas, spices and fruit chocolate melanges. Chocolates aside, Jean also produces gluten-free cakes, and, upon request, vegan, diabetic and allergy-free options.
Roasting, pairings and chocolate-flavoured Christmas
This October, Jean le Chocolatier embarked on a new taste adventure embodied in the introduction of 'JC roasting'. Using the Probat brand, Jean roasts ethically-sourced cacao beans and high-end green coffee beans to offer his clients a new range of products.
"Roasting is a combination of science and art, theory and practice," explains Jean. "I take great pleasure in developing unique ways of sublimating the cocoa and coffee beans. This way, the delicate, specialised work of the growers and the biodiversity of the land blend together, reaching new heights. I adapt my method to extract the best possible flavour from each different type of bean." And with Christmas on the horizon, Jean's innovative pairings will most definitely be tempting, along with the festive season's special creations.
Subscribe to Our Newsletter
Receive our monthly newsletter by email