Bij Lotje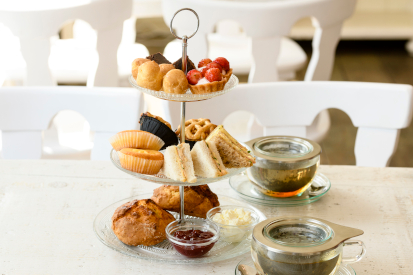 The sweetest shop in The Hague
TEXT: MALIN NORMAN | PHOTOS © ROY BEUSKER
No wonder this place is called the sweetest in The Hague. With toys, candy and delicious high tea and ice cream, Bij Lotje is where everyone wants to be, young and old.
In the picturesque neighbourhood Zeeheldenkwartier, not far from the city centre of The Hague, the little shop Bij Lotje offers an irresistible selection of ice cream, cakes and teas. "It's the place where locals and tourist meet, which is quite unique," admits owner Anouchka Mau-Asam and continues, "many customers say it's like being invited to someone's house."
And Bij Lotje certainly embodies the atmosphere of a family home. Here, children can play whilst their parents catch up over a cup of coffee. And everyone is welcome to grab an ice cream to devour on the sun-soaked terrace. From August, Bij Lotje also offers children parties, where partygoers can decorate their own cupcakes. And even better: eat them afterwards.
In autumn, the adorable store becomes a cosy living room where guests can enjoy a delicious high tea whilst checking out the passing crowd from the large windows. Bij Lotje has an excellent selection of loose teas, with some 19 different flavours to choose from, and the tea is served with home-made cupcakes. Always focused on the small details, there are also plenty of tea accessories such as pots and timers, perfect as a gift for a loved one.
Young or old, Bij Lotje is a place to fall in love with. "The funny thing is that nobody is ever grumpy here. I only ever see happy people come in and leave the store. But it could just be the magic of candy and ice cream," smiles Anouchka. Or it could be that everyone is happy because of the fantastic atmosphere in this charming store.
Subscribe to Our Newsletter
Receive our monthly newsletter by email