Bonbons à l'Ancienne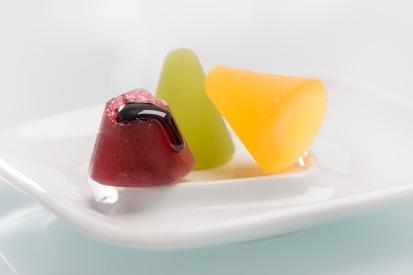 Sweet memories: Belgium's iconic 'old-style sweets'
TEXT: SIMON WILLMORE | PHOTOS © BONBONS À L'ANCIENNE
If you could encapsulate an entire country in a single piece of confectionery, the cuberdon would be the best example. The cuberdon is a cone-shaped or nose-shaped sweet, made of gum arabic so that the outer shell is hard and crunchy while the centre is soft and gelatinous. It is one of the most characteristic and best-selling sweets in Belgium.
There are various theories as to the origin of the sweet – possibly originally known as 'cul de Bourdon' or 'chapeau de prêtre' (priest's hat). Christian Maenhout, director and artisan confectioner at Bonbons à l'Ancienne, explains more. "The world was created in seven days, but to make a cuberdon takes time!" jokes Maenhout. "The first day is devoted to measuring ingredients and to mixing and boiling in copper cauldrons, then the syrup is poured into starch moulds."
There is a staggering number of flavours available, with Bonbons à l'Ancienne offering no fewer than 30 other options besides the original raspberry. Some of the rarer flavours include bergamot, champagne, kiwi, pistachio and speculoos biscuit, as well as more traditional choices like apple, cherry, orange and strawberry.
Once the cuberdons are 'ripe' – over a week after pouring – the sweets are removed from the moulds by hand and prepared for sale and savouring. Indeed, this savouring can be done on-site, as the factory-shop in Seraing, one hour east of Brussels, hosts guided visits that last an hour and a half.
These tours show the production and hand-working of the confectionery – and there is more on offer than just cuberdons. Bonbons à l'Ancienne also makes boiled sweets, lollipops (whistle-shaped or round), sugar syrups for sauces, and gummy bears in four varieties: 'oiled', sour, sweet and 'fried'.
Subscribe to Our Newsletter
Receive our monthly newsletter by email