Huis Pauwels Spaenjers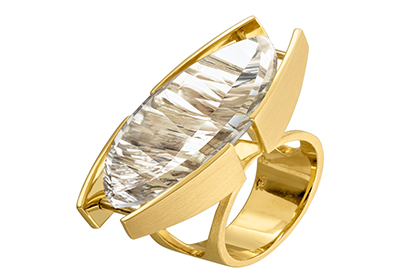 Making jewellery design personal
TEXT: MYRIAM DIJCK | PHOTOS © REGINALD TACKOEN & FRANK CROES
Sleek design with a personal, bespoke touch, this is what Kitty Spaenjers and Audi Pauwels offer in their jewellery store in Hasselt. Designing and producing over 80 per cent of the jewellery in-house, Huis Pauwels Spaenjers keeps the ancient craft of the goldsmith alive for people who love a unique piece of jewellery.
From adjusting existing pieces to designing custom rings, necklaces and earrings, the married couple have created hundreds of unique pieces since Huis Pauwels Spaenjers first opened in 1993. Customers can walk in with a design in mind, and Kitty and Audi will do the rest. "Based on this, Audi will make a beautiful watercolour drawing. We keep every design on file, so you don't have to pay for this," Kitty says.
With a library of over 1,200 drawings, and adding one more every week, Audi and Kitty are experts at incorporating personalised elements without making it too obvious to outsiders. "A ring of two-by-two centimetres only offers limited space for detailing and you don't want to go overboard. So, we help customers work out what the most important elements are and include these in the design, by an engraving, for example."
The couple met "the traditional way", Kitty smiles, when they were both studying to be goldsmiths. After graduating, they decided to move in together in Hasselt where they found a home with a downstairs shopfront. "It was the same price as the other houses, so the decision to open a shop was quickly made. We had no business plan or anything. If we had, maybe we wouldn't have dared to do it!"
The risk certainly paid off, and the shop has grown steadily over the last 25 years. Early on, they discovered their skills perfectly complemented each other. Kitty continues: "Although we started out designing our own pieces, we soon found out that I love the technical execution on the workbench, while Audi prefers to design."
Still located in Hasselt, they show off their beautiful, sleek and timeless pieces in two adjacent shops. Huis Pauwels Spaenjers is where they sell their jewellery and Multiple, next door, is a platform where they exhibit collections by innovative jewellery designers.
Subscribe to Our Newsletter
Receive our monthly newsletter by email