HUB Shoes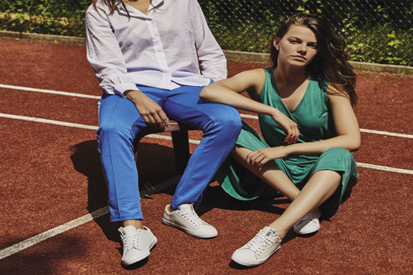 Trainers inspired by professional tennis
TEXT: EMMA WESSELING | PHOTO © JUSTINE LEENARTS
A professional career in tennis might lose its shine over time, but a passion for trainers will never fade. At least, that was the case for Huub van Boeckel, former professional tennis player turned entrepreneur and founder of HUB Footwear.
Since its foundation in 2004, HUB has always focused on designing high-quality footwear with a timeless character. Sander van Gelder, commercial director at HUB says: "We represent an urban lifestyle, combined with a clean look," This means that every trainer derives from the timeless classic that a tennis shoe represents, but with a unique twist.
The brand name, HUB, stands for a literal hub. A place where people meet and inspire each other. "The city is full of big and smaller hubs where people come together to share ideas, stories and passions," van Gelder continues. Symbolising this, every HUB shoe features a stitched orange 'Z', connecting all of them together as one. Some people may think the brand name, HUB, is a play on the name of the founder. It is funny, but it is not the case.
During the design process, the brand takes their HUB DNA – which consists of a clean look and a high quality, sophisticated feel – and translates this to on-trend shoes. All of their trainers are inspired by tennis wear, but have a very urban feel to them and provide comfort for the hectic city life. For the 2019 Spring/Summer collection, they will launch a HUB- trainers tennis pack, consisting of three tennis-inspired trainers with the characteristic white bases.
But this is not the only thing HUB has in store for the upcoming year. For the Autumn/Winter 2019 collection they will launch Haghe by HUB. A collection predominantly for women that focuses on boots and other non-trainer shoes. This will be part of the HUB premium collection.
Along with launching these new collections, one of HUB's main goals for next year is to expand their European distribution network, growing their company even bigger.
Right now, you can buy a pair of HUB shoes via their own website and they are also sold in several high-quality trainers and shoe shops in the Netherlands, Belgium, and several other European countries.
Subscribe to Our Newsletter
Receive our monthly newsletter by email