Hout is Prachtig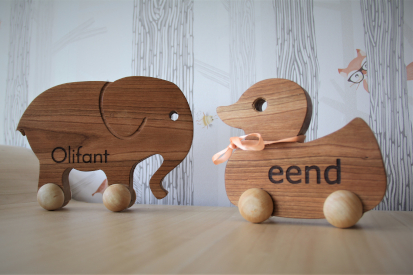 The luminous side of wood
TEXT: ARNE ADRIAENSSENS | PHOTOS © HOUT IS PRACHTIG
Hout is Prachtig – wood is beautiful! That is the credo under which Tim Zeeman tries to makes the world a better place, one plank at a time. Next to his business in timber furniture, he runs a webshop brimming with joyful wooden objects for the youngsters, made piece-by-piece with his own two hands.
Zeeman's love for wood goes way back. The Dutch carpenter is an expert in constructing timber furniture but his heart went out to his side-business: making wooden objects that spark children's imagination.
Most popular in his webshop, are the wooden lamps which he creates in a wide range of adorable shapes. His personal favourites are the giraffe and the typical Amsterdam-houses. "Most of my lamps are inspired by what I see in daily life or in the books of my children. When I spot something, I start by creating a prototype to see what it looks like. I only make multiple copies of the best designs to sell them on the website."
Even so, every piece is one-of-a-kind. Zeeman crafts all lamps himself, by hand, so no two of them are exactly alike. If you want to personalise them even more, you can let him add an inscription in the wood: a name or a message, for example. Whatever it takes to make it the perfect, personal souvenir or gift.
Many parents, grandparents and godparents adore the items by Hout is Prachtig. Yet, the biggest fans live inside Zeeman's own house. "My daughters worship these lamps. Their bedroom is starting to look more and more like a showroom."

Web: houtisprachtig.nl
Subscribe to Our Newsletter
Receive our monthly newsletter by email