High Flying Birds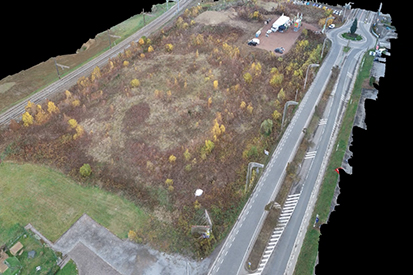 Showing every detail, from every side
TEXT: MICHIEL STOL | PHOTOS © AERIAL INTELLIGENCE
It used to be all about cool pictures and videos, but people are starting to see the additional potential of drone imagery; using it for fast, safe and extremely accurate aerial inspections and mapping. Experts Erik Peiren and Ben van Hool of Aerial Intelligence provide drone services which make full use of this somewhat hidden potential. "We can show every detail, from every angle and every side," says Peiren.
Peiren is a Class I licensed UAV pilot and has been using the power of drone imagery for years in post-production work at High Flying Birds, a firm that works for television, adverts, music videos and live shows for bands and artists such as Tiësto and David Guetta. Aerial inspections were also a part of that work, but together with partner Ben van Hool, Peiren decided to start Aerial Intelligence in Schilde, near Antwerp, and fully focus on inspections and mapping. "We don't just provide the imagery, with the data we create 3D models and provide detailed reports and analysis when required," Peiren continues. And thanks to use of geotagging and smart Cloud solutions, regular inspections of a site provide a visual timeline of the development of the area.
Fast, safe and accurate inspections
Aerial Intelligence performs mapping flights for the agricultural industry and inspections of large buildings and sites in the construction industry. "A lot of our operations we fly for insurance companies, particularly when it comes to storm damage. We can inspect large areas much more quickly and accurately than any inspector could ever do," Peiren explains. The inspections are so detailed, that 3D models of buildings boast sub-centimetre accuracy. "It provides irrefutable data, something that is important in the insurance industry. And it is a lot safer, because they do not have to send inspectors onto the roof anymore."
Although the (commercial) use of drones is highly regulated – in Belgium, drone pilots must meet the same requirements as helicopter pilots, including mandatory physical tests – Aerial Intelligence is fully licensed in the country and can fly nearly everywhere. "We are working with partners in our neighbouring countries to fly the missions there, because every country has its own legislation," Peiren elaborates.
"People often do not grasp the power of data. With our drone solutions, we visualise the data we collect, to help our clients stay safe and help them in their daily operations."
Subscribe to Our Newsletter
Receive our monthly newsletter by email