Dr. Feriduni Hair Clinic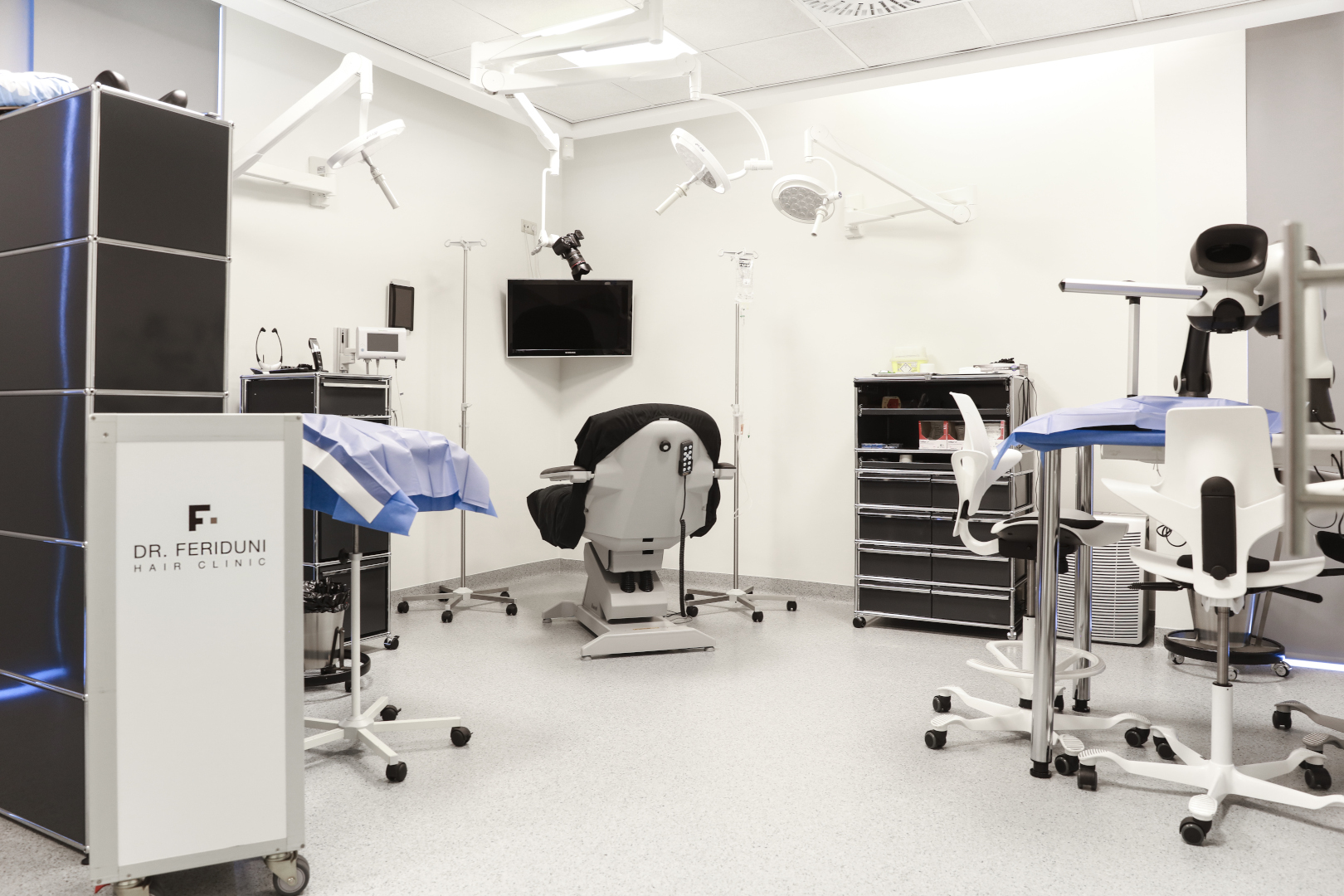 The power of good hair
TEXT: EVA MENGER | PHOTOS © DR. FERIDUNI HAIR CLINIC
Strong, shiny, healthy-looking hair means success, vitality and youthfulness – or at least that is what we like to think. The amount of time an average person spends on their hair is remarkable, especially since it is not something our bodies actually need. Dr. Feriduni, an internationally certified hair surgeon, knows it all too well. Having dedicated the last two decades solely to mastering the skill of hair restoration surgery, he is here to help anyone whose natural mane is slowly disappearing.
Hair plays a crucial role in our appearance, so it is no surprise that we collectively like to spend our money on haircuts and styling products. For the same reason, many of us are worried about that one day when we could start losing that precious hair. Though, due to fear of waning virility, it is particularly men who are dreading this idea, it can just as negatively affect women.
Dr Feriduni: "Hair loss is a widespread phenomenon of our society. Mostly for hereditary reasons, about one-third of all men between 25 and 40 suffer from a receding hairline, thinner hair and continuing hair loss as they get older. For women, hair loss is mostly characterised by thinning hair during the menopause – a condition that concentrates exclusively on the top of the head. And then there is trichotillomania, a disorder leading to an uncontrollable impulse to pull out one's own hair, eventually leading to patchy hair loss. But that's usually the result of wider, psychological factors."
Hair loss can be treated with medical therapy, which can help restore affected or miniaturised hair follicles and boost visible hair regrowth. However, the only way to stop or reduce hair loss is through medication, which can heavily influence the impact of any surgical intervention that might follow. Sometimes, the initial drug-based treatment works so well that patients no longer feel they need a hair transplant.
But when they do, Dr. Feriduni is here for them. In his clinic, new patients are always invited for an initial consultation in which all available methods and alternatives are widely discussed and considered. The team cares deeply about the principles of harmony and aesthetics. "The face comprises different elements, and finding the right balance between those elements is essential for our sense of beauty," Dr. Feriduni explains. "When meeting someone, the first thing we focus on is their head and face, and as such, a full hairline can have a significant impact on one's aura and attractiveness."
Other facial features that can help alter your appearance are long, thick eyelashes and full eyebrows, both of which Dr. Feriduni also performs transplantations for. But, he says, "only a very experienced hair surgeon, with both the right theoretical knowledge and practical experience, is able to perfectly put the principles of harmony and aesthetics into practice."
And that is where Dr. Feriduni's background is so important. After studying medicine, he started his hair transplantation training in various international clinics, ultimately leading him to obtain the American Board Certification for hair restoration surgery in 2012. Thanks to his extensive experience and specialisation within the field, his clinic is now considered to be one of Europe's leading hair clinics in both aesthetic and reconstructive hair transplant surgery.
Having performed over 8,000 hair transplants, Dr. Feriduni is the one to go to for any issues relating to hair loss. Whether it is due to ageing, psychological conditions or an accident; people of all ages are welcome at his clinic based in Hasselt, Belgium. "My youngest patient to date was a little girl who had a large burn scar on the top of her head. Luckily, we were able to help her by successfully performing a hair transplant – and now she's a happy teenager with lovely hair," Feriduni recalls.
That said, most people coming to the clinic are men aged 20 to 40, typically for a follicular unit extraction (FUE). This is a technique especially used for extracting hairs from a donor area, which are then transplanted into other bald or thinning areas. This minimally invasive technique is incredibly popular, as it does not leave patients with any visible scars, heals within a week and, perhaps most importantly, is as good as painless.
In addition to FUE, the clinic's highly qualified team offers plenty of other hair transplantation methods, but the main goal will always be to create a natural looking hairline. "People should know that there is no need to live their whole life feeling bad about (potential) hair loss," Dr. Feriduni concludes. "It can be treated with ease, and it will look good."
Web: feriduni.com
Subscribe to Our Newsletter
Receive our monthly newsletter by email