Detremmerie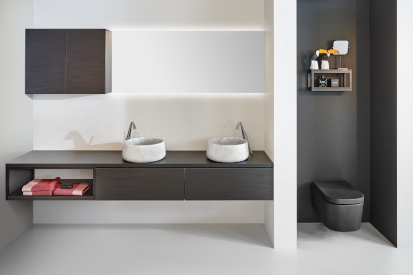 The bathroom of your dreams
TEXT: XANDRA BOERSMA | PHOTOS © DETREMMERIE
Whether it is classic black and white, cosy earth tones or outstanding pink: everything is possible in bathrooms decorated with the adjustable furniture by Detremmerie.
A market leader among Belgian bathroom furniture brands, Detremmerie is gearing up for a major anniversary next year. By 2019, they will have been creating outstanding bathroom furniture for 80 years. During those years, three generations have worked on the unique products that make a dream bathroom. "And we keep on growing," sales intern Matthias Cottenier says. Growing in both sales numbers and the size of their collection.
Five years ago, Detremmerie released their signature collection, 'No Limit'. It is a name that says it all. "There really is no limit when designing your Detremmerie bathroom furniture. You choose everything separately so it's completely unique," elaborates Cottenier. With different handles, lighting, 48 colours and finishes − matt, high-gloss or wood-look − and all sorts of different materials, the possibilities are indeed endless.
"We are known for our modern design, but we can make a classic piece as well. That's the benefit of the customisability of the product." Those various possibilities mean different pricing ranges as well. Which is also a great benefit for those on a tight budget. "We focus on high and middle segment bathrooms, using materials like marble, but it's no problem at all to create a low budget version."
With 424 sales agents in the Benelux, there is always a place nearby where various pieces can be seen. Or, if you prefer to see many of the options at once, then you can visit the showroom in Beveren-Leie, Belgium. "We don't sell directly from this showroon, but we do showcase over 70 setups here. We also offer a bathroom configurator. By using this computer programme, clients can see precisely what their design would look like and what the price will be. You can change colours, materials, everything."
This autumn, a whole new collection of Detremmerie will be released. It will be shown at the VT Wonen fair in Amsterdam (2-7 October), as well as the Design fair in Kortrijk (18-22 October). "Marble and concrete will be the main materials of our new collection. And we also release the Architecture Line, which is adapted to unusual dimensions. Not your standard bathroom."
Subscribe to Our Newsletter
Receive our monthly newsletter by email