Desjoyaux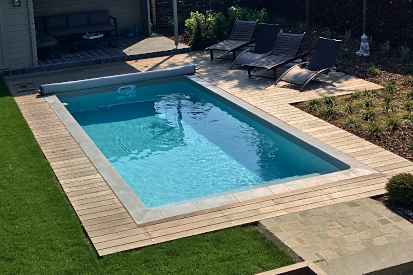 Dive right in with Desjoyaux
TEXT: SIMON WILLMORE | PHOTOS © DESJOYAUX
For those with money to burn and outdoor space to fill, a swimming pool must surely come high on the list of future purchases. However, naysayers often point out one particular negative that comes with such a purchase – the level of maintenance that pools require.
Enter: Desjoyaux. The French manufacturer has a brilliantly named approach to swimming pool installation: 'Prêt à Plonger'. The pools come 'ready to swim', and the no-fracture concrete structures, which are made to measure and come with a ten-year warranty, have 'pipe-free filtration'. This means that the entire filtration system is self-contained, in a permanent active casing inside the pool's structure.
This naturally makes the product quick to install – the whole unit can be completed in seven to eight working days, spread across four weeks – and much easier to maintain, compared to a traditional swimming pool set-up, which would have pipework on both sides. This is usually because water is removed on one side and then clean water is pumped back into the other side. And, even more inconvenient, this external pipework means a separate pool house is required to access the filtration system.
"With these products, there is no need for the pool house and it's much easier to access the filter, so there is no need for a specialist pool cleaner," says Jean Ceuppens, the importer of Desjoyaux pools for Luxembourg and Belgium for the last 30 years. "It reduces the risk of leaks and it's easier to access the pipework."
Ceuppens, based in Soignies – less than an hour south of the Belgian capital Brussels – is one member of a large network of importers and distributors employed by the manufacturer. He continues: "The company, established in France over 50 years ago and now active on five continents, is still the major player in its home market, now with over 150 distributors and concessions across the country."
Naturally, Desjoyaux pools have all the bells and whistles you would expect from a top-of-the-range pool, as well as the time- and money-saving technology required. The tailor-made products feature a choice of shape, depth, colour, step design, lining, surrounds such as decking, and cover. To add to that, customers can add another layer of luxury with a choice of multi-colour remote controlled LED lighting, and jets for exercise, simple relaxation or even hydrotherapy.
All of a sudden, all those reservations anyone might have had about swimming pool maintenance seem to have been washed away!
Subscribe to Our Newsletter
Receive our monthly newsletter by email