Desirable Designs – September 2019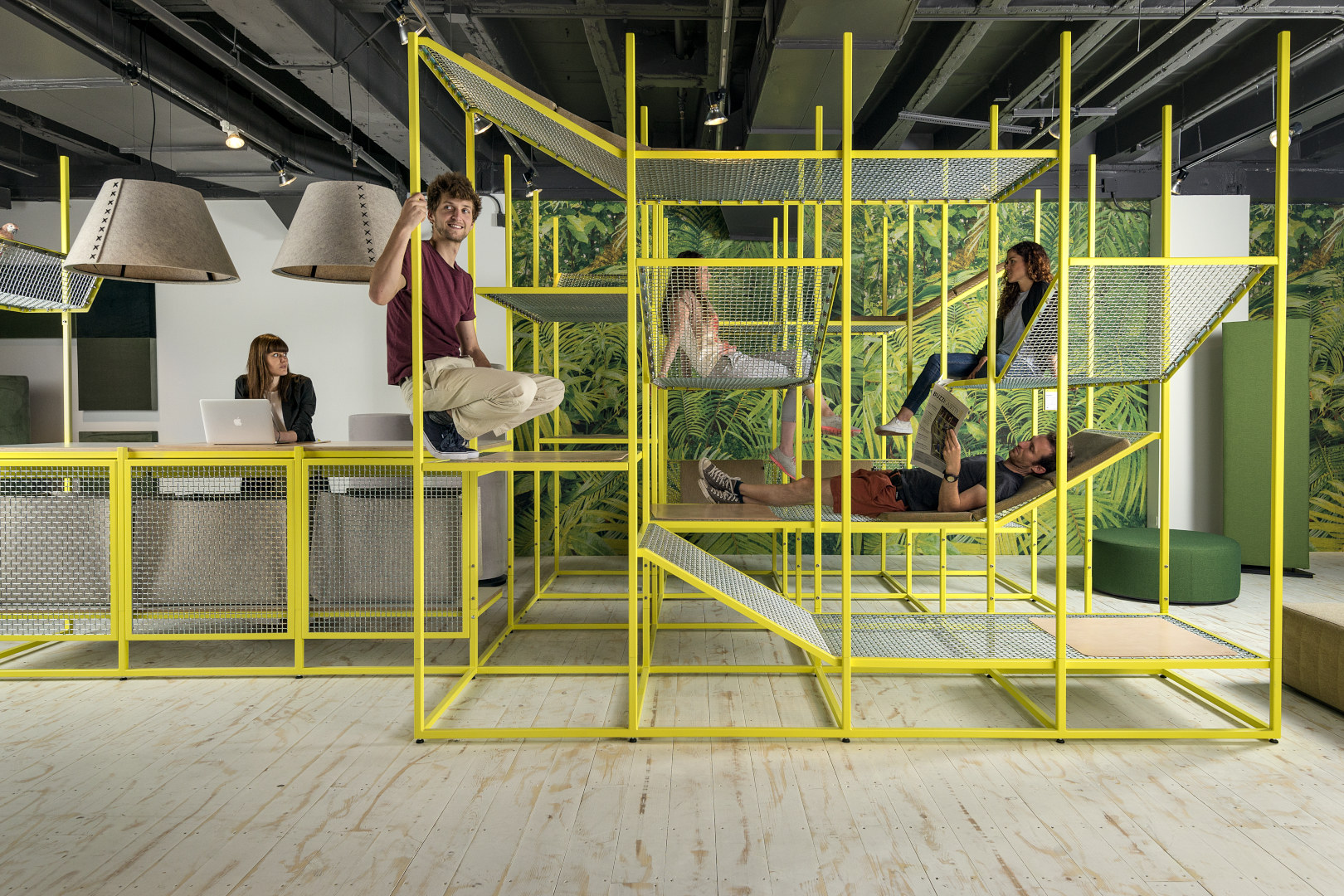 The fun office
Following the examples of the likes of Google and Facebook, companies are increasingly getting rid of their grey, soulless offices and moving towards colourful, cosy and fun workspaces. Not only does it boost the happiness of staff, it also skyrockets the image of your company. With these quirky pieces of furniture, employees may no longer want to leave the office at 5pm sharp.
TEXT: ARNE ADRIAENSSENS
Office jungle gym
(Main image)
Do you need a break from sitting at your desk? Lay, hang or climb in the bright yellow BuzziJungle! Its many comfortable chairs are perfect to work in, have a brainstorm session together or just to take that well-deserved lunchtime siesta.
From € 40,644

Left to right: Cabinet from Bulo | Fusiontable from Fusiontables
Organised chaos
For some people, a little bit of chaos is necessary to function. With the Overdose cabinet, there will be organised chaos galore.
From € 8,190
Work hard …
… play harder! That is a credo we love to live by. With the Fusiontable in your office, your conference room will be hosting a pool tournament in no time.
Price upon request

Left to right: Cork Cactus from Hema | Regal seat from Bulo
Holiday mood
During working hours, we all dream about holidays to faraway places. With this adorable cork cactus on your desk, however, the south will come to you instead.
€ 7.50
Office throne
With their squeaky wheels and uncomfortable backrests, most office chairs are uninviting. Enter, the Easy Rider. With this regal seat, you can navigate through your company's corridors in style and comfort.
€ 2,240
Subscribe to Our Newsletter
Receive our monthly newsletter by email