DE NOOD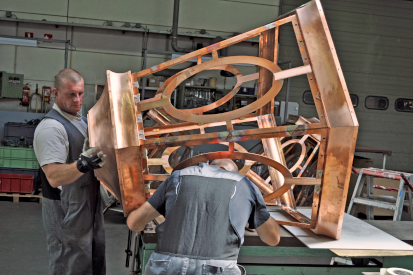 Royal outdoor lighting
TEXT: KARIN VENEMA | PHOTOS © DE NOOD
Every time the Dutch King Willem-Alexander and his family get their picture taken outside their royal home, Thomas Akveld glows with pride. As commercial director at DE NOOD, he looks beyond the monarchs and sees his company's exclusive outdoor lighting complementing the beautiful premises.
DE NOOD was founded in 1924 by Jan de Nood who, as a coppersmith, took great pride in his work. De Nood had a reputation for being an extremely skilled and meticulous craftsman. He laid the foundations for the quality and precision that, over the years, allowed the company to set itself apart from the crowd.
His simple, traditional workshop in Middelburg has now grown into a production unit where the latest techniques and the best equipment are combined with the knowledge and historical experience that makes DE NOOD and its outdoor lighting so unique.
Amazing outdoor lighting surrounding the house
DE NOOD has an extensive collection of classic outdoor lighting. Whether you are looking for lights next to the front door, in the garden, on an entry pillar or façade, above a doorway, on the driveway, by the garage, next to the path or on the balcony; there is a wide range to choose from. They can even design and produce fully customised lighting upon request.
For a perfect finish, customers can opt for adjustments such as lacquering in one or multiple colours; faceted or antique glass; gold, silver or chrome plating; security cameras inside in a lantern; engraving of a logo, family name or coat of arms or the combination of different lighting techniques.
Authentic looking replicas
Many of Amsterdam's 17th century canal houses are illuminated with DE NOOD lanterns. The replicas look so authentic that most people do not question their origin and assume they are original. Of course, this is a huge compliment for DE NOOD, but it also explains why their name is not as well-known as you would think.
One of DE NOOD's customers, Rob Nijman, explains what led him to the company. He wanted to renovate his monumental house in Rotterdam, but wanted to keep the original style of the building and so gladly called upon DE NOOD's expertise. "Details are very important in a process like this: things such as locks, hinges and the lacquer and colour scheme. The lanterns by DE NOOD belong to that same category. So fitting that you'd think that they had always been there."
All lanterns come with a certificate of authenticity as proof that you have a genuine DE NOOD. They use high-quality materials such as copper, brass and bronze for their exclusive outdoor lighting range, which guarantees high-quality results and enables DE NOOD to give a lifetime guarantee on their outdoor lighting.
Classic street lighting with modern technology
Their public projects are often initiated when a local citizen uncovers historic evidence for classic lighting in their part of the city. DE NOOD is then asked to recreate the lighting and restore the streets to their former glory. Akveld says: "A few years ago, there was a resident from Rotterdam who discovered drawings of the Matenessebrug in the archives that had not been destroyed by the war." The Rotterdam council entrusted DE NOOD to make exact replicas of the masts and lanterns, using nothing but these old drawings. He adds: "The materials and craftsmanship are traditional, but we use the latest lighting techniques." The old harbour of Rotterdam is now a much-loved project in which many historic elements were brought back to life and replicated by DE NOOD. A similar process was used to light up the Dom square in Utrecht.
Always staying on top of the latest developments, DE NOOD works closely with Philips and other Dutch lighting experts. In Breda, for instance, they have lit up the central shopping area with remotely-controlled lights. Now, the main road from the station to the centre always has a fitting atmosphere: on King's Day, they turn them orange, on Carnival, they change into all colours of the rainbow and, during the Christmas period, they shine red and green. For nightlife revellers, it is possible to display bright, cold light after the bars close, to help the visitors sober up and safely find their way home.
Happy customers are key
DE NOOD also counts many professionals among its clients, including Mathile Brandts from Villa Pera, who elaborates: "For our listed buildings, a lantern from the correct era is an embellishment that completes the entire project. Our new builds often have a strong connection to the past; old paving, wrought iron verandas and fencing, gates and orangeries; in short, everything that brings atmosphere and ambiance to the living environment. DE NOOD has been our number one go-to for outside lighting for years," he says. "And with a lifespan of over a hundred years, you can call it an extremely durable product too!"
When Akveld is asked how many satisfied customers DE NOOD has, he smiles and says: "Eighteen million. Because 90 per cent of local councils use our services, so the whole of the Netherlands gets to enjoy beautiful street and outdoor lighting."
Subscribe to Our Newsletter
Receive our monthly newsletter by email