Cube 33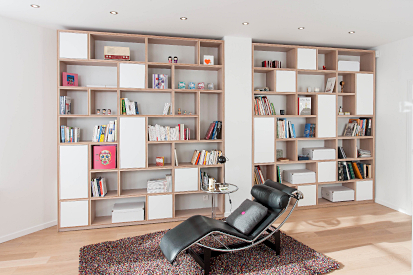 A revolutionary new concept in furniture design
TEXT: EDDI FIEGEL | PHOTOS © CUBE 33
For those who like to have bespoke shelving and have gone to the trouble of having pieces built specially for their home, there is nothing more annoying than having to leave them behind when moving house or apartment.
This was the very problem which inspired cabinet maker Eric Meert to set up his groundbreaking furniture design company Cube 33. One of his regular clients had asked him 'How can we avoid having to change furniture as many times as we change apartments?', so Meert started thinking. The result was Cube 33, which launched in 2013.
Meert's solution was to create square or rectangular pieces of furniture which could be dismantled if the client moved home and easily adapted to fit in with their new home surroundings. These included bookcases, shelving units and TV cabinets, to benches, bedside tables or bedheads. The goal was to make one-off pieces of high-quality, modular furniture of different sizes, specifically tailored to individual customers' needs.
All Cube 33 pieces are available in a wide range of colours and wood veneers, so that each item created is entirely personalised. They also come with a delicate, bevelled finish – a refined touch that lends every piece of furniture a soupcon of additional elegance.
"Each piece is completely unique," says Meert. "In the client's own personalised colour, shape and style, whether it's linear and open, or closed with drawers or doors. Some people want something very classic and symmetrical; others want something highly individual and sometimes asymmetric. The wonderful thing about the Cube 33 system is that everyone gets the furniture that is right for them, their taste and style and their way of living. You won't ever see two pieces look the same."
Subscribe to Our Newsletter
Receive our monthly newsletter by email