Cosmedics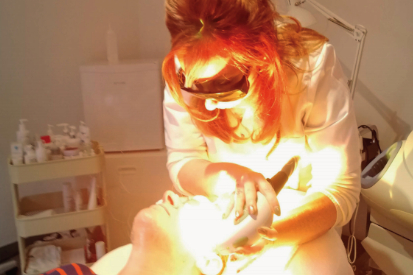 Beauty treatments from the future
TEXT: ARNE ADRIAENSSENS | PHOTOS © COSMEDICS
Some moments in life are made for you to shine. Weddings, first dates and anniversaries, to name a few. Nancy Anthone makes it her mission to give you the perfect happy and healthy glow when you need it the most. In her practice, Cosmedics, she lifts people's self-esteem and potential with just a little help from her lasers.
The importance of loving yourself can never be overestimated. Yet, on some days, it is easier to cherish your reflection compared to other days. Countless creams and beauty treatments promise salvation, but most of them fail to deliver. Doctor Nancy Anthone, however, does have effective solutions. "Many face- and body-issues can be resolved with minimal medical interventions," Anthone confirms.
After working as a house doctor for many years, she immersed herself in cosmetic medicine, a field of expertise she now runs a busy practice in. "The difference between my job and that of a plastic surgeon is that I don't practice surgery. Scalpels aren't part of our basic equipment. Instead, we use laser therapy, fillers and other state-of-the-art procedures." With these methods, she distinguishes her practice from the average beauty parlour as well. Since a medical degree is required to perform them, most spas cannot offer these services.
Lots of lasers
The pride of the practice is Anthone's wide selection of lasers, with each of them performing a different treatment. "I have lasers for tattoo removal, for treating veins, for collagen stimulation, for removing hair, against acne… I have quite a lot of toys." To get the most out of them, she intelligently combines them into balanced, all-round cures. "We divide our services into three categories: quick fixes, facials and more invasive treatments. Quick fixes are a great way to cleanse your skin. They only take about half an hour and are applicable on every kind of skin. The effects are immediately visible and stay for a couple of weeks."
A bit more intensive are the facials. They usually take up to one hour and pursue a certain goal. If you want to get rid of those little blackheads, produce more collagen or let your skin glow, this is the way to go. The most personalised services are the more intensive ones. These ones usually tackle bigger problems like acne or rosacea. "The effect of these treatments usually hits a little later but stays visible way longer, up to several months. To get the most out of it you should repeat these cures every so many months. Then it's easier to maintain a healthy skin than to cleanse it all over again."
Ideally, Anthone likes to combine laser therapies with other treatments such as peeling, fillers, threads and PRP, since they lift each other to the next level. "During a peeling, for example, we take the top layer of your skin off, making your face more responsive. Afterwards, we use laser collagen stimulation and combine this with fillers to provide a beautiful and natural result without the risk of a plastic face."
Investment in the future
Of course, not all people who enter Cosmedics get their problems lasered away. Combating excessive sweating is one of their many specialities for which the lasers stay out of the picture. "Depending on the budget and the body part you want to treat, there are multiple options to deal with this problem. The most known solution is injecting botox. You can do it almost everywhere on the body and it works very well. The effect stays for several months. The downside is that it can be rather painful. Especially injecting it in hands and feet it is very unpleasant."
To avoid this suffering, there are many alternatives. "With iontophoresis, you can stop sweating by putting your transpiring limbs into a lightly electrified bath of water. It works well and doesn't hurt at all. The effect only maintains for several weeks though. For arm pits, the revolutionary Miradry-method can solve your problem for good. It costs a bit more but is an investment."
Despite its similarities with beauty parlours, Anthone does not think she offers wellness. "We don't do massages, for example. Yes, we do use nice creams and products, but always in combination with our machines and lasers." Nonetheless, regular clients can save up points which they can exchange for a goodie bag, a VIP treatment and a free facial. For new customers they offer a ten per cent discount on the first facial.

Web: cosmedics.be
Subscribe to Our Newsletter
Receive our monthly newsletter by email