Conserverie et Moutarderie Belge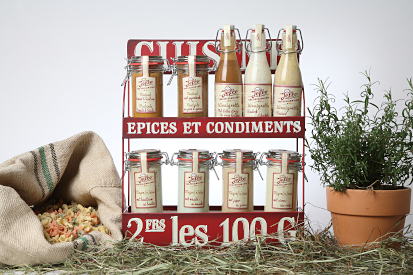 Successful family business
TEXT: MALIN NORMAN | PHOTOS © CONSERVERIE ET MOUTARDERIE BELGE
Established in 1953 by Franz Schumacher, Conserverie et Moutarderie Belge first started its production with mustards. In 1983, son-in-law Philippe Renson and his wife Elvira took over the business and extended its range with sauces and ready meals. In 2010, the third generation entered the company, giving it another wind of change.
The range of products includes five prominent brands. Jefke The Belgian Chef is composed of vinaigrettes, mustards, cold sauces and mayonnaise. Yvalli consists of ready meals in larger packaging for wholesalers in the meat sector. La Délicieuse is the high-end product range. La vache qui regarde passer les trains is the organic brand created to meet the growing need for eco-friendly products. and finally, Filou is the local brand. And the company is expanding its line-up even further, with salad dressings and spreads with new flavours such as mango curry and carrot ginger, as well as chutneys to go with foie gras. As the next project, a new factory will open its doors in order to handle larger volumes of production and the introduction of more new products.
What makes Conserverie et Moutarderie Belge such a successful business? "Flexibility," believes Renson. "We explore every possible venue for our clients, and our R&D department continuously develops products, recipes and packaging solutions. And even though we have grown over the years, we are still a typical family business." As proof of its continuous success, the company has been named Family Business of the Year by Belgian business magazine Trends. This certainly is a promising business, and for generations to come.
Subscribe to Our Newsletter
Receive our monthly newsletter by email