blue®m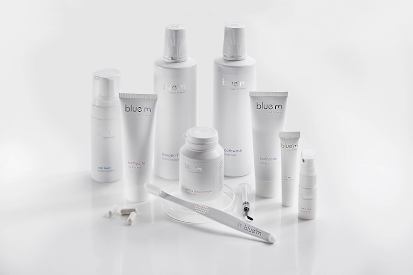 Good health starts with your mouth
TEXT: MICHIEL STOL | PHOTOS © BLUE®M
"Your mouth is a mirror of your body. If you take good care of it, it will help your body to stay healthy," says Nathalie Beck, co-founder of blue®m. They have made it their mission to create oral care products that help your body take care of itself. Why dental care products? "Because the digestive system begins in the mouth."
blue®m came about in 2010 in Zwolle, after a chance encounter between pioneering maxillofacial surgeon Peter Blijdorp and Fokke Jan Middendorp. With more than 25 years of experience in dental surgery and implantology, Blijdorp had become increasingly drawn to finding ways to accelerate the healing of oral wounds.
"One of his discoveries was the power and healing properties of active oxygen, a pure substance natural to the body," Beck explains. "Together with his team, he started on a mission: to help as many people as he could." One of them was Fokke Jan Middendorp. Middendorp saw its potential and wanted the world to benefit from it.
Together with Blijdorp, he came up with a range of dental care products, such as toothpaste, mouthwash and oral wound gel, which were dubbed Blue Magic and blue®m, due to the results they achieved. Every product is produced in the Netherlands and exported to 30 countries across Europe and beyond.
The products by blue®m – a clinically validated oral health brand, recommended by the best dental specialists – contain active oxygen, extracted from, amongst others, honey. "Most people think that honey is bad for your teeth, because of the sugar. But honey is rich in hydrogen peroxide and therefore 'oxygen-rich', which helps to fight bacteria," explains Beck. "By applying oxygen, you support the body's own healing processes, because it stimulates cell division."
Another key feature of active oxygen is that it helps to keep the oral flora in balance. "Regular antibacterial ingredients attack all bacteria, including the good ones, and have many negative side effects."
blue®m is about more than just dental care products. It is a philosophy, a 'blue' movement, as they call it. "Throughout the world there are 'Blue Zones': zones where people tend to live happy, healthier and more fulfilled lives, and statistically live longer. There are blue zones, for instance, in Sardinia in Italy and Icaria in Greece. Would it not be great to have those blue zones everywhere?" smiles Beck.
To achieve this, blue®m helps its customers by giving advice on how to live healthier, happier lives, take better care of themselves and get the most out of life. Beck adds: "Oxygen is indispensable in that. We need it to live and we need it to heal ourselves."
Subscribe to Our Newsletter
Receive our monthly newsletter by email