Baruti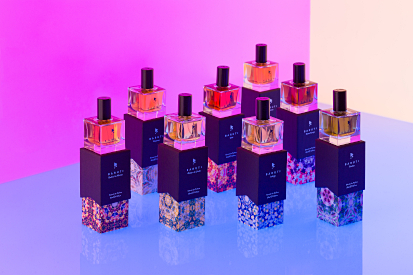 Scent explosions
TEXT: KARIN VENEMA | PHOTOS © BARUTI
Perfumer and fragrance engineer, Spyros Drosopoulos, wants to tell novel stories with his perfumes. Named after the Greek word for gunpowder, Baruti perfumes are explosions of scent. The niche, independent perfume brand is conquering the world with unexpected aromatic combinations.
Looking at Baruti's Kaleidoscopic collection, the first thing that stands out is that the perfumes are not labelled for him or for her. "Smells are individual," says Drosopoulos. "They should suit the occasion, just like clothes, shoes and accessories. Labelling the perfumes beyond their name wouldn't do justice to that individuality." The kaleidoscopic packaging design seems a perfect metaphor for the individual arrangement of different elements to create beauty.
All Baruti's formulas are composed by Spyros Drosopoulos in his laboratory in Amsterdam. Spyros is a former neuroscientist who has always had an appreciation for fragrance. After years of working as a scientific researcher and lecturer, he left the academic world to pursue his newly found love – perfumery.
"I love to tell stories through smells. Each Baruti fragrance is a persona with its own distinctive character and narrative. In my collaborations with other art disciplines, I explore the boundaries of smell even further. I let go of all laws and regularities. Who says a smell always has to be nice? Just like the DJ or video-artist during live performances, I use my ingredients and creativity to make a sequence of smells that tells my story," Drosopoulos continues.
All the words in the world cannot describe a smell explosion adequately, so if you find yourself near a store that stocks Baruti perfumes: go and experience it for yourself.
Subscribe to Our Newsletter
Receive our monthly newsletter by email