A peek inside the jeweller's treasure chest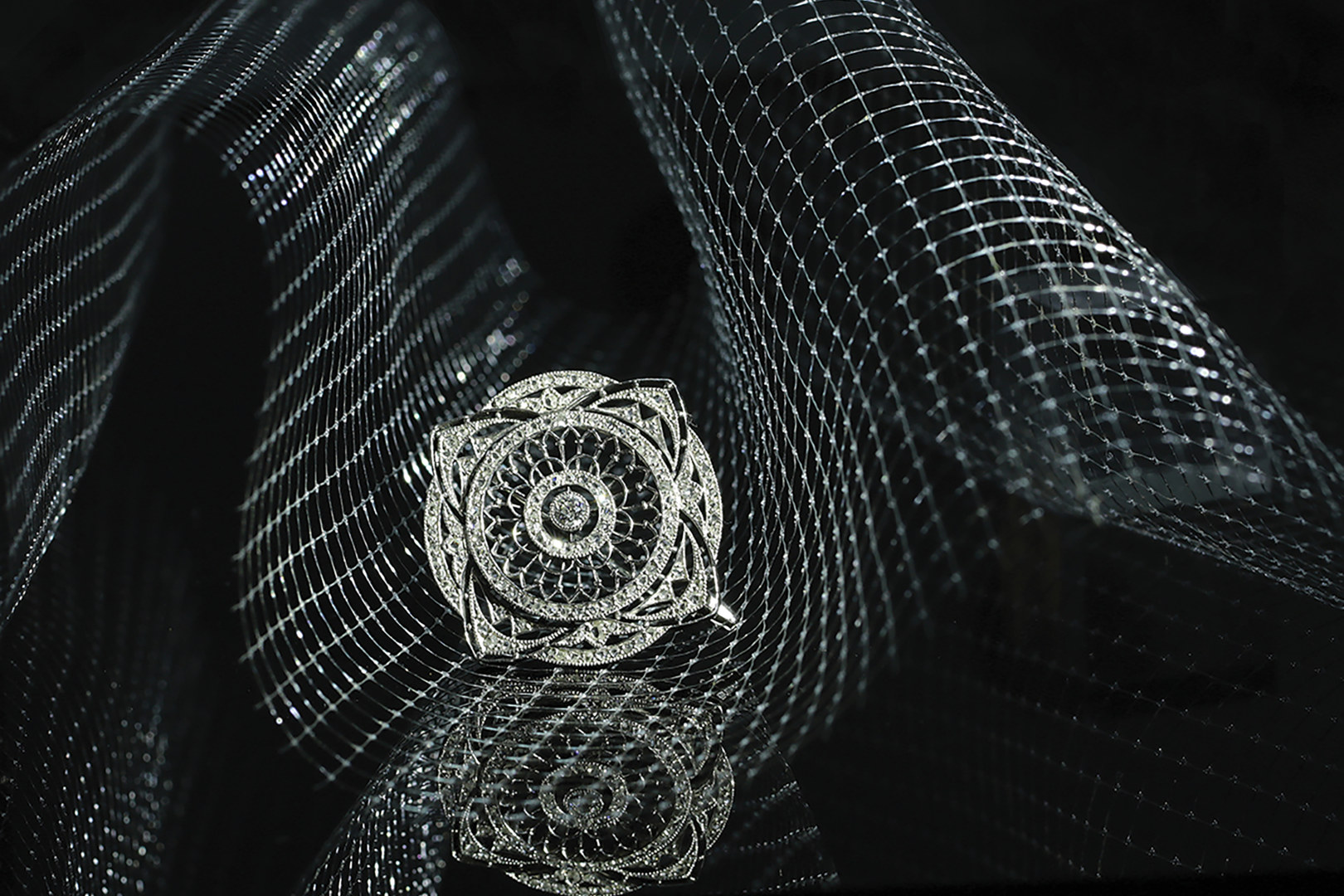 Having dedicated his life to antique jewellery, Elkan Wijnberg possesses a treasure trove of knowledge that is rivalled by few. His journey began when he was just eight years old and it has cumulated in his store in Antwerp, Belgium. At Adin Antique Jewellery, he buys, fixes and sells antique jewellery, and tracks down the compelling stories these unique pieces have to tell.
TEXT: MYRIAM GWYNNED DIJCK | PHOTO © GILSON
"Jewellery is the materialisation of emotion," says Wijnberg, founder and owner of Adin. He specialises in fine antique, vintage and estate jewellery, dating from the late 20th century, all the way back to the 17th century. "Every piece from my collection has already stood the test of time, so it will keep its beauty for years to come. This is what makes antique jewellery so valuable. And the pieces that we sell, you won't be able to find anywhere else."

LEFT IMAGE: 17TH CENTURY PERUZZI CUT DIAMOND, ONE OF THE FIRST MODELS OF BRILLIANT CUT DIAMONDS. RIGHT IMAGE: SUPERB BAROQUE STYLE FRENCH CAMEO WITH FRILLED MOUNTING FROM CA. 1820 FEATURING A MINIATURE AFTER A FRESCO BY GUIDO RENI
Upon entering Adin, located in the centre of Antwerp, it is clear this is not a run-of-the-mill jewellery store. As you are met with a friendly interior, reminiscent of a warm living room, the jewellery on display is somewhat overshadowed by several bookcases that are filled to the top with reference works.
These books reflect Wijnberg's passion for fine antique jewellery and his extensive knowledge on the subject. "I enjoy explaining the history and clarifying the symbology or design of a piece of jewellery. I want to give people information that is useful and show them that there is more to it than just metal and gemstones," he says.
Capturing a moment in time
Wijnberg opened the shop in 1983, and by now it is a household name in Antwerp's jewellery industry. "Quite often jeweller colleagues will direct customers through to me if they encounter an antique piece of jewellery, because many don't specialise in old jewellery like I do."
Having built a strong reputation over the years, Wijnberg has a strict policy regarding the pieces in his collection. "I specialise in exclusive, second-hand antique jewellery that represents the style of the period in which they were made," he says. "The piece has to be true to the style of the day, and doesn't replicate a foregone fashion."
One of his oldest pieces at the moment is a sizeable, 1.83 carat 'peruzzi' cut diamond dating from before 1700. This is a predecessor of the modern brilliant-cut, and was developed by a Venetian polisher. At the time, a simpler rose-cut was far more popular, and due to its age and size Wijnberg believes this might be one of the very few still around today. This and many other jewellery stories are proudly listed on his website.

SNOW FLAKES BY CAN CLEEF & ARPELS CAME DRIZZLING DOWN IN THE GARDEN OF ADIN
Delving into the Garden of Adin
Keen to share his knowledge, Wijnberg has been using his website – antiquejewel.com – as a platform to reveal snippets of information on various subjects. By now, he has built a glossary database with over a thousand entries, and a series of 'jewellery lectures' in which he explains the hallmarks of different style periods, how to date a piece, different birthstones and much more.
Aside from that, he also sends out weekly newsletters in which he focusses on special pieces from the collection. Dubbed 'The Garden of Adin', he photographs a piece in an unusual setting to highlight its design features and tell its history. "The name came about in 2012 when we photographed a beetle pin in our garden, and we have used this ever since to showcase special pieces in a tongue-in-cheek way," he says.
A glance into the goldsmith's workshop
One unusual piece that he recently described is an 18-carat gold baroque cameo from France. It features a miniature inspired by a ceiling fresco by Guido Reni in a palace in Rome. "The cameo has incredible detailing featuring the Roman goddess of dawn," he adds. Like every piece in his collection, it is listed on the website with numerous high-quality photos from all angles.
Wijnberg explains that for professionals like him the back of a piece is as important as the front. He compares it to peeking under the bonnet of a classic car, to see how the engine works. "The back is never on display, so seeing how much care a goldsmith put into finishing this, is usually a sign of the overall quality," he continues. "The best pieces are not just down to a top goldsmith, but the collaboration of an excellent stone setter, designer, polisher, and having access to high quality materials. Everything has to come together."

VICTORIAN ANTIQUE LOVE BANGLE WITH TWO DIAMOND HEARTS TIED TOGETHER BY A RIBBON
A lifelong passion
Originally from the Netherlands, Wijnberg was interested in jewellery making from a very young age. At eight years old, he was already making enamelled jewellery, and by the time he was 15 he knew he wanted to become a goldsmith. He says: "I loved repairing jewellery, so I started at local jumble sales with my mum's table cloth. Quite quickly I worked my way up to craft markets and then the big antique fairs."
After moving to Antwerp he opened his shop, Adin, in the heart of the diamond district. "I've found that Antwerp is not just a diamond city, but a centre for jewellery in general where everything is close together. So this was the perfect place for me."
When coming up with a name, he decided to take a calculated approach, and pick something that starts with 'A'. "This put me the start of indexes and catalogues, which was important in a world pre-Internet," Wijnberg explains. "And 'Adin' is closely related to the Dutch word for 'noble'."
The wall of fame
Not going unnoticed internationally, Wijnberg has clients from all over the world, including a few celebrities. Several signed photographs displayed in a cabinet in the shop are testimony of his famous clientele. But this is not the only way Adin has a connection to Hollywood.
Several years ago, Wijnberg was approached by an American film producer who asked for help in sourcing a few specific movie props. For the 2006 blockbuster The Da Vinci Code, he needed some pieces of jewellery, in particular for the character of Bishop Manuel Aringarosa. "The jewellery he wears, such as the Victorian bishop's ring, are genuine pieces of antique jewellery that we sourced for the production."
But it is the finding of unique pieces of jewellery that is the most satisfying for Wijnberg. "And being able to share my enthusiasm with clients who really appreciate the design as well as the history of a piece." he says. "We want people to really wear the pieces, and make it a new family heirloom that can be passed down the generations."
If it is up to Wijnberg, he will continue his treasure trove of a collection for many years to come. "I am very happy doing what I do. If I could do it for another 100 years, I would!" he says.
Web: www.antiquejewel.com

FRENCH VICTORIAN STONE CAMEO OF A LADY'S PORTRAIT WITH AN ELABORATE GOLD FRAME.
Subscribe to Our Newsletter
Receive our monthly newsletter by email