Voss Architecture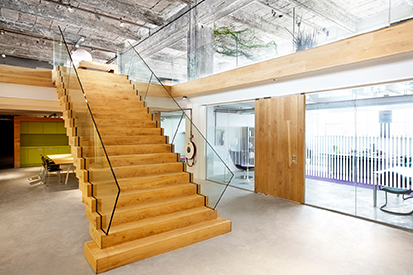 Voss Architecture makes you feel at home wherever you are
TEXT: PAULINE ZIJDENBOS | PHOTOS © VOSS ARCHITECTURE
In an old Philips factory in Eindhoven, works a dynamic design team on special renovation and new-build projects. The architects at Voss Architecture listen closely to their clients' requirements and desires. Their clientèle ranges from private homeowners to trendy and established international companies. Together, they produce an amazing synergy in design which results in vibrant, yet functional buildings.
The spaces that Bert Voss and his team create radiate style and warmth, so that their users feel truly at home. A manager at Brand Loyalty, one of Voss' clients, states: "Where in the past, some employees preferred to work from home, in our newly refurbished office they actually love to come in: they feel welcome and appreciated. Our fluid, flexible workspace reflects our passion and brings people together."
Along with striking a delicate balance between design and natural elements, Voss is experienced at creating a feeling of space and comfort thanks to their use of light. In the case of the redesign of a building, they will focus on re-using the original features and materials to create a more sustainable result. In a former bank building, for instance, Voss retained the safe and transformed it into a tranquil area within an otherwise open-plan office.
Over 12 years, Voss Architecture has completed many projects successfully within the Netherlands, Europe and Asia, for clients ranging from Philips and VDL to Fatboy and Jamie Oliver. However, they continue to keep the needs of small, local businesses and private clients in mind.
Bert Voss, the energetic founder, says: "Our clients keep challenging us to push ourselves and stay flexible. We get our energy from these close relationships. It's great to work together with a variety of clients and skilled tradesmen with so many different nationalities."
Aside from its architectural capabilities, the studio also designs innovative furniture. Voss states: "We started creating our own designs if we could not source the desired style for our clients. These products now form a spin-off company named MrVoss, resulting in over 20 rebellious designs available at the moment."
Voss Architecture's network keeps expanding because of their personal 'click'. Voss' team is full of innovative ideas for practical and aesthetically pleasing buildings and interiors. They enjoy taking on a project from the planning stage to deliver a fully-styled, turn-key building.
Subscribe to Our Newsletter
Receive our monthly newsletter by email