Tilburg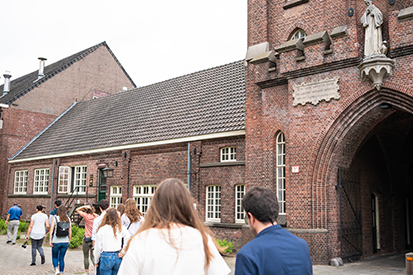 A vibrant city, surrounded by nature
TEXT: MICHIEL STOL | PHOTOS © CITYMARKETING TILBURG
With a long list of outstanding museums, one of the best music venues in the country and a brand-new must-see library, not to mention plenty of great restaurants, bars and beautiful nature, Tilburg is a vibrant place to visit. "But if you really want to enjoy the city, you have to be outside," begins Marc Meeuwis, marketing director for the city. "On foot or on a bicycle; it is the best way to 'feel' Tilburg".
Tilburg is a city bursting with art and creative talent, as well as lush green spaces, countless events and excellent restaurants to enjoy. "Everything comes together at the Spoorzone, the former Dutch Railway yard next to the train station," Meeuwis explains. Over the years, this area has been transformed into a place where people live, work, play and relax, all the while keeping its industrial history alive.
In January, one of the main buildings, the LocHal, reopened its doors, housing a library and exhibition rooms dedicated to contemporary art. And, in a couple of months, the immense city park SpoorPark will open its gates. "It is the biggest citizens' initiative in the country. People had a say on how it should look and what it should be called," continues Meeuwis. "For instance, there will be a permanent city-camping site. Who doesn't want to camp in the heart of the city?"
The best way to really discover Tilburg is to get on a bike and just cruise through the city. Cycle along the Wilhelmina Channel to the La Trappe Trappist brewery, where you can enjoy nature and a delicious beer. Looking for a bit more adventure? Then go further south to Safari Park Beekse Bergen, and roam with 'the big five'. Or go north, along the bicycle highway, advises Meeuwis. "In 25 minutes you will be at either the Efteling theme park or National Park Loonse and Drunense Dunes, where you can mountain bike in sand dunes and stroll through woodlands."
And at night, after an outstanding day enjoying the beautiful nature that surrounds Tilburg, cycle back to the city and enjoy a drink as you people-watch from one of the many restaurants or bars with terraces on the vibrant Pius Haven harbour.
"There is plenty to do inside, but being outdoors makes Tilburg even better. It is the best way to soak up the city's vibrancy and easygoing nature," smiles Meeuwis.
Subscribe to Our Newsletter
Receive our monthly newsletter by email