Syb Van Breda & Co Architects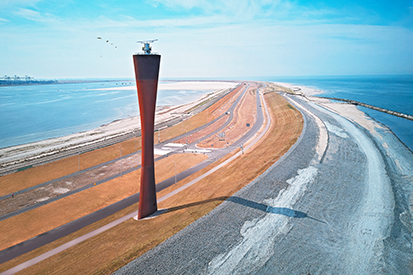 Transit architecture: art in the making
TEXT: EVA MENGER | PHOTOS © SYB VAN BREDA & CO ;
In March 2009 – in the heat of the global financial crisis – Dutch architect Syb van Breda found himself at the start of a new adventure. Focusing on what he was good at, he started his own architectural firm, which now, years later, has become a worldwide go-to resource for transit architecture.
"The company that I worked for was deeply affected by the crisis, which forced me to build something from scratch," van Breda reveals. "Back then, I had already done a large amount of infrastructure and transit projects, so focusing on that niche felt like the right thing to do." From environment pieces such as bridges to technical collaborations with engineers, what all projects taken on by Syb van Breda & Co have in common is that they resemble machines more so than buildings.
The main difference between classic and transit architecture is that the former is static, whereas the latter is specially designed to enable movement. Hence, van Breda and his team always work closely together with building companies, right from the very start. In addition, there is the fact that no two bridges are ever the same, as van Breda explains: "Designing buildings is often a case of repeating something that has already been done before – just in a different format. However, a bridge's mechanism depends entirely on its environment, which means that they always have to be built from scratch."
Syb van Breda & Co is a small, devoted agency with architects coming from various backgrounds, but they all love the challenge of constantly working towards something that is innovative as well as aesthetically satisfying. As bridges are typically positioned in an open environment, aesthetics play a crucial role in their design. "This is partly why, in the Netherlands, bridges are often referred to as civil works of art," van Breda adds.
A good example of such an artwork is the Fietsbrug (cycling bridge) connecting Katwijk and Oegstgeest. As both communities are seeing more and more new residential projects, a good connection has become essential. The local authorities held a competition amongst architects and designers throughout the country, which Syb van Breda & Co managed to win. "They wanted something visible – a design that could be admired by pedestrians and cyclists from all sides of the water," reveals van Breda.
With that in mind, they came up with a rather mysterious alternative for the classic swing bridge. With a relatively high counterweight, the bridge swings open horizontally rather than vertically, treating those lucky enough to see the bridge move, to a dynamic surprise. Though subtle in design, the bridge proudly rises up from the landscape, following one direct line from either side of the Oude Rijn.
Another project rightly showcasing the extraordinary nature of Syb van Breda & Co's work is the Radartoren (Radar Tower), located on Maasvlakte 2 in the Port of Rotterdam. This quintessentially Dutch object, replacing an outdated version from 1974, is made to house a 70-metre-high radar installation. As such, the Port of Rotterdam was looking for a design that was both smart and sturdy. Where concrete would have been the easy answer, van Breda was not convinced this was the best option. "For the past 70 years, every single one of these towers has been made out of concrete. I cannot deny that it is indeed a very strong material, but it is too slow to build and above all, extremely heavy in weight. That's how the idea of a steel radar tower was born."
The new Radartoren is made entirely out of steel plate, with a minimal wall thickness allowing the tower to be impressively slim and light. As the material is weather-resistant, the tower does not require any conservation and so toxic materials are kept at bay. The same goes for the exterior: the steel that is used only rusts up to a certain extent (a special product called weathering steel), meaning that it will not deteriorate, yet the warm, orangey colour will remain. "This kind of efficiency and originality is what I think makes us stand out most," van Breda admits, and who are we to disagree?
Subscribe to Our Newsletter
Receive our monthly newsletter by email