Suzanne Holtz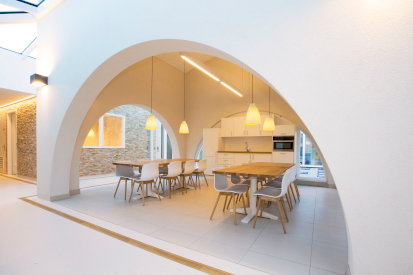 Interior architecture as a cure
TEXT: ARNE ADRIAENSSENS | PHOTOS © MATTHIJS BORGHGRAEF
The era in which hospitals were entirely clad in ice-cold whiteness lies behind us. Interior designers like Suzanne Holtz smuggle colours and homeliness into the long, depressing corridors, transforming it into a healthy, healing environment.
"As an interior designer, you can really make a difference in a patient's time at the hospital," Suzanne Holtz explains. "They have to navigate themselves through the clinic towards consultations, tests, operations, scans… nothing but unpleasant things. By using different colours, themes or materials, it's easier for them to orientate. This takes some of the stress away and gives them a feeling of control. They're at their most vulnerable and deserve a little extra attention."
Since her studio started to design hospital interiors a couple of years ago, Holtz took on many opportunities to change clinical atmospheres in all corners of the Netherlands. "I like how these assignments surpass the light-footedness that interior architecture can have sometimes. Not only do I have to create a nice environment to work and stay in, I must also take the draconically strict regulations for infection prevention into account. It's the art of making something very functional look as hospitable as possible."
International awards
To accomplish this, Holtz always tries to create a hotel-experience. The psychiatric department of the Radboudumc in Nijmegen illustrates this beautifully. By adding a soft layer to the wing, she transformed it into a stunning open space where patients have the clarity and shelter they crave. Dimmable lights, daylight and soft colours are just a couple of the elements that contribute to a smoother, more natural recovery process. The patients are demonstrably calmer, happier and less aggressive than before. All of this resulted in two international awards, including one for Europe's Best Mental Healthcare Project.
Right now, Holtz is adding the final touches to the design of the Amalia Children's Hospital. For this project, she had to channel a very different mindset. "You have a very broad target group here. Toddlers, as well as youngsters of 17-years-old should feel welcome here. Both boys and girls. In most hospitals, they create an atmosphere with merry figurines or ducklings on the walls. That way, they only reach the youngest segment of their visitors." Holtz, on the other hand, decided to work with more age- and gender-neutral themes. The walls are painted in bright colours like blue and purple, while the rooms are in green. To top it off, Tinker Imagineers added abstract murals to tickle the children's imagination. "A child of three will see objects and stories in it and so do I. It isn't childish," Holtz clarifies. "Many kids have to stay here for quite a while. We want to keep stimulating their fantasy throughout the process." In the light of that philosophy, Holtz has created an indoor park in the central hall. Trees, fake grass and many activities are included.
Cross-pollination
Her portfolio is more varied than just hospitals of course. Many of her clients are hotels, restaurants and theatres. "When you draw for the hospitality sector, you have to understand the concept of their business very well. What product do they offer? What does their brand look like? Who do they want to attract? Thousands of these questions and a very personal approach always lead towards a tailor-made design that matches perfectly with their expectations." For the Amsterdam restaurant Saffraan aan de Amstel, she interpreted the style of the Ottoman menu (which stretches from the Italian food to Iraqi cuisine) to distil it into a warm, elegant restaurant where locals feel welcome and well at ease.
Though projects like this appear light-years away from the look and feel of a hospital, Holtz loves the cross-pollination between these very different worlds. "The first hospital contacted me because of my work in the hotel sector. They wanted to translate this homely atmosphere within the walls of the clinic. With it, I've learned a lot about bacteria repellent materials. A knowledge I now use in hotels as well." Therefore, Holtz tries to do as many different things as possible. The only requirement: it should be a complete project. "I never restyle just one room in a house or a building. If I do a project, I want it to be an entire hospital wing, restaurant or house. Not because I don't want small projects, in fact I do my share of tiny restaurants as well, but because I just don't see the point in changing the experience of one room while the rest of the building remains untouched."

Web: suzanneholtz.nl
Subscribe to Our Newsletter
Receive our monthly newsletter by email