Six Architects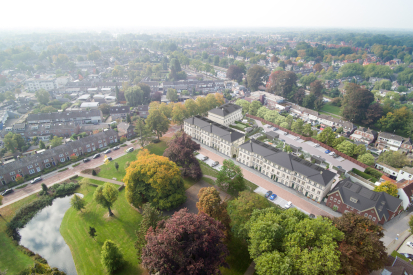 A contemporary view on history
TEXT: ARNE ADRIAENSSENS | PHOTOS © SIX ARCHITECTS
"They don't make 'em like this anymore!" It is a frequently heard remark while witnessing a century-old manor house. Architect's office Six Architects now proves that the opposite is true. The firm, which specialises in castles and sizeable estates, designed 17 brand-new, majestic mansions, combining the best of two centuries into one breathtaking neighbourhood.
The picturesque, sleepy town of Vught is ready to welcome 17 new families. Facing the relaxing Lievevrouwenpark, the impressive manor-houses of La Couronne rise up on the opposite side. Though they look like they carry a long history with them, they are one of the latest constructions in the city. "We build houses with our eye on what history has taught us," Sir Diederik Six explains. His architect's office, Six Architects, focuses on the restoration of historic castles and estates and builds high-end villas in a traditional style. "Architecture has always learned from the previous generations. In the 20th century, the modernists broke with that course of events by creating very different things. We, however, think it is better to carry on this legacy and improve the work of our ancestors. You can't grow without roots."
The benefits of this method are numerous. Not only is the static style breathtakingly beautiful, it is also built to last. Durable materials and great isolation elevate these classic houses to the 21st century. "We don't build exactly like they did decades ago. Our needs are very different from back then. A kitchen is no longer a hidden place in the house where the maid works but is a central living area. La Couronne adapts to these fluctuations of the time." With six bedrooms and two bathrooms in each villa, the complex is made to live luxuriously. It also opens the door to taking in your parents at old age, like they used to do in mansions like these. For others, the spaces can, for example, be used as a guest room or study.
With this project, Six Architects blew a new wind through the commuter neighbourhood of Vught. "Though the village is a wealthy suburb of 's-Hertogenbosch, this region was less in demand. The people of Vught prefer to live in the centre, but for those who work in Amsterdam this location is very handy. While the prices in the capital and its suburbs are skyrocketing, a villa in the countryside with a good rail connection is a perfect deal."

Web: six.nl
Subscribe to Our Newsletter
Receive our monthly newsletter by email