Oud Beersel 2017 Barrel Selection Oude Pijpen Geuze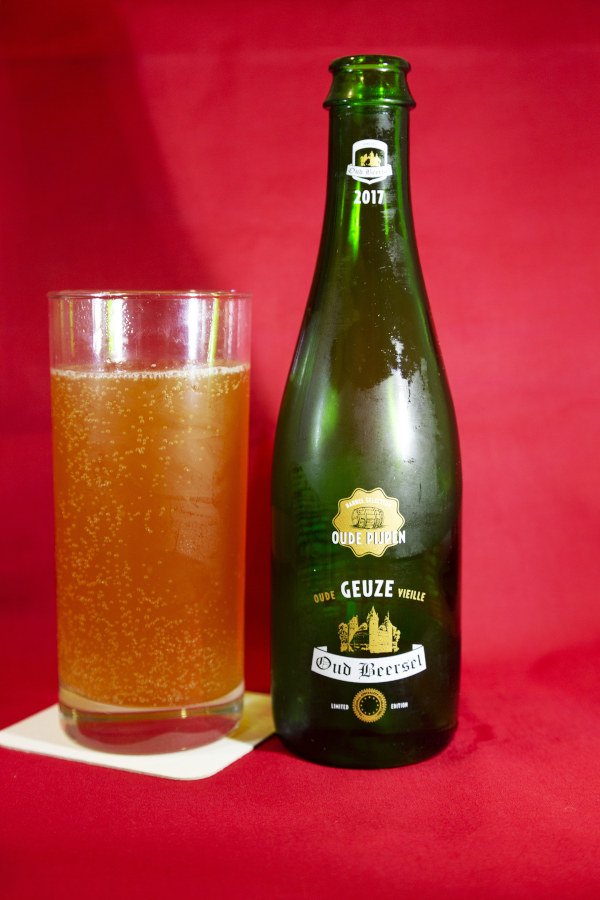 The Oud Beersel Brewery is named after a municipality — roughly ten kilometres southwest of Brussels — in the Pajottenland, a region famed for beers brewed in open tanks between October and April. Known collectively as lambic beers, the region's micro-flora and naturally occurring yeast strains are key to triggering the fermentation process.
Oud Beersel's limited edition 2017 Barrel Selection Oude Pijpen is a traditional geuze — a blend of lambic beers — that has been aged in oak barrels formerly used to transport port wine to Belgium.
The 650-litre barrels that give this beer a facet of its distinctive character are 60 to 120 years old. The aroma of the beer is reminiscent of slightly sour scrumpy mixed with oak and vanilla. It is a cloudy gold in colour and should be poured into a dry glass, while turning and coating the inside of the drinking vessel, to minimise oxidation. Some geuzes are famously sour and, traditionally, were served in thick-bottomed glasses so that women and children could crush sugar cubes to sweeten their beer. However, this beer is wonderfully rounded, has a light effervescence, a dry mouthfeel and a moreish finish.
Like a good wine, this is a beer that can be laid down to be enjoyed years later due to bottle refermentation rounding its character. The 'best before' date on bottles suggests this beer should be consumed before the end of 2037.
Oud Beersel will open its doors to visitors on 4 and 5 May as part of the biennial Toer de Geuze, which showcases the lambic breweries and blenderies of the Pajottenland.
Brewer: Brouwerij Oud Beersel
Strength: 6.5 per cent
Stuart Forster was named Journalist of the Yearat the 2015, 2016 and 2019 Holland Press Awards. Five generations of his family have been actively involved in the brewing industry
TEXT & PHOTO: STUART FORSTER
Subscribe to Our Newsletter
Receive our monthly newsletter by email