Wine of the Month: Wijnkasteel Vandeurzen Pure Red Pinot Noir
TEXT & PHOTO: KRISTEL BALCAEN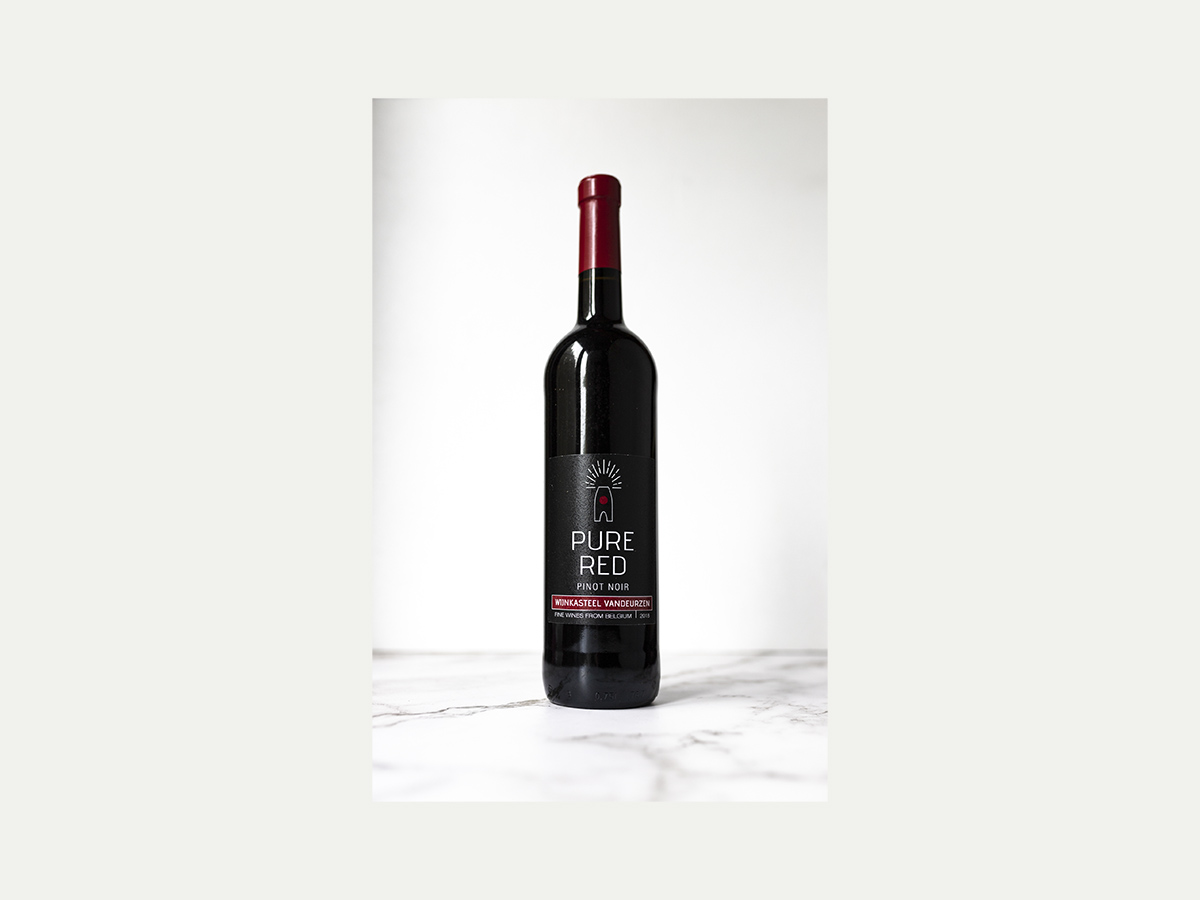 Most Belgian wines are white or sparkling, yet the reds, too, are increasingly winning awards. Pinot Noir is a traditional favourite, showing great potential in the better vintages and in the hands of talented winemakers.
In Linden, near Leuven, a stylish neoclassicist 'white castle' rises amidst vast landscaped gardens. On the south-facing slopes around the historical property, its current owners, the entrepreneurial Vandeurzen family, decided to plant a vineyard. Besides the classic cool-climate Chardonnay and Pinot Noir, they also opted for some surprising varieties: Grüner Veltliner, Albariño and Tempranillo. With Daniël Medarts of the Kitsberg winery as their winemaker, they produced the first bottles in 2017.
Then came the stellar vintage of 2018. Not only did it deliver generous wines, but in volume as well as in quality, 2018 also heralded the family's ambitious hospitality project, which includes a gastronomic restaurant, a wine bistro and an event space.
The warm, dry and sunny summer of 2018 certainly translated into this wine. Ripe red cherries, strawberries and blackberries burst from the glass, supported by oak spices, toasted bread, autumn leaves and leather. With acidity not overly high and the tannins still showing some grip, this 'Pure Red' Pinot Noir makes an attractive and versatile food partner for your late-summer barbecues!

Vintage 2018. Ageing recommendation: drink now or in the next two years.
Alcohol content: 14.5% alcohol.
Serving temperature: 16°C.
Available in their webshop, on-site bistro and restaurant, or from specialist wine shops.
Kristel Balcaen is a Belgian wine writer, educator and consultant. She is a SommelierConseil, holds the WSET level 4 Diploma, and was named Belgium's Champagne Ambassador and Wine Lady of the Year in 2018. Her food and wine book, Wijnboek voor Foodies, is coming out later this month.
Subscribe to Our Newsletter
Receive our monthly newsletter by email