MVDG Interior Architects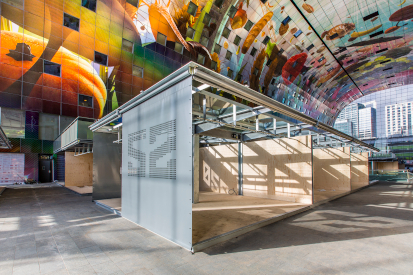 'It only works if everything is right'
TEXT: MICHIEL STOL | PHOTOS © MVDG ARCHITECTEN
When it comes to interior design for the retail industry, the space has to have high aesthetic value as well as be functional and supportive for the products and the brand. "If a display attracts more attention than the product it is showing, you have the wrong design," says Mark van der Geest, owner of MVDG Interior Architects.
Designing interiors for retail shops requires specific knowledge and insight, explains Van der Geest. "The interior is part of a concept the client has created. So you have to look at it from a different angle. At first, it is less about the architectonic side of it, such as lighting or what materials to use. It is more about how the client wants to persuade its customers to buy the products and how the interior can help with that."
Before the actual designing phase starts, Van der Geest spends a lot of time with clients defining the store's concept and its targeted audience: Who is the customer, what is needed to persuade them to buy a product. "There are 15 factors that play a role in the success of a brand, such as social and technological factors. My expertise touches on four or five of those factors. I take them all into account to come to a good design that has a purpose and fits with the other factors." With his team of freelance experts, he then starts working on the actual designs.
Van der Geest acquired his expertise during his extensive career in retail interior design and concept development, first for ten years at Bijenkorf (one of the oldest and best known high-end department stores in the Netherlands) and followed by another ten years at Merkx + Girod architects in Amsterdam. "I was educated in retail interior design, so it was a natural step to take on this roll and develop my skills and expertise. I have learned so much over the years, both from the projects I worked on, as well as the many trips I have made abroad to see all kinds of projects. Especially in those parts of the world that are not that rich; the balance between aesthetic and functionality in displays is amazing there. It taught me a lot about presentation."
After ten years working at Merkx + Girod, Van der Geest felt it was time for the next step. "The focus there was less on retail, which is my passion and my strong point, so, in 2005, I decided to start my own company, where I could fully focus on my passion for retail interior design."
The design cannot overshadow the products
Since then, Van der Geest has worked with clients like food-market chain Marqt, Douwe Egberts Coffee Cafés and the famous Markthal in Rotterdam. "That was a totally new concept for the Netherlands. We spent nearly two years to come up with the right concept for it. One of the main challenges was making sure the stalls would not overshadow the traders, who would use the units we designed. Also, the flow of people through the Markthal was very important to take into account." It resulted in multiple pavilions with food-related retail units, which are permanent. "At first there were discussions on using mobile units, which would be stalled outside the hall at night. But for certain fresh products, like meat and fish, you have to have special installations to present and sell them. Using mobile units would mean that some traders would not be able to sell their products. You have to keep that in mind when you develop a concept."
MVDG's strength lies not only in the expertise of Van der Geest, but also in his personal involvement in the projects. "With bigger firms, it is not uncommon that after six months or so you need to start a new project and have to hand over your current project to a colleague. I am now involved from start to finish, and try to help with every detail. As a client once put it: 'You can ask Mark everything, he'll even have an opinion on which paperclip to use.' For an interior design to work, everything has to be right."

Web: mvdgeest.nl
Subscribe to Our Newsletter
Receive our monthly newsletter by email